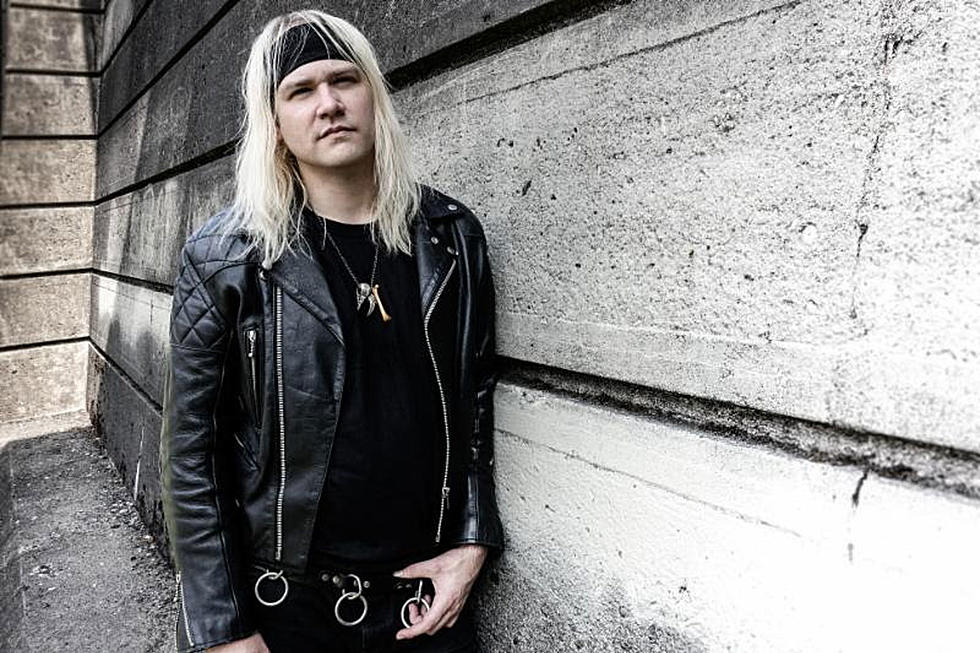 Toxic Holocaust Announce 'Primal Future: 2019′ Album, Release New Song
Photo by Chelsea Englizian
Welcome back, Toxic Holocaust. The crossover thrash metallers return with their first new album in six years, as Primal Future: 2019 is set to drop on Oct. 4 through their new label home at eOne.
As you might guess from the title, the album leans a little more conceptual in nature, with the theme centering on a dystopian technological takeover.
It's a long way from the band's beginnings, but 20 years in, leader Joel Grind is thrilled with what's to come. "When I started the band in 1999, I never imagined I'd still be doing it in 2019," Grind explains. "It's been a long time coming but the new album is finally ready and it's sort of a culmination of my past 20 years of doing this band. Most notably, I decided to go back to my roots and record this entire album by myself and play all of the instruments like I did in the early days. It was a lot of fun and nostalgic and at the same time exciting to be able to apply everything I've learned over the years."
As stated, Grind's fingerprints are all over this album, as he recorded, mixed and mastered the effort, but he did hand off the artwork to Steve Crisp. You can see the album artwork and track listing below in this post.
Ahead of the album's release, Toxic Holocaust have unleashed a new lyric video for the song "Chemical Warlords."  "'Chemical Warlords' opens the album and sets the tone for the rest of the record," says Grind. "My vision for this album was sort of a cyberpunk dystopian future. Enjoy!" Take a listen to the pit-starting track and watch the lyric video in the player below. If you like what you hear, the Primal Future: 2019 album is available to pre-order here.
Meanwhile, you can look for Toxic Holocaust all over North America this fall, supporting GWAR along with Sacred Reich and Against the Grain. Dates for the run can be found below the album art and track listing.
Toxic Holocaust, "Chemical Warlords"
Toxic Holocaust, Primal Future: 2019 Artwork + Track Listing:
1. Chemical Warlords
2. Black Out the Code
3. New World Beyond
4. Deafened by the Roar
5. Time's Edge
6. Primal Future
7. Iron Cage
8. Controlled by Fear
9. Aftermath
10. Cybernetic War
Toxic Holocaust With Gwar, Sacred Reich, Against the Grain
Sept. 16 - Grand Rapids, Mich. @ The Intersection
Sept. 18 - Detroit, Mich. @ The Majestic
Sept. 19 - Columbus, Ohio @ Newport Music Hall
Sept. 20 - Knoxville, Tenn. @ The Mill & Mine
Sept. 21 - Jacksonville, N.C. @ The Tarheel
Sept. 22 - Atlanta, Ga. @ The Masquerade
Sept. 23 - Jacksonville, Fla. @ Vinyl Music Hall
Sept. 24 - Tampa, Fla. @ The Ritz Ybor
Sept. 25 - Fort Lauderdale, Fla. @ Revolution Live -
Sept. 28 - Greensboro, N.C. @ The Cone Denim Entertainment Center
Sept. 29 - Baltimore, Md. @ Rams Head Live!
Sept. 30 - Toronto, Ontario @ Opera House
Oct. 01 - Buffalo, N.Y. @ Town Ballroom
Oct. 02 - Sayreville, N.J. @ Starland Ballroom
Oct. 04 - Philadelphia, Pa. @ Franklin Music Hall
Oct. 05 - Clifton Park, N.Y. @ Upstate Concert Hall
Oct. 06 - Boston, Mass. @ Paradise Rock Club
Oct. 08 - Milwaukee, Wis. @ The Rave
Oct. 09 - Des Moines, Iowa @ Wooly's
Oct. 10 - Omaha, Neb. @ Slowdown
Oct. 11 - Minneapolis, Minn. @ Skyway Theatre
Oct. 12 - Kansas City, Mo. @ CrossroadsKC
Oct. 13 - Denver, Colo. @ Summit
Oct. 15 - Salt Lake City, Utah @ The Depot
Oct. 16 - Reno, Nev. @ Virginia Street Brewhouse
Oct. 17 - San Francisco, Calif. @ The Regency Ballroom
Oct. 18 - Portland, Ore. @ Roseland Theater
Oct. 19 - Boise, Idaho @ Knitting Factory Concert House
Oct. 20 - Spokane, Wash. @ Knitting Factory Concert House
Oct. 21 - Seattle, Wash. @ Showbox SODO
Oct. 23 - Fresno, Calif. @ Tioga-Sequoia Brewery
Oct. 24 - Los Angeles, Calif. @ The Belasco Theater
Oct. 25 - Garden Grove, Calif. @ Garden Amp
Oct. 26 - Las Vegas, Nev. @ Fremont Country Club
Oct. 27 - Tempe, Ariz. @ The Marquee
Oct. 28 - Albuquerque, N.M. @ Sunshine Theater
Oct. 30 - Oklahoma City, Okla. @ Diamond Ballroom
Oct. 31 - Dallas, Texas @ Gas Monkey Live!
Nov. 01 - Austin, Texas @ Empire Garage
Nov. 02 - Houston, Texas @ Warehouse Live Ballroom
Nov. 03 - New Orleans, La. @ Joy Theater
Nov. 04 - Nashville, Tenn. @ Exit/In
Nov. 05 - Indianapolis, Ind. @ The Vogue
Top 50 Thrash Metal Albums of All-Time