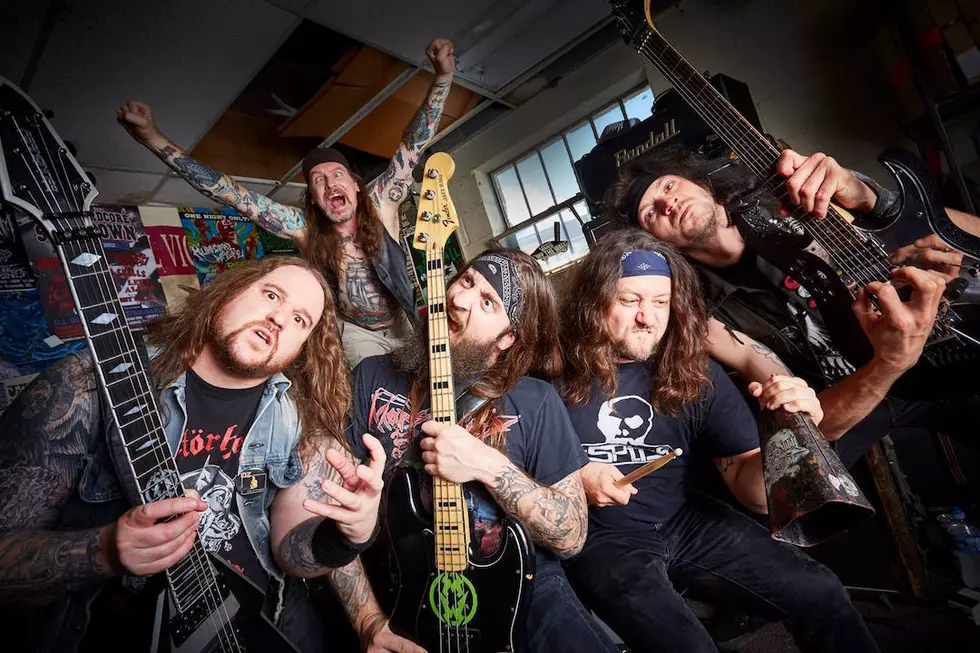 Municipal Waste + High on Fire to Co-Headline 'The Speed of Wizard' Tour
Kip Dawkins
GWAR will be the special guest performers at the Nov. 10 gig in Richmond, Va. High on Fire will not play the last two dates of the tour -- Nov. 25 in San Diego and Nov. 26 in Santa Ana, Calif.
"We're really excited to be teaming up with our brothers in High on Fire to put together this sweet package of killer bands," says Municipal Waste vocalist Tony Foresta. "We couldn't be more pleased with how everything came together. Stoked to travel with our old friends and one of our favorite thrash bands Toxic Holocaust as well as getting blown away by Haunt every night. See you soon!!!"
Municipal Waste will be touring to support their sixth studio album, Slime And Punishment, which came out June 23, 2017. High on Fire's eighth studio album, Electric Messiah, is scheduled for release Oct. 5.
"We've been kind of beating a dead horse, dead in the water for a while, so we're doing a co-headline [run]," High on Fire frontman Matt Pike told DCHeavymetal.com. "The Municipal Waste dudes are our good friends, so we figured we'll just punch the country together, swap spots and no one gets tired and all that stuff, and, yeah, it should be good. I wanna get High on Fire rolling again so it's full throttle. We took a lot of time to write this record, really make it good."
Municipal Waste/High on Fire/Toxic Holocaust/Haunt "The Speed of Wizard" Tour Dates
Nov. 2 - Dallas, Texas @ Canton Hall
Nov. 3 - Austin, Texas @ Mohawk
Nov. 4 - New Orleans, La. @ Southport Music
Nov. 6 - Tampa, Fla. @ The Orpheum
Nov. 7 - Atlanta, Ga. @ Masquerade
Nov. 9 - Washington, D.C. @ Black Cat
Nov. 10 - Richmond, Va. @ The National w/ GWAR
Nov. 11 - Brooklyn, N.Y. @ Warsaw
Nov. 12 - Philadelphia, Pa. @ Union Transfer
Nov. 13 - Boston, Mass. @ Paradise
Nov. 15 - Chicago, Ill. @ Metro
Nov. 17 - Denver, Colo. @ Oriental Theater
Nov. 18 - Salt Lake City, Utah @ Metro Music Hall
Nov. 20 - Portland, Ore. @ BossaNova Ballroom
Nov. 21 - Seattle, Wash. @ Showbox
Nov. 23 - Sacramento, Calif. @ Ace Of Spades
Nov. 24 - Berkeley, Calif. @ UC Theater
Nov. 25 - San Diego, Calif. @ Brick By Brick *
Nov. 26 - Santa Ana, Calif. @ Observatory *
Municipal Waste Albums Ranked
10 Greatest Crossover Thrash Bands