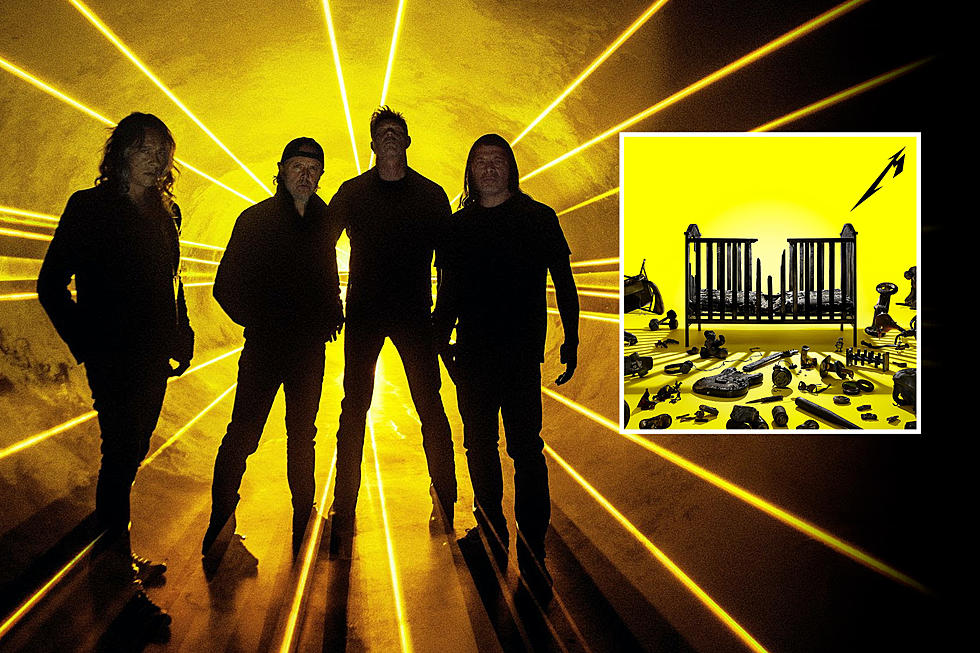 Watch Metallica Members Break Down '72 Seasons' Track-By-Track
Tim Saccenti / Blackened Recordings
Metallica's 11th album 72 Seasons is finally here, and the members of the band have shared a video breaking down the record track-by-track, giving their take on each one and what makes them special.
By now, most Metallica fans have probably heard the album in full at lease once, and others, perhaps many more than once. So, you know how you feel about it after the first spin, and you already know how we feel about it (read our review of 72 Seasons here). But what about the members of Metallica themselves?
In the video, which they shared earlier today on their social media, James Hetfield, Lars Ulrich, Kirk Hammett and Robert Trujillo take turns talking about the 12 songs on the album and highlighting what makes each of them special. You'll hear Trujillo use the word "thrash," Ulrich describe "Shadows Follow" as a "stomper" and... pretty much nothing else. Hetfield cited "You Must Burn!" as a challenging moment for him vocally, and also explained that "Inamorata" "screamed out" to them to be the closing track in the sequence.
READ MORE: Fans React to Metallica's New Album '72 Seasons'
Hammett concluded the video by explaining how excited he is to play the new songs live, because it's exciting for them to get to add new material to the setlist, and to see how their fans react to hearing them performed.
Read the full track-by-track breakdown below, and check out the video underneath.
"72 Seasons"
Trujillo: That intro is just fast, in-your-face, [a] fusion of thrash, with Kirk's name written all over it.
"Shadows Follow"
Ulrich: Next up is "Shadows Follow," a stomper. This main riff, to me, has got that kind of stomping, stomp-along... I don't know, the word stomp just comes up.
"Screaming Suicide"
Hetfield: "Screaming Suicide, just energetic, it's got an old-school, new wave of British metal, I would say. [It's] basically facing your fears in the song.
"Sleepwalk My Life Away"
Hetfield: A couple of different titles came up around that, you know, "Sleepwalker." I love the intro to this song.
Hammett: It's a very cool sort of song in that it's a bit mid-tempo, totally rockin', has really good dynamic shifts in it.
Hetfield: Introducing the riff little bit by little bit, and then we all kick in together.
"You Must Burn!"
Trujillo: "You Must Burn is probably one of my favorite middle-sections ever.
Hetfield: Really awesome riff that kind of came out of the bassline. And there's a little haunting vocal thing in the middle that was a little different for me. I love challenging myself vocally, and this song was definitely one of those times.
Trujillo: [Plays air bass] It's very, very nasty. So between the mysterious, creepy groove, the sliding bass, great song — a powerful statement.
"Lux Aeterna"
Ulrich: I believe most of you may have heard this. [It's] kind of on the shorter side.
Hetfield: Just a short, sweet, kickass song about feeling the energy and the light and the vibe of a live concert.
Hammett: Super crazy song, super crazy guitar solo... The guitar solo is more for effect than anything else.
Hetfield: Definitely old-school, new wave of British metal riff to it. I love the song, it's gonna be one of my favorite to play live.
"Crown of Barbed Wire"
Hammett: Again, super, super heavy.
Trujillo: It's heavy, but at the same time, there's moments of release.
Hammett: It has a really, really great riff that Rob calls the "Cheech and Chong riff," and I totally relate to that title too. Haunting main riff.
"Chasing Light"
Ulrich: "Chasing Light," that's right, there is no light. Good energy in this one, good energy in this one.
Hetfield: For me, it's about judging the youth of the world or homeless or whatever — seeing them as a soul. That's somebody's kid, and if you can help them, do your best to help.
"If Darkness Had a Son"
Hammett: "If Darkness Had a Son" has such a great chorus, super melodic. That type of chorus is kind of a new thing that's developed with us over the last two or three albums.
"Too Far Gone"
Trujillo: "Too Far Gone" is a song that really does sort of take you on a journey. It's a song that reminds me of being on the road, actually, it's the travel song.
"Room of Mirrors"
Trujillo: "Room of Mirrors" is, in my mind and my opinion, it's a song that resonates in the world of battle.
Ulrich: This may get you to go slightly faster if you're driving — not encouraging anybody, of course, to break any laws or do anything above speed limits — but it just may get you into that sixth gear.
Hammett: It's very cool, it's like a mid-tempo-type song for us, and at the end has a really cool dual-harmony thing. It's a little reminiscent of like what we've done with "Orion" and "To Live Is to Die."
"Inamorata"
Hetfield: Having a love affair with misery. A long, classic song that screamed out to end the album. Really, really cool riffs in it, really great groove, but I love the way it rounds this thing out.
Ranking the Opening Song on Every Metallica Album
We ranked the opening track on every one of Metallica's studio albums.