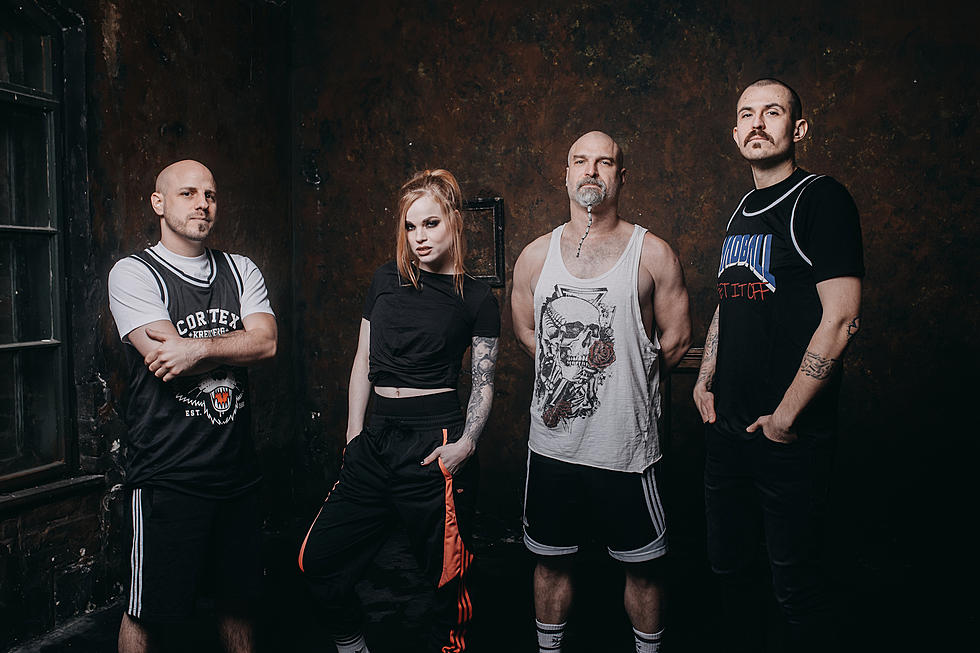 11 Bands That Define Hungary's Metal Scene, Chosen by The Hellfreaks
David Bodnar
Here are 11 bands that define Hungary's metal scene, as chosen by the country's own Hellfreaks.
The group was formed in 2009 and plays a thrilling combination of metal, alternative and punk, serving up varying degrees of heaviness complemented by melodic flairs and the dual-threat vocals of frontwoman Zsuza "Shakey Sue" Radnóti.
Their fifth album, Pitch Black Sunset, arrives April 14 on Napalm Records as their upward momentum continues, helping to increase the Hungarian metal scene's visibility on a global scale.
Below, The Hellfreaks offer a deeper look into this scene and the metal bands that have enjoyed some international success as well as ones who are generating tons of buzz domestically. There's a mix of newer artists as well as ones who made waves upward of two decades ago or more, demonstrating that the Hungarian metal community has been a vibrant one for quite some time.
READ MORE: The 5 Best Albums to Introduce You to Funeral Doom, Chosen by Ahab's Christian Hector
You can also check out the music video for "Hit Me Where It Hurts" for a taste of what The Hellfreaks are dishing out on Pitch Black Sunset.
Speaking about the new record, the band previews, "Since our last album, our world around us has turned much darker than what we ever expected. Covid, war, inflation. Enough reasons for introspection to find out if there is any light left in us. An excursion between the best and worst parts in us. Pitch Black Sunset is about how these contraries interfere with each other: the past and the future, peace and chaos, eastern and western, life and death. This album invites you to a car ride straight into the canyon between these opposites. Does it end in a car crash? Sometimes. But we found beauty in it."
Now, check out The Hellfreaks' picks for 10 Bands That Define Hungary Metal Scene.
Get your copy of 'Pitch Black Sunset' here and follow The Hellfreaks on Facebook, Instagram and Spotify.
The Hellfreaks, "Hit Me Where It Hurts"
10 Bands That Define Hungary's Metal Scene, Chosen by The Hellfreaks

Neck Sprain are the heavyweight champions of the scene without any question.

One of their albums is called Heavyweight - 3rd Round, which they released in 2006 and it is easily one of the best Hungarian metal albums ever.

Their singer at that time, Steve Horváth, screams through the bone ripping riffs as they form a perfect combination of musicianship and power. Don't miss this one!

The Southern Oracle are one of the best hardcore bands from Hungary — fast tempos, powerful songs and fascinating live performances.

They are one of the rare ones who openly speak out against the system and their latest album, The Most Corruptible Souls, was released in 2023.

We have some personal connections here because our bass player Gabi Domján played, wrote and recorded the bass parts for this album, and our drummer Béla Budai is also the drummer of this band.

Many of our T-shirt designs were created by the band's vocalist. Do yourself a favor and check them out!

This band will probably be the most familiar name for most of you who read this.

Ekotmorf are a thrash/groove metal band who formed in the '90s. With their unique sound, they earned the most success internationally, have played several major festivals and have been on many labels from Nuclear Blast to Napalm Records.

FreshFabrik were at their peak at the beginning of 2000s. They were one of the most innovative metal bands in Hungary at that time, reaching success not only in Hungary but worldwide.

They have mixed groove metal approach with electronics headed by different singers during their active years.

Their most famous and iconic album is Drive My Hand where extremely talented singer Steve Horváth has been in the front screaming the hell out of his throat in a blood freezing manner.

Lazarvs play sludge metal and they stand out with their popularity in the Hungarian scene.

Nowadays they are the only underground metal band who are able to regularly fill big venues, one of the biggest outdoor venues being Budapest Park.

Another recognizable achievement is that their songs are in English in a country where the local language, Hungarian, is still a kind of "must have" to reach out to masses.

This band was formed in the late '90s and their lead singer, Gergő Tóth, is one of the most successful managers for pop bands in Hungary. Their most popular tune "Lost in Time" features Zoli Teglas from Ignite.

The Idoru combines the forces of metal, hardcore and punk rock and their history goes back to 2003.

They've gone on many European underground headliner tours and played a couple of shows with the California band Ignite in Japan.

Hungary is a small country and it's a huge achievement to be able to tour abroad on a regular basis.

Their singer, András Bödecs, is well known in the scene because of his art, which he has contributed to many Hungarian metal bands, including the album layout of our fourth album, God On The Run.

Subscribe became the most popular metal band in Hungary 20 years ago with the album Sanity Has Left the Building.

With two lead singers, they had the most insane and energetic shows during those days. They raised the standards by using polyrhythmic riffs and mixing in genres such as reggae, swing, ska, but mainly metal.

Thy Catafalque's music is a creative experiment of a Hungarian multi-instrumentalist mastermind Tamás Kátai.

It is a fusion of gothic metal spiced with psychedelic electronic synth fills. With his vocals, Kátai applies Hungarian folk music elements with sensitive and careful taste.

It's a beautiful mixture of darkness and light expressed within music

Mad Robots (earlier named Room of the Mad Robots) stems from Hungarian musicians working in the underground for many years.

Their music has a raw, progressive and psychedelic metal characteristics along with odd rhythmic patterns while keeping a fluid and melodic feel. Every instrument has its own moment during the songs, but the musical structure keeps its coherence despite the complex layers and moving parts.

The band is headed by vocalist Péter Mári, who is able to mix the rawness of Phil Anselmo-like craziness with unusual and beautiful melodies.

Looking back at metal's history in Hungary, we realized that it was quite disconcerting that women do not seem to be part of the game.

But let us tell you that nowadays it's not just boys' fun anymore! More and more women have joined the scene and rule the stages.

We do believe that we're a good example for what hard working women can achieve. We are the first band with a frontwoman from the punk/metal scene in Hungary who not only tour regularly all across Europe, but also made it to the United States.

We just signed to one of the biggest metal labels in the world, Napalm Records, and have the honor to be supported by a worldwide fanbase.

Thanks to these bewitching women who definitely earned their place in the scene. We strongly believe that in a few years the list above will be even stronger!