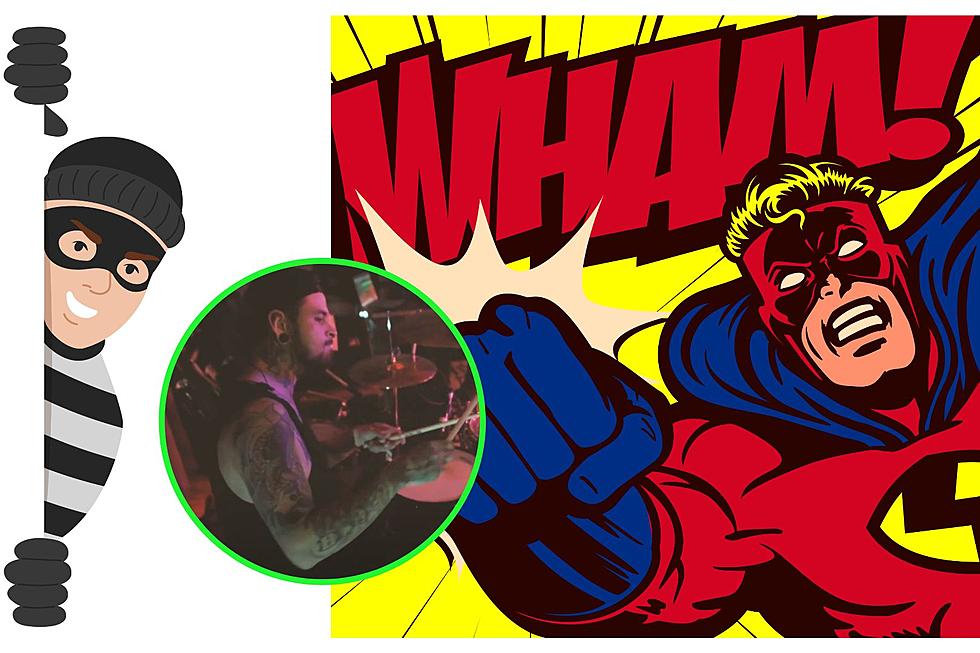 Traitors Drummer Breaks Hand Punching Robber, Shares Bloody Photos + Drops Off Attack Attack! Tour
Gleb Kosarenko, iStock/Getty Images / drante, iStock/Getty Images / YouTube: SJC Custom Drums
Stephen Arango, drummer for deathcore band Traitors, has been forced to drop off the group's upcoming tour opening for Attack Attack! after punching a robber in the face and breaking his hand. He's named a fill-in and even shared some bloody photos of the aftermath of the altercation.
The tour, which will also feature special guest Belmont as well as Savage Hands and Colorblind on select dates, is set to launch on Wednesday (May 17) and Southpaw drummer Harrison Linder will be filling in on the run.
On social media, Arango detailed the run-in with a robber and the violence that ensued while also stating that he is "heartbroken" that he won't be able to play with Traitors on the tour.
Recapping the event, he posted, "Two nights ago in [Las] Vegas, a man tried to rob me on the way back to my hotel which led to us scrapping and unfortunately breaking my fist on his face during the altercation. Due to the impact of the hits, I have multiple breaks and parts of my hand shattered and chipped which means I will unfortunately need to undergo hand surgery so will have to sit out this run til I'm recovered."
He continued, "Thankfully I'm happy to announce my good friend Harrison Linder will be filling in for me so make sure to show him love this run I will return soon and will be finishing the Traitors album while I'm home. Thanks for the nonstop support and here's hopefully to a speedy recovery."
Arango also expressed gratitude toward those who reached out offering to donate money to help him with medical bills. "I don't believe in taking from our friends/supporters, Bt if you would like to support, feel free to pick up an item from my merch shop! Every dollar made will help toward surgery cost," he offered instead.
READ MORE: The Rock + Metal Bands Touring in 2023 - Guide
Traitors' most recent album, Repent was released in 2019, following two self-released records. Looking ahead to a follow-up, the group debuted the new song "Bitter" earlier this month, which can be heard below.
See all of Traitor's tour dates with Attack Attack! further down the page as well and get tickets here.
Loudwire wishes Stephen Arango a quick and full recover.
Traitors, "Bitter" Music Video
Attack Attack! Tour Dates With Belmont + Traitors
# Savage Hands opening
* Colorblind opening
May 17 — Erie, Pa. @ Basement Transmissions #
May 18 — Albany, N.Y. @ Empire Live #
May 19 — Worcester, Mass. @ Palladium Upstairs #
May 20 — Northampton, Pa. @ The Gin Mill And Grille #
May 21— Hartford, Ct. @ Webster Theater #
May 23 — Brooklyn, N.Y. @ Brooklyn Monarch #
May 24 — Asbury Park, N.J. @ House Of Independents #
May 26 — Richmond, Va. @ Canal Club #
May 27 — Mechanicsburg, Pa. @ Lovedrafts #
May 28 — Greensboro, N.C. @ Hangar 1819 #
May 30 — Greenville, S.C. @ Radio Room #
June 01 — Atlanta, Ga. @ The Masquerade *
June 02 — Winter Park, Fla. @ Conduit *
June 03 — Tampa, Fla. @ The Orpheum *
June 04 — Destin, Fla. @ Club LA *
June 06 — Houston, Texas @ Scout Bar *
June 07 — San Antonio, Texas @ Vibes Event Center *
June 08 — Austin, Texas @ Come And Take It Live *
June 09 — Dallas, Texas @ Trees *
June 10 — Tulsa, Okla. @ Vanguard *
June 11 — Little Rock, Ark. @ Revolution Music Hall *
June 13 — Memphis, Tenn. @ Growler's *
June 14 — Madison, Tenn. @ East Side Bowl *
June 15 — Cincinnati, Ohio @ Legends Bar & Venue *
June 16 — Pittsburgh, Pa. @ The Crafthouse Stage & Grill *
June 17 — Rochester, N.Y. @ Montage Music Hall *
June 18 — Detroit, Mich. @ St. Andrews Hall *
10 Times All But One Member of a Band Quit at Once
While band breakups are commonplace, and members being replaced every now and again is even more so, not so frequent is the very harsh reality when everyone in the group decides to quit besides a single member.
PLAYLIST: Ultimate Deathcore
Over 150 songs! Listen/follow here.