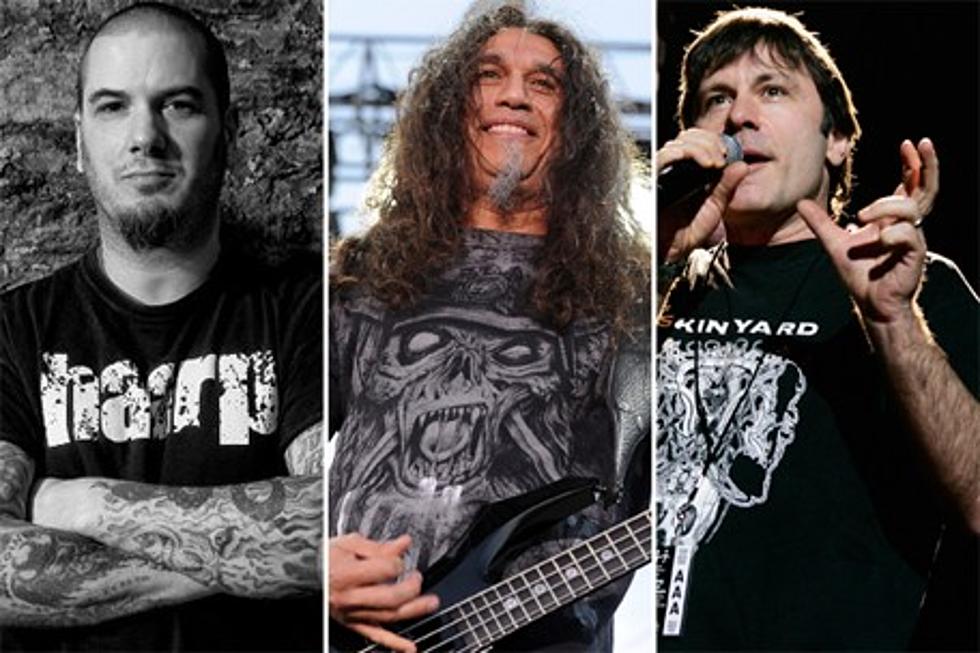 Pantera, Slayer + Iron Maiden Saluted at 2013 Kerrang! Awards
Facebook: Philip Anselmo / Kevin Winter / Jo Hale, Getty Images
Facebook: Philip Anselmo / Kevin Winter / Jo Hale, Getty Images
It was a big night for metal's icons at the 2013 Kerrang! Awards. Pantera, Slayer, Iron Maiden and Venom all took home special honors for their dedication to the metal craft. The event honored the best in hard rock and metal over the past year, with a few career trophies being dished out as well.
Pantera walked away with the Hall of Fame honor, while Slayer received the Legend award. Iron Maiden was feted with the Inspiration honor and Venom were named Kerrang's Icon winner. Rounding out the career honors, Queen were saluted with the Service to Rock trophy.
As for Brit-mag's awards saluting the best of the past year, Biffy Clyro won the Best Album honor for 'Opposites.' Fall Out Boy received Best Single for 'The Phoenix' and individual honors were dished out to Asking Alexandria's Ben Bruce (Best Male), Halestorm's Lzzy Hale (Best Female) and Gerard Way (Best Tweeter).
Black Veil Brides took home the Best Live Band trophy, while their Vans Warped Tour counterparts Bring Me the Horizon won the Best British Band award. Other winners of note included Lower Than Atlantis (Best British Newcomer), Of Mice & Men (Best International Newcomer), Young Guns (Relentless Award), Pierce the Veil (Best Video for 'King for a Day') and All Time Low (Best International Band).