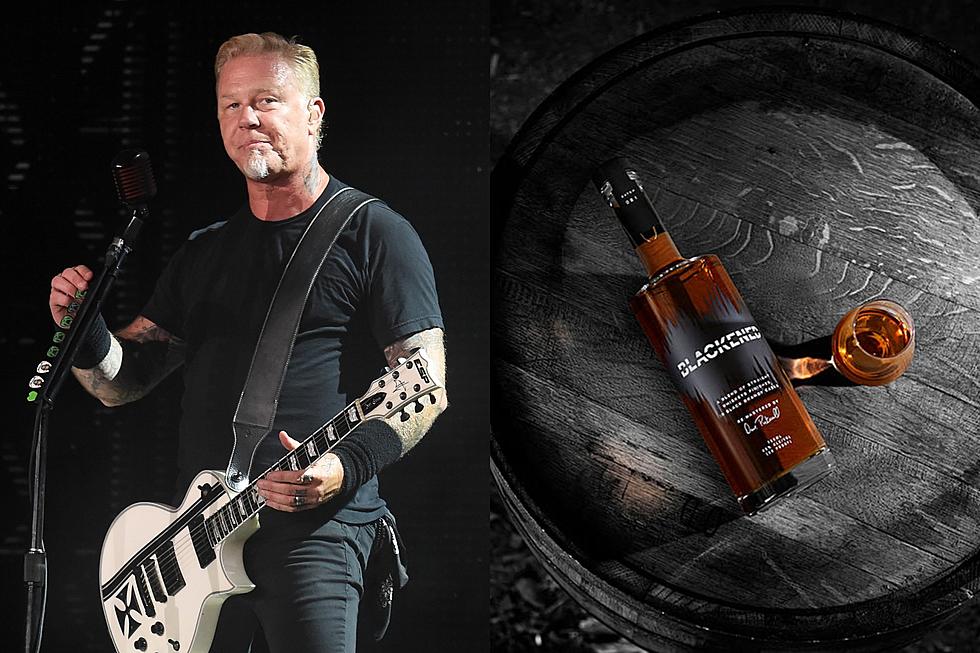 Metallica Introduce 'Blackened,' a Blended American Whiskey
Kevin Winter, Getty Images / Metallica.com
The whiskey was inspired by "Blackened," the bombastic opening track of Metallica's 1988 album ...And Justice for All. Master distiller and chemical engineer Dave Pickerell created the unique blend of bourbons, ryes and whiskeys from all across North America. The whiskey is "housed in black brandy barrels and inundated with low hertz sound waves so intense that it actually enhances the molecular interaction and ultimately the finish of the whiskey."
Pickerell was inspired by using sound to manipulate whiskey while working as a Professor of Chemistry at West Point. While working in the lab, the world's largest church organ would reverberate through the walls. He says, "the whole building would tremble, it would really shake your guts."
Metallica collaborated on the whiskey with Meyer Sound, who have engineered a proprietary subwoofer that amplifies the low-frequency sound waves. The band's music just happened to contain the low-frequency range needed for Pickerell's vision. The patent-pending process of sonic enhancement called "Black Noise" was born.
The sound wave on the front of the bottle is the actual digital wave from the song "Blackened" and each bottle of the inaugural batch is labeled 081, to honor 1981, the year Metallica formed. Each batch of 5,000 bottles of Blackened American Whiskey will come with an accompanying Spotify or Apple Music playlist of Metallica songs that were played to shape the flavor of the whiskey.
Top 50 Thrash Albums of All Time