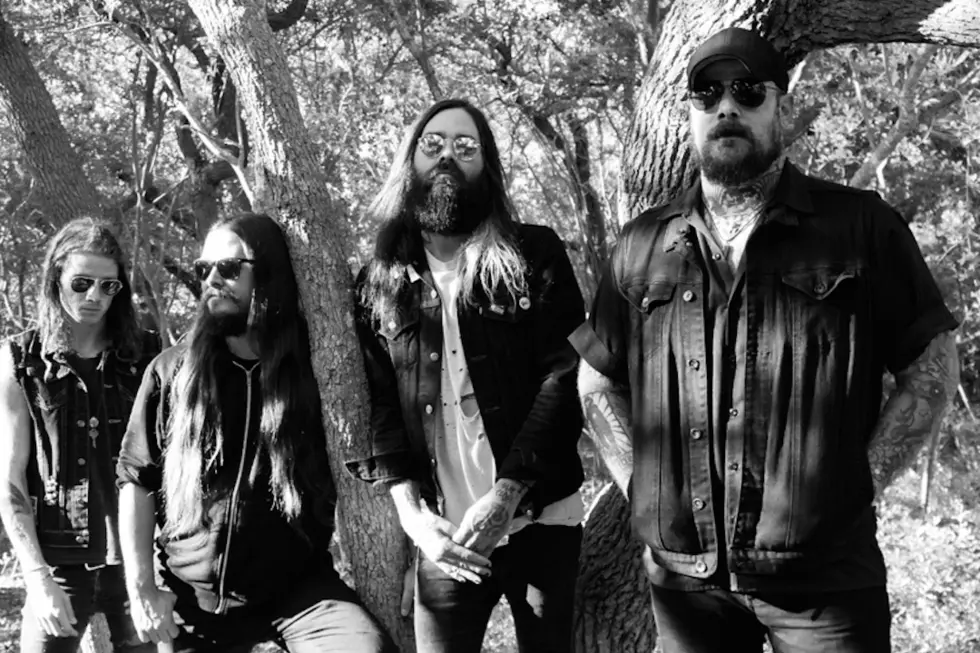 He Is Legend Release 'Boogiewoman,' Announce New Album
Spinefarm Records
Before the end of 2018, He Is Legend gave fans something to look forward to, releasing the "White Bat" single. The rest of the details are finally here with sixth album, White Bat, set for a summer release. They've also shared the new track, "Boogiewoman."
This should be a fun one live with head-bobbing, chugging grooves that alternate between thumping, stuttered rhythms and more fluid, bluesy riffs.
"White Bat is the purest, most passionate, and the most united He is Legend has been since we wrote It Hates You. I think this album has something for every fan of each chapter in our history," says singer Schuylar Croom.
The album was inspired by Michelle McNamara's true crime book I'll Be Gone in the Dark. Croom embraced a dark mindset, visiting the grave of Walt Disney, hitting up mausoleums and visiting the Museum of Death. The singer "sat in crazy seedy little bars, wrote, and got into this headspace—like preparing for an acting role."
Croom added that the record "has a moodiness and heaviness we haven't ventured into in a while," continuing, "It's conceptual. More than the content and concept, the music is representative of what we are now."
White Bat will be released on June 28 through Spinefarm Records. Pre-order your copy here and check out the album art, track listing and "Boogiewoman" single below.
He Is Legend are currently on tour with The Damned Things and Crobot. See the list of stops at the bottom of the page.
He Is Legend, White Bat Album Art + Track Listing
01. "White Bat"
02. "Burn All Your Rock Records"
03. "When the Woods Were Young"
04. "Eye Teeth"
05. "Talking Stalker"
06. "Bent"
07. "Resister, Resist Her"
08. "Uncanny Valley"
09. "The Interloper"
10. "Skin So Soft"
11. "Boogiewoman"
The Damned Things, Crobot, He Is Legend 2019 Tour Dates
May 01 — Los Angeles, Calif. @ Whisky A Go Go
May 04 — Jacksonville, Fla. @ Welcome To Rockville
May 06 — Lancaster, Penn. @ The Chameleon
May 07 — Brooklyn, N.Y. @ Brooklyn Bazaar
May 09 — Pittsburgh, Penn. @ The Rex
May 10 — Nashville, Tenn. @ The Cowan
May 11 — Rockingham, N.C. @ Epicenter Fest
May 12 — Lexington, Ky. @ Manchester Music Hall
May 14 — Grand Rapids, Mich. @ Intersection
May 16 — Flint, Mich. @ Machine Shop
May 17 — Chicago, Ill. @ The Bottom Lounge
May 18 — Springfield, Mo. @ Outland Ballroom
May 19 — Dallas, Texas @ Gas Monkey
May 21 — Denver, Colo. @ Oriental Theater
May 22 — Colorado Springs, Colo. @ Blach Sheep
May 24 — Tempe, Ariz. @ Tempe Marketplace
May 25 — San Diego, Calif. @ Brick By Brick
The Best Metal Album of Each Year Since 1970