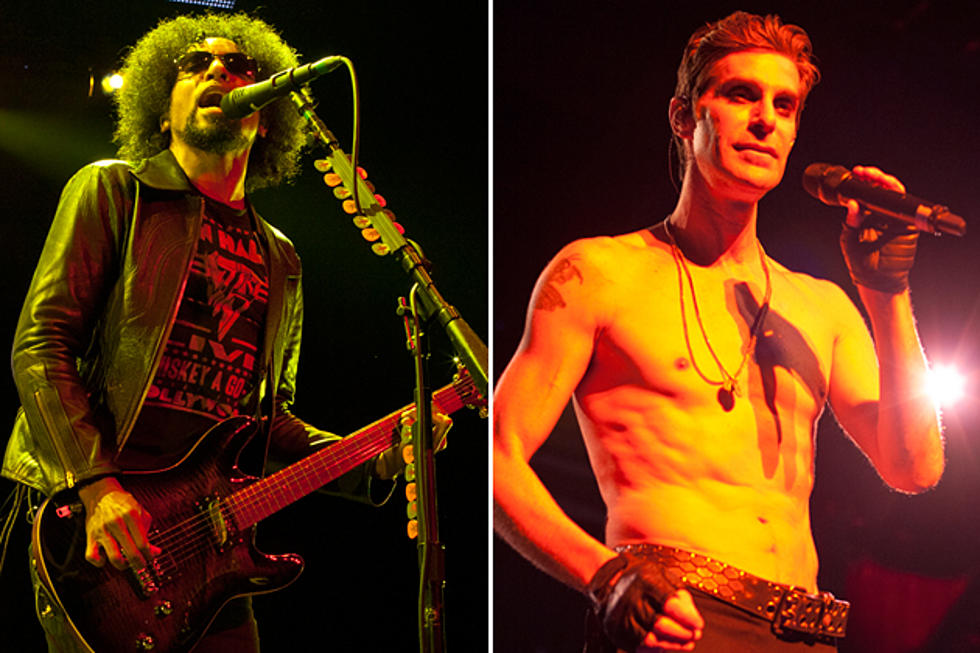 Alice in Chains, Jane's Addiction + More Rock Hartford With 2013 UPROAR Festival
Antonio Marino, Jr., Noisecreep
The Comcast Theater in Hartford, Ct. hosted the second stop of the 2013 UPROAR festival. In past years, the UPROAR festival has featured a strict hard rock and metal lineup. However, this year's roster is an eclectic collection of bands that defy musical classification. So it's perfectly appropriate that, Perry Farrell, the person responsible for creating the eclectic Lollapalooza festival would be on hand, to see UPROAR spread its musical wings.
Headliners Alice in Chains, also Lollapalooza vets, have always pushed the bounds of what is expected from a successful rock band by melding melodic acoustic tracks with heavy trudging rockers. Hearing 'Nutshell' and 'No Excuses' seamlessly played alongside 'Man in the Box' and 'Would' shows that by abandoning of industry rules proved to be the right move. It was before 'Nutshell' that co-vocalist Jerry Cantrell introduced the band and dedicated the song "to the other members of Alice in Chains -- Mike Starr and Layne Staley." Fellow co-vocalist William DuVall did a fine job of balancing Staley's legacy while keeping his own identity.
In far more colorful staging and complete with two sultry dancers, Jane's Addiction put on a show that's not easily forgotten. Perry Farrell's childlike enthusiasm is contagious and refreshing. In an age of concerts that are choreographed with clockwork precision, Farrell seems to be making it up as he goes along. When he extols the joy of stealing you don't sense it's a pre-written script to intro 'Been Caught Stealing,' you truly get the sense that he expects us to steal something on the way home. Add to that Dave Navarro's guitar and you have the perfect amount of punch to remind us that this band can kick ass when it wants to.
Coheed and Cambria, with their unique brand of progressive metal, bring with them a small army of devoted fans that ate up their 45-minute set and sang along with Claudio Sanchez the whole time. Along with mainstage opening act Circa Survive, Coheed and Cambria delivered an energy filled set that made fans of those who may have been hearing them for the first time.
Usually the proving grounds for up-and-coming artist, UPROAR's sidestages were well stocked with familiar faces including Duff McKagan playing bass for Seattle's Walking Papers. The Dead Daisies, with Guns 'n' Roses guitarist Richard Fortus, G'n'R keyboardist Dizzy Reed, former INXS singer Jon Stevens and Thin Lizzy bassist Marco Mendoza delivered a straight-forward no-nonsense set that even had McKagan looking on from the side of the stage. Providing the new blood, Middle Class Rut, The Chuck Shaffer Picture Show, Beware of Darkness, Charming Liars all proved themselves to be bands to watch out for.
See Our Gallery for the Hartford 2013 UPROAR Festival Stop