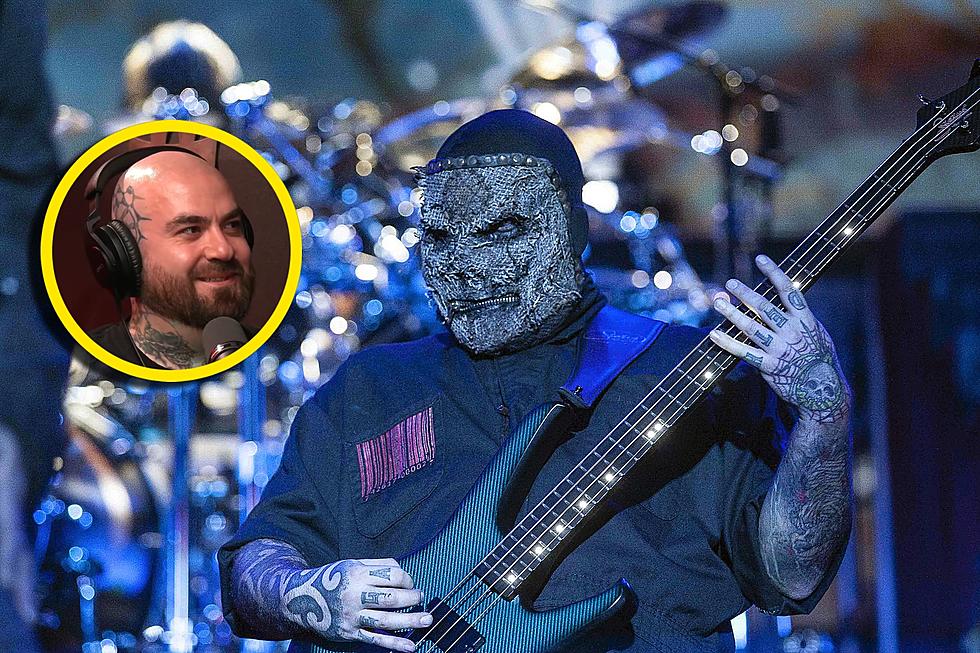 V-Man Weighs in on Slipknot Releasing Singles Instead of Albums Going Forward
ullstein bild via Getty Images / YouTube: Hellfest Open Air Festival
Back in November of 2022, Slipknot percussionist Shawn "Clown" Crahan alluded to the band potentially giving up on albums in favor of singles moving forward (with frontman Corey Taylor partially fueling the fire days later). Ever since, fans have been eager for more clarification on the subject, and fortunately, bassist/keyboardist Alessandro "V-Man" Venturella has now given devotees hope that future LPs may be possible.
Speaking to Hellfest TV on June 18, 2023 (the same day Slipknot played the festival), V-Man was asked to comment on his bandmates' remarks and the resulting speculation.
He clarified:
I mean, it's not a set-in-stone thing. I think it's more, like, now that we're not with a record label, um, we can now do whatever we want and we're not held by certain aspects. You know, we're in a world now where it's – to try and get everyone all together to do a full record and the logistics to get nine guys in a place – somewhere like Los Angeles or something like that – [to] record a record, it's a big undertaking.

Especially in today's climate and how everything is, whereas if we take our time and we do things that we want, you know, we can put out a single and we can do this here, and I think that's what [Crahan] was kind of getting at.

Albums are still a thing, and we still wanna do albums, but I think it was more, like, "Hey, times are changing. We can go, 'Hey, here, guys, here's a new single. You can have a single,'" you know? And we're not, like, four years later, here comes an album. We can be a bit more free to do what we want.
You can check out the full clip below.
READ MORE: Best Rock + Metal Cover Songs of 2023 (So Far)
His explanation certainly makes sense. Plus, it gives fans a bit more optimism regarding a proper full-length follow-up to The End, So Far (which we named as one of the 50 best rock and metal albums of 2022).
As for Slipknot no longer being tied to a record label, The End, So Far was the band's final release with Roadrunner Records (with whom they signed in 1998 and released all of their studio LPs).
Recently, we included Slipknot's "Wait and Bleed" – the first single from their self-titled 1999 debut record – in our list of bands with multiple music videos for one song. Also, the identity of their new keyboardist may've been exposed last week.
Back in June, Taylor issued a frivolous challenge to WWE superstar Randy Orton and turntablist Sid Wilson shared a photo of his first child with Kelly Osbourne.
Of course, Taylor is currently on tour as well. You can check out his remaining dates here and purchase tickets here.
V-Man Discusses the Future of Slipknot LPs at Hellfest
The 42 Songs Slipknot Have Never Played Live
These are the songs Slipknot have never performed live.