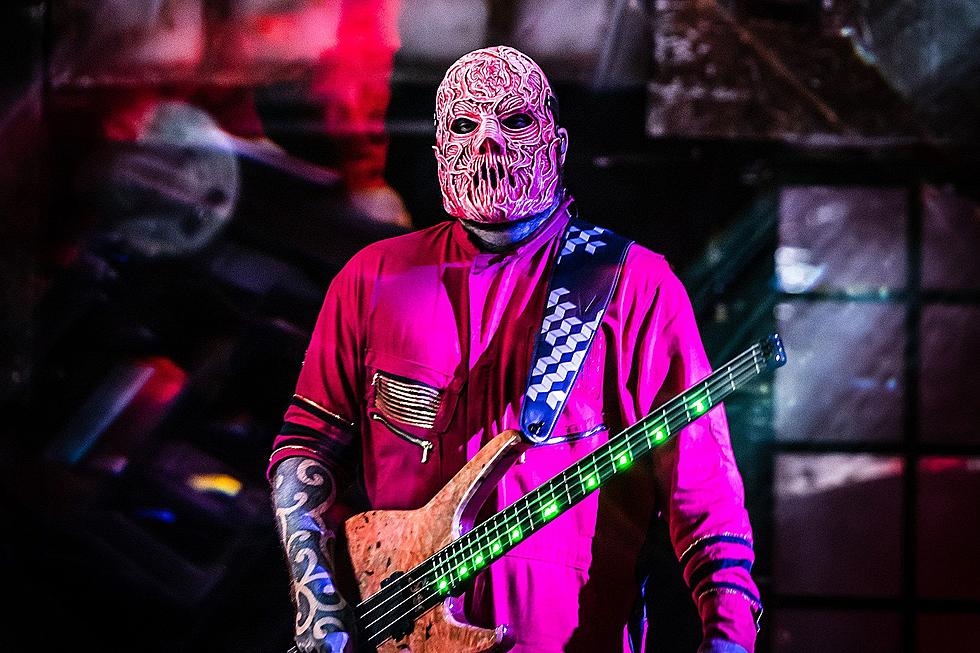 How V-Man Drunkenly Talked His Way Into Auditioning for Slipknot
Photo by Anthony Scanga
You can pretty safely categorize how Alex "V-Man" Venturella drunkenly talked his way into auditioning for Slipknot as random.
It's a classic "right time, right place" scenario as the bassist, who joined Slipknot in 2014, tells Guitar World. An unlikely sequence of events transpired that ended in a phone call with the 'Knot guitarist Jim Root extending him an invite to try out for the group.
So, where was Venturella when the phone rang?
"I was teching with Mastodon in 2014 and we'd just got back from Australia, where we were doing the Soundwave Festival. I was staying with [Mastodon singer and bassist] Troy Sanders' brother Darren Sanders in Atlanta. One night, Darren's girlfriend got a call from Jim Root. I knew Jim because I toured with Slipknot in 2008, teching with Coheed & Cambria," he begins.
What happened next turned out to be life-changing, little did he know what was about to happen at the time.
Venturella continues, "So she passed me the phone and he said, 'Do you know any bass players?' I asked if it was for Stone Sour and he said, 'No – the other band' and I instantly said 'I'll do it!' I gave him this whole drunken spiel about 'I'll give you some slap bass if you need it!' and we were having a laugh. Then he said 'Seriously, do you actually want to do this?' and I said 'Yes, I'd really love to do it'."
Slipknot's manager asked him to learn six songs, which he did, and a whole lot more.
READ MORE: How Sid Wilson Proved He Was Crazy Enough to Join Slipknot
"I thought, 'Fuck that, I'll learn more than that' and sat down on the couch and watched all of [late Slipknot bassist] Paul [Gray's] old videos and DVDs, and crammed in as much knowledge as I could," he recalls, noting he enlisted the help of his buddy and SikTh bassist James Leach to sharpen his attention to the details. "He told me I needed to downpick as hard as I could, so I worked on building that up."
The bassist also admits that playing in the band came with a "learning curve," and finding a physical balance that would give him the results he needs while also reducing the physical impact it has on him. "My thumb used to hurt because I was picking so hard — it would expand and blow up," he says, "so now I pick with more control and less aggression."
V-Man also acknowledged that the LED light-up fretboard on his basses are quite helpful when playing with a mask on. "Sometimes when I'm headbanging forward I can see the fret markers and I know I'm in the pocket," he explains.
You can catch V-Man in action with Slipknot this summer as the band hits a number of European festival and some select ones in the U.S. as well at these dates. Needs tickets? Go here and get 'em.
The Evolution of Slipknot's Terrifying Masks
PLAYLIST: Nu-Metal Deep Cuts
Listen/follow here and view the first 100 songs in the playlist below.
[carbongallery id="60be3aa87ab3ee2s4ef351c95"]