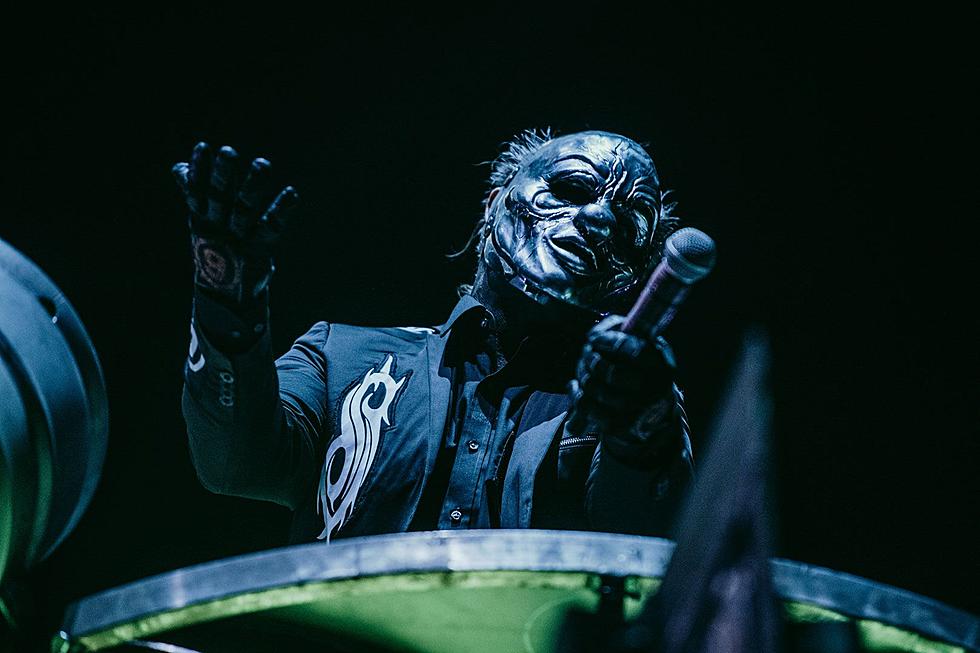 Slipknot's Clown Will Miss Remaining European Tour Dates to Be With Wife, Releases Statement
Avalon/PYMCA/Gonzales Photo/Nikolaj Bransholm/Universal Images Group, Getty Images
Back on June 7, Loudwire reported that Slipknot percussionist Shawn "Clown" Crahan would be missing some of the group's European concerts to "tend to his wife who is dealing with 'some health issues.'" Although he returned for their appearance at Download Festival on June 11 (and some subsequent shows), it looks like he's going back to Iowa – and sitting out the rest of their European shows – to continue supporting her.
Earlier this morning (June 18), Clown made the following announcement on the band's social media accounts:
Hello to all of our fans. Unfortunately I had to return back home to be with my wife due to her medical situation. Thank you for the overwhelming support for the few shows I was able to make. I'm so sorry for missing the remainder of these shows, I was really looking forward to being there. As always, I'm so gracious for your overwhelming support for our family. I will be seeing you all at our shows in July. See you soon and hail Slipknot.
You can see the post below:
READ MORE: What Slipknot's Corey Taylor Thinks About Anders Colsefni's 'Mate. Feed. Kill. Repeat.' Tour
Fortunately, the news was unanimously met with support from the "maggots."
For instance, one Twitter user replied, "The ones you love are more important. Your fans will be waiting. Healing vibes your way," while a Facebook fan commented: "Hoping all is well with your wife. I know the feeling. Take care of what is important with all our best wishes. We got it from here."
In his original statement, Clown clarified that he and his wife have "been through this before," which is obviously encouraging. Upon Clown's reappearance at Download Festival, frontman Corey Taylor triumphantly shouted: "First things first, god damn it, we got him back – make some noise for the Clown! Secondly, obviously, for his family, I want you all to scream your fucking asses off so they can fucking hear them back in America!"
As noted in Clown's latest update, he plans to return for the group's set at Rock Fest on July 14. Before then, however, Slipknot have a few more European dates to fulfill, including their performance at Hellfest Open Air Festival tonight (June 18) and stops in Germany, Italy, Spain and Portugal.
In other news, Slipknot recently debuted a new song, "Death March" (with an accompanying music video), which turned out to be the opening track of their unexpected new EP, Adderall. Released on June 9, Adderall contains multiple versions of the opening song from last year's The End, So Far LP., and listeners initially had mixed opinions on it.
Slipknot also parted ways with keyboardist Craig Jones earlier this month; since then, fans have had a wide range of reactions and the band have shared a creepy photo of (and played some rarities with) their mysterious new member. Naturally, devotees have also been theorizing about the person's identity, and we've been trying to figure it out, too.
Be sure to check out all of Slipknot's remaining tour dates, too, and grab your tickets here!
Of course, Loudwire sends well wishes to Clown and his wife.
The 42 Songs Slipknot Have Never Played Live
These are the songs Slipknot have never performed live.