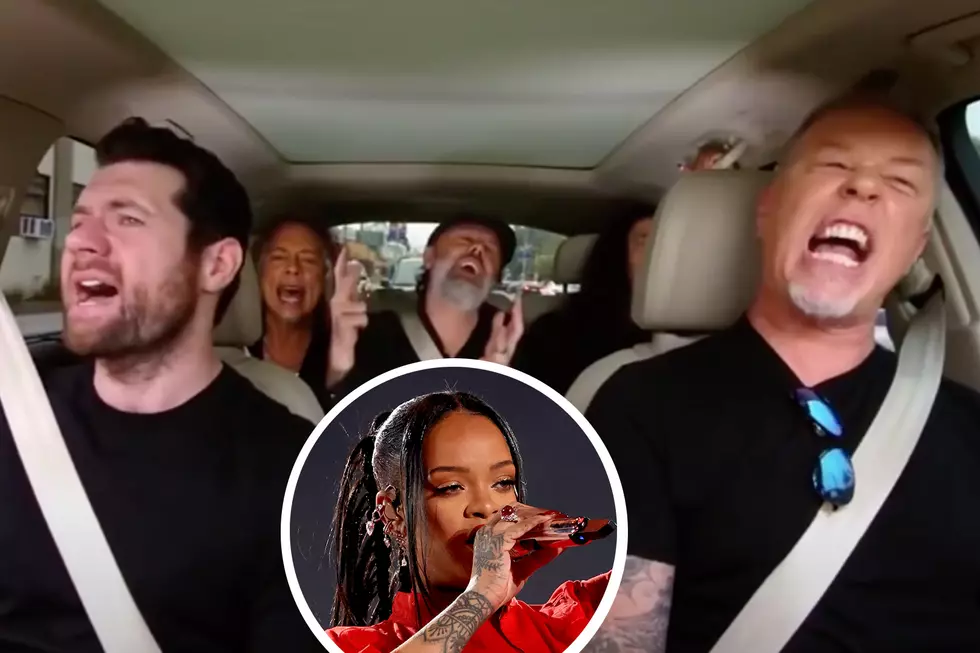 Metallica Share Video Singing Rihanna on 'Carpool Karaoke' Following Super Bowl Halftime Show
YouTube - Omi Azad / Gregory Shamus, Getty Images
Rihanna was the performer during this year's Super Bowl Halftime Show, and following the performance, Metallica shared a video of them singing along to one of the pop star's songs when they appeared alongside actor/comedian Billy Eichner on Carpool Karaoke a few years ago.
"We can't believe Rihanna didn't as us to be her backup singers," the band wrote in a tweet, which includes a clip of them jamming along to her 2012 song "Diamonds" on Carpool Karaoke back in 2017.
As seen in the video, Kirk Hammett, Lars Ulrich and Robert Trujillo were a bit more into the song when it came on, while James Hetfield looked out the window and pleaded with bystanders to help him. Once the chorus broke out, he started head-banging and grunting along to the lyrics.
See the clip below.
Though Metallica weren't invited to perform with Rihanna, their single "Lux Aeterna" was featured in a commercial during the Super Bowl, which advertised the Daytona 500, which will be held on Feb. 19.
It's been quite a few years since we've seen a rock act perform during the Super Bowl Halftime Show. From 2005 to 2010, Paul McCartney, The Rolling Stones, Prince, Tom Petty and the Heartbreakers, Bruce Springsteen and the E Street Band and The Who were the performers each year, respectively. Since 2011, there's been performers from several other genres, but we'd really love to see Metallica get to play it at some point, especially given some of their songs are often played at sporting events.
Here's a whole list of rock and metal bands we think should perform during the Halftime Show.
25 Most Memorable Rock + Metal Super Bowl Commercials
Keeping the big game rocking!