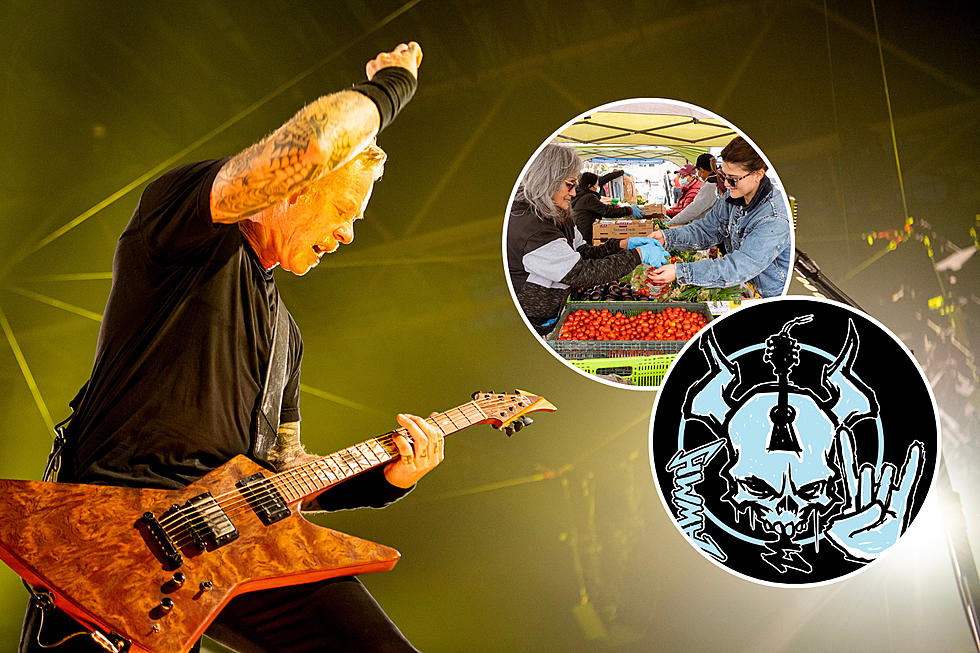 Metallica Partner With The Farmlink Project For 2023 Month of Giving
Ross Halfin / All Within My Hands
May 2023 marks the fourth annual Month of Giving for Metallica and their philanthropic foundation, All Within My Hands. As with past Months of Giving, Metallica have chosen one organization to partner with as they raise money and awareness over the coming weeks.
In 2023, their partner is The Farmlink Project, an organization that connects farms with surplus to food banks, serving as an integral player in the fight against hunger. 100 percent of the funds raised by Metallica and All Within My Hands in May will go to support the work of The Farmlink Project.
The first Month of Giving was held in May 2020 near the start of the global pandemic. Because of the timing, the focus of the month looked a little different; each Tuesday in May, Metallica spotlighted a different organization that was aiding in COVID-19 relief. In 2021, they partnered with Direct Relief and Feeding America, and in 2022, the recipient of their efforts was World Central Kitchen, which supported families sheltering in Ukraine and refugees arriving in Poland, Romania, Moldova, Hungary and Spain.
This year, All Within My Hands decided to partner with The Farmlink Project because of its proactive nature in seeking a solution to world hunger. As described by All Within My Hands:
The Farmlink Project was founded by college friends Ben Collier and Aidan Reilly. When campuses closed in March 2020 due to COVID-19, many students found themselves back at home with the urge to help those struggling. Born in response to the pandemic, they now have plans to become a long-term and sustainable presence in the fight against food insecurity. Their organization has expanded nationally through the work of over 600 students from colleges and universities across the globe. These young changemakers are doing essential work to help end food waste, feed families, and curb greenhouse gas emissions by connecting farms with surplus to local food banks.
You can learn more about The Farmlink Project here. Metallica have created exclusive merch to support the 2023 Month of Giving, which includes a partnership with Wolverine for new clothing items and a collaboration with Dunlop for a brand-new set of guitar picks.
READ MORE: See Photos From the First Two Nights of Metallica's 72 Seasons Tour
In addition to buying merch, fans can support the Month of Giving campaign through exclusive auctions and contests, which you can read more about at this location.
And because there is no discussion about Metallica's charitable efforts without talking about the global Metallica Family, there is also a friendly competition to see which local Metallica Club chapter can help raise the most money for The Farmlink Project. Last year, MASSter of Puppets—the MetClub chapter of Massachusetts—led the pack. At the time of this article, the Blackened UK chapter is in the lead; you can learn more about this and see the leaderboard for local Metallica Club chapters here.
Metallica are currently in Europe on the first leg of their M72 tour in support of 72 Seasons. Their next shows are in Paris on May 17 and 19; they will be back in America beginning Aug. 4 with their show at MetLife Stadium in East Rutherford, N.J.; you can get details on the M72 tour here.
Watch Metallica and All Within My Hands Featured in CNBC's The Shift
Metallica: The Week They Released '72 Seasons'
There's no question that Metallica's new album, 72 Seasons, was already one of the world's most anticipated releases of the year when it came out on April 14. Leading up to that release, Metallica only upped the anticipation with performances and appearances on Jimmy Kimmel Live! and The Howard Stern Show and with their global listening party on Thursday, April 13. There was a lot more that happened to celebrate the release, too, so we put together some of our favorite moments of the 72 Seasons release week in the gallery below.
See Magnificent Photos From Metallica's 2022 Jonny and Marsha Zazula Tribute Show