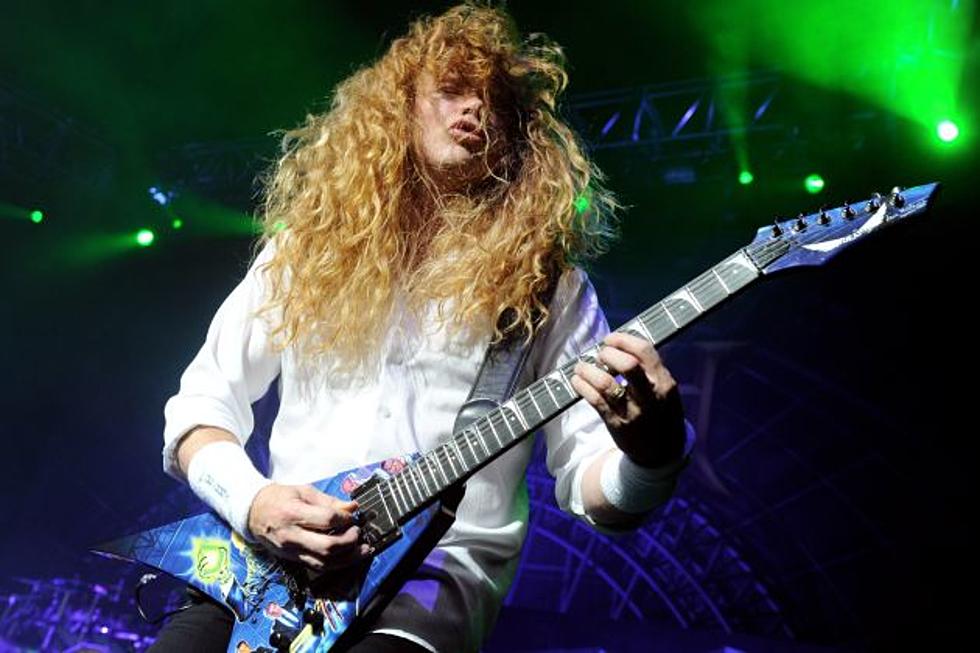 Dave Mustaine Unveils New 'Zero' Signature Dean Guitars
Kevin Winter, Getty Images
Megadeth frontman Dave Mustaine is responsible for some of heavy metal's most memorable riffs, and since 2006, Mustaine has been working with one of the most metal companies, Dean Guitars, to create a diverse assortment of axes. In keeping with tradition, Mustaine and Dean have just unveiled their newest collaboration, the Zero series.
The Mustaine Zero series of guitars include four different six-stringers, all with unique designs and the features one would expect from one of metal's foremost founding fathers. All four feature Mustaine-designed humbucking pickups with silver covers, mahogany bodies and Tune-O-Matic string-through bridges. Each one is Mustaine's own version of the classic Explorer shape, with sharper edges and greater access to the top-most frets. The Zero's D-shaped neck is mahogany and, like all of Mustaine's guitars, has 24 frets.
The Zero comes in four flavors. Two of them are solid colors, available in either Classic Black or Metallic Silver. Two others, though, come with unique Megadeth-inspired designs. The 'In Deth We Trust' model features Megadeth mascot Vic Rattlehead as the centerpiece of the dollar bill. And the 'Angel of Deth II' features a faceless dark angel with metallic wings, and comes in a left-handed version, as well.
"I've been with other guitar companies before, but I've never felt before the treatment I get from Dean," the Megadeth founder said in a video showing off the 'In Deth We Trust' version of the Zero. He said Dean has always treated him like a member of its family, and has always been quick to see to any issues he's had with any of his guitar lines. Earlier this year, Mustaine named Dean the exclusive guitar sponsor for the Gigantour music festival.
To check out the Mustaine Zero line of guitars, visit Dean's website.