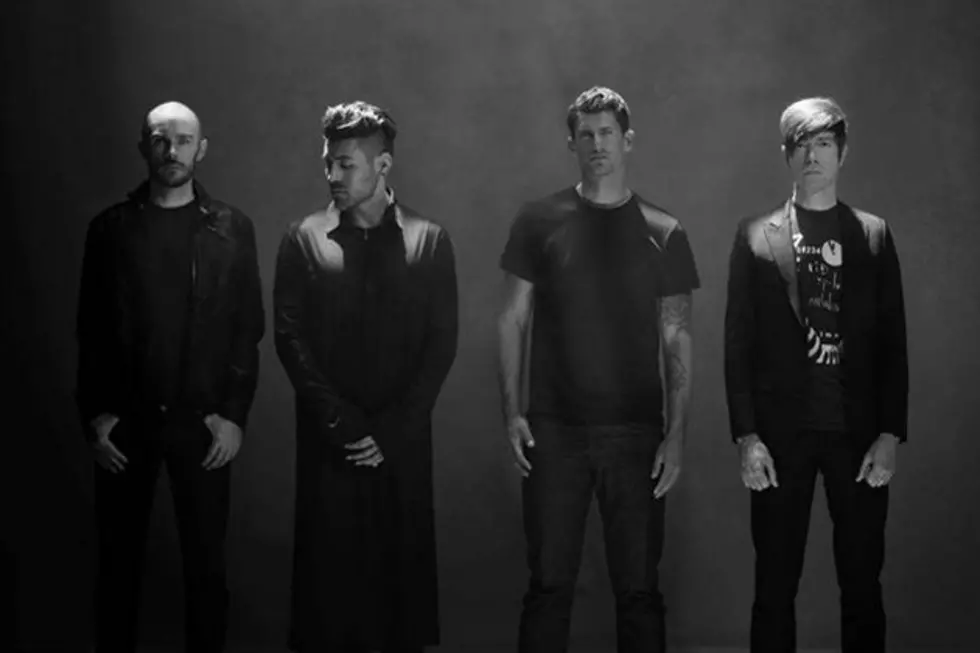 Republic Records
AFI may have started out as a hardcore band, but the group's sound has evolved over the years to where they've become one of the more popular bands in rock. And though change is inevitable, the group has maintained a dedication for finding the beauty in the dark side of things that has translated over to a good portion of their music videos.
As their video budgets have grown, we've seen more artistic clips come from the group, but one common denominator in their best videos is the ability to draw the viewer in to the specific vibe they're trying to portray in the song. Some videos are straight-up dark both musically and visually while other clips veil the angst and sorrow a little more. But each succeeds in invoking a feeling. Without further adieu, we present to you the 10 Best AFI Videos.
10

'Totalimmortal'

Directed by: Brent Waroniecki

We start off our 10 Best AFI Videos list with 'Totalimmortal,' a rare clip from the band's pre-radio play days. This low budget black and white video primarily puts the focus right where it needs to be -- on the band's highly energetic performance. Simply put, the band just kills it in this very raw performance of the track, which appeared on their 1999 'All Hallow's' EP.

9

'Medicate'

Directed by: Paul Minor

It's a more stylized AFI that we get in the band's video for 'Medicate.' This aggressive rocker puts the focus on the group's performance, in which they are shot in black and white with some of the instruments and microphones given a splash of gold. Given a spacious stage to work upon, Havok utilizes every inch to get some of his best frontman moves in while expressing the energy generated by the song.

8

'Love Like Winter'

Directed by: Marc Webb

'Love Like Winter' is the first of several Marc Webb-directed clips to make our 10 Best AFI Videos list. In this promo, the band performs amidst a snowy forest backdrop, with Webb's blue-lit hue giving it an even colder feel. While performing, Havok crosses paths with a mysterious hooded female, following her through the woods. But catching up to the woman and learning her identity isn't exactly the love story some may have been expecting. In fact, the results are quite dire.

7

'17 Crimes'

Directed by: Matt Stawski

AFI examine the invincible feelings of youth in their video for '17 Crimes.' The Matt Stawski-directed clip finds two guys and two girls using an under construction home as their personal playground for hedonistic pleasures, filled with make-out sessions, branding and a little bit of destruction of private property. As a contrast to the full-of-life teens, AFI are shot in the same house with darkness creeping in, ghostly plastic flying around them and more of a serious reflective vibe.

6

'I Hope You Suffer'

Directed by: Brian and Brad Palmer

With a song as dark as 'I Hope You Suffer,' you've got to have an equally desolate setting. Directors Brian and Brad Palmer pull this off adeptly with shots of silhouetted band members, ominously dark clouds and a primarily charcoal black setting. But the key shot of the clip is when Havok emerges from a dark hall with a curtain dropping so that he can join the band in an impassioned delivery of the aggressive chorus. There's little doubt what the singer is feeling as it's shown all over his expressive face.

5

'Silver and Cold'

Directed by: John Hillcoat

With 'Silver and Cold,' AFI were definitely going for a vibe. The band shot the clip in the very dark and ominous looking city of Prague. A pale Havok overlooks a watery grave from a bridge above. Meanwhile, his bandmates, seemingly aware of his deathly intent, rush through the streets to try to stop him from jumping. But this tale of trying to prevent a tragedy has a twist to it, and it's that switch-up that makes this one of the 10 Best AFI Videos.

4

'Beautiful Thieves'

Directed by: Travis Kopach

After seeing the clip for 'Beautiful Thieves,' it might be in your best interest to search the AFI guys at the door before you let them into your party. In this story-driven clip, the band members arrive suited up to play a high class bash, but little do the partygoers know the guys are "beautiful thieves" plotting something that no one suspects at all.

3

'Girl's Not Grey'

Directed by: David Slade

'Girl's Not Grey' put AFI on the map at radio and the video for the song also left a mark. The David Slade-directed clip finds the band performing in an alley where a girl chases a rabbit into a pink-hued alternate reality. In this reality, the AFI guys play amidst a field with the girl eventually coming across them after chasing the rabbit. Add in a flower whirlwind and some mysterious golden slippers and you've got the makings of one truly surreal music video.

2

'The Leaving Song, Pt. II'

Directed by: Marc Webb

Marc Webb is back to direct one of AFI's more cinematic looking videos. In 'The Leaving Song, Pt. II,' the group perform on a dimly lit theater stage as we see close ups of men breaking out hoodies and bandanas. Though not initially clear what's going, as the song hits its powerful chorus we see that both hooded and shirtless concertgoers are ready to share in AFI's angst with a free-for-all in the audience featuring a flurry of flying limbs. Is it a fight, is it a dance or is it a mosh? Whatever it is, it's pure energy!

1

'Miss Murder'

Directed by: Marc Webb

'Miss Murder' is arguably AFI's most epic video, with director Marc Webb unspooling a mysterious tale. In the clip, Davey Havok sits at a desk discovering a note from the mysterious Miss Murder, but that doesn't keep him from rallying the masses below from his palace balcony. But Havok shouldn't feel too safe and the sighting of black rabbits surrounding his desk should be a big clue. Miss Murder has him in her sights to invoke her will, and by the end of the promo she finally catches up to him. This finely crafted clip sits atop our 10 Best AFI Videos list.