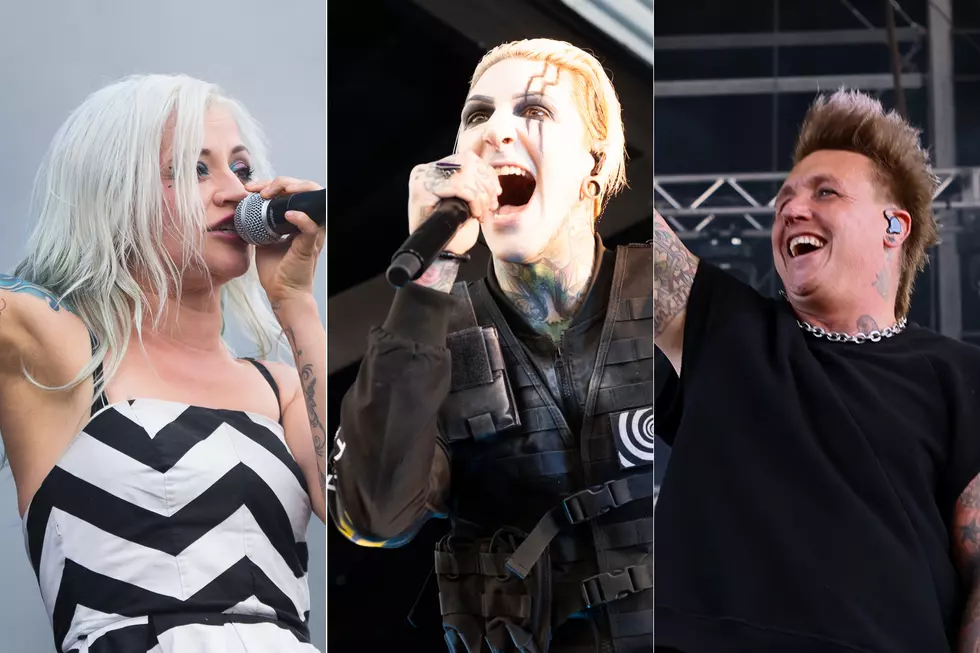 Bamboozle 2023 Reveals Full Lineup
Jason Squires / David A. Smith / Theo Wargo, Getty Images
UPDATE (April 28): The 2023 Bamboozle Festival has officially been canceled. Learn more about the cancelation here.
UPDATE (March 3): The Bamboozle 2023 lineup is now complete with a wealth of additions for this year's festival. Newly added acts include A Boogie Wit Da Hoodie, Trippie Redd, Joey Bada$$, Destroy Lonely, Ken Carson, Mod Sun, Turnover, Brakence, The Acacia Strain, Murda Beatz, Charly Jordan, Coi Leray, Fiddlehead, and local favorite Louyah. The full lineup can be seen in the poster at the bottom of this page.
Bamboozle Festival is making its return this year, and now a second wave of artist announcements has come in advance of this year's 20th anniversary celebration. Organizers have revealed a new slate of acts taking part, including Flyleaf, Motionless in White and Papa Roach among others.
For Flyleaf, this year marks the return of singer Lacey Sturm to the fold. The vocalist has spent time as a solo artist in recent years, but is back with Flyleaf where her career first blossomed. Motionless in White meanwhile are thriving off some of the best reviews of their career with the Scoring the End of the World album, and Papa Roach are one of rock's most enduring acts, once again flying high with last year's Ego Trip album.
Other newly announced acts for the 2023 edition of Bamboozle include Bad Omens, Callous Daoboys, Trippie Redd, De'Wayne, The Driver Era, Chelsea Grin, A Boogie Wit da Hoodie, Ice Spice, Gridiron, Mindforce, Ski Mask The Slump God, The Garden and End It. Plus, Palisades will be playing their final performance before splitting at the 2023 Bamboozle Festival.
They join a bill that already included Limp Bizkit, Hollywood Undead, Saves the Day (celebrating 20 years of In Reverie), Attila (celebrating 10 year of About That Life), E-Town Concrete, We The Kings, Finch, Mayday Parade, Say Anything, Saosin, Boys Like Girls, Rick Ross, Steve Aoki, Yung Gravy, Blackbear, Sueco, The Spill Canvas, Valencia, Carnifex, POORSTACY, Cane Hill, Tallah, Gideon, Kayzo, Teddy Swims and Shallow Pools among others.
In addition, the festival grounds will also include a midway with four amusement park rides, a B-Boy dance competition, a "Break Contest" local band competition, Game Changer Wrestling, art installations, fan activations, merch and food vendors, DJs, clowns, a poet and plenty more.
"This is a party - 20 years in the making!," says CEO/founder John D'Esposito.
The 2023 edition of Bamboozle Festival will take place May 5-7 at Bader Field in Atlantic City, New Jersey. Tickets and additional festival information is available via the Bamboozle website.
2023 Rock + Metal Music Festival Guide
See what big rock and metal festivals are coming up in 2023!