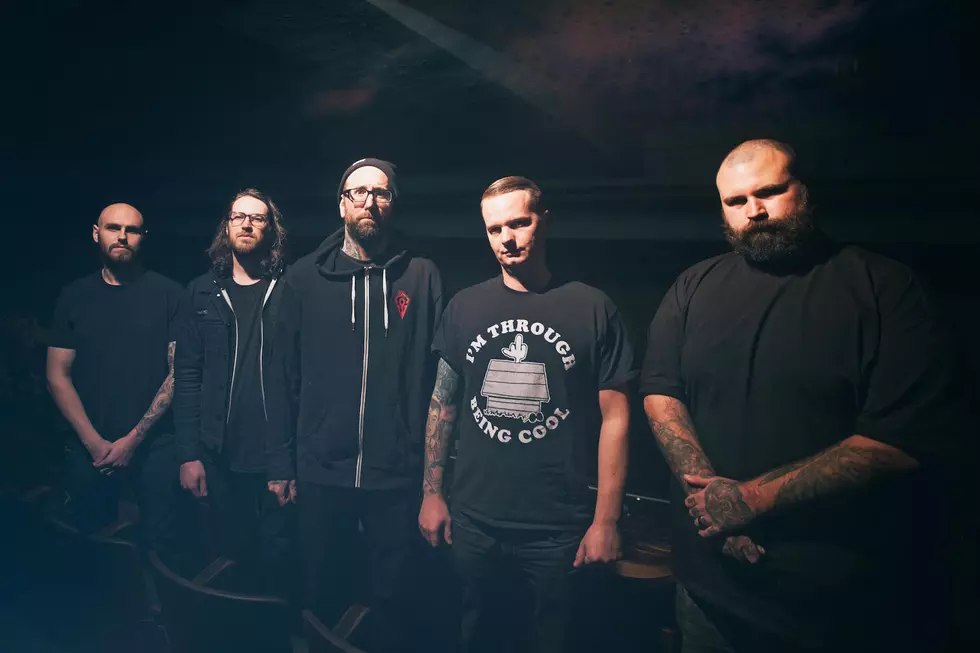 The Acacia Strain's Vincent Bennett: Evolving Our Sound While Retaining Identity Is 'The Biggest Challenge We Face' [Interview]
Rise Records
The Acacia Strain vocalist Vincent Bennett was the latest guest on Full Metal Jackie's weekend radio program. He spoke about the challenge of trying to do something new musically without deviating from the band's core sound, how he's changed as a lyricist over the last 15 years, the dynamic experience of being on Warped Tour and more. Check out the chat below.
We're here to talk about the new album from the Acacia Strain called Gravebloom. If "Bitter Pill" is any indication, Gravebloom is the Acacia Strain somehow getting even heavier.
What's the biggest challenge of getting heavier without retreading something that's already been done?
I don't know. I really don't. You have to kind of keep your finger on the pulse. There's a lot of bands out there that are doing it bigger and doing it better than I'd say that we're doing. But we're just trying to do the best we can. I think the biggest challenge we face is just, we want to do it as big and best that we can while still maintain like we are — the we are the Acacia Strain.
We're not deviating from what you are used to as a fan. We don't want to alienate anybody. And that's probably the hardest part. It's not a worry of, "Oh, we're not going to be heavy enough." It's, "Oh, are we going to be different enough, but still kind of remain the same band?" And that's the true challenge. But it's also —there's been some member turnover. So it's like we have a new refreshing group of people with a bunch of open brains and we're all continuously bouncing ideas off of each other. So that's the essence of creation. That makes it easy.
How have you changed most as a vocalist and lyricist since the first album back in 2002?
I mean, I've changed as a human being. You think when you are 22 years old that you've got it all figured out. I'm an adult! I can go to bars and you think you know everything. Then as you go through life, especially as a touring musician and you see things every day that you never thought that you would see, you start to realize that you know nothing in the grand scheme of things and it kind of humbles you as a human being. So that changes basically everything that you want to express artistically.
So when I was 22, like I said, I thought I knew everything. So everything sucks, everyone sucks, people suck, the world sucks, everything sucks. Gradually as I went on it was less about people sucking and more about, "Oh no, what are we going to do, the world is kind of f--ked."
And even further down, it was more of an inward journey for myself. Instead of thinking outwardly and thinking about the world and thinking about other people, I was really just focusing on myself and my own problems and my own journey. And that's the thing that I think is the most different about new stuff as compared to the original stuff when I just wrote about being an angry person.
Now it's more about what is making me an angry person. And that I think, this is our most adult record I think because now we are all adults. I'm 35 now, everyone else in the band is almost 30 or in their 30s. So we're trying to focus on us, which is crazy, because we've never really thought about it before. This record is really about my own problems, my own hardships, my own brain instead of, "F--k you, you f--king you suck," as it was earlier in my career.
Gravebloom comes three years after the last album. A year longer than the two year pattern that is the rest of the Acacia Strain's catalog. What accounted for more time and what did it ultimately allow you to do?
The timeline was really the same. The album has been done for, when it finally releases, the album will be done for a full year. And we were just looking for the right opportunity to release it. We didn't want to do a cold release with no tour surrounding it. We also didn't want to release it too early without being able to package it exactly how we wanted to. We were just waiting for the stars to align. We got the artwork we wanted. It was fine-tuned and perfect. We got the vinyl colors we wanted. This album is a big deal to us, like I said it's a very adult record and we wanted it to be 100 percent perfect.
Not that I feel like we rushed any of the other records, we just wanted to take time and make it as visually pleasing or displeasing as it sounds. So we took our time with it, we wanted to make sure that we had the perfect package put together, perfect everything and then we had the perfect tour to back it up. It's like, what better tour to support a record on than Warped Tour? You're in the mixing, melting pot of music.
There's so many different kinds of underground music in the same place that you're really grabbing the fans and getting our voice out to people who wouldn't necessarily come to see you if you're doing a headlining tour. It just took us this long to figure it all out and make it 100 percent perfect so we could stand behind it and be like, this is what we need to do. It might have taken a little longer, but I think it's worth it.
Matt Honeycutt of Kublai Khan has a guest performance on Gravebloom. What made that collaboration?
He is an extremely good friend of mine. We've done multiple tours with Kublai Khan; they're an amazing band. They're very emotionally charged, heavy, hardcore music and I respect him as a vocalist. I respect him as a human being. He's a friend of mine and when we have people featured on a record, I want to make sure I have a close personal relationship with them, so the true essence of everything they lay down on their track is pure and meaningful. I think he did better — he blew me away. He came into the studio, they were just getting ready to go on tour, it started in New Jersey and he came in and just — I was floored by his performance.
When I heard it fully put together on the record I was absolutely blown away because he is an amazing human being. I think it comes through on the record. He adds this dynamic to that song that I didn't think was possible with just me. I think he did an amazing job. His part on that song is probably one of my favorite guest vocal spots I've ever concocted. Great person, great band and it's my favorite part on the record. Hands down.
What do you like most about being a part of that environment of so many bands?
It's like punk rock summer camp. Everybody — some people call it "groundhog day" because you literally do the same thing. You wake up, you find a porta-potty, take a dump, you try and find your bearings. But it's like summer camp, you're camping out in the middle of the field and you see the camp counselors. You have to wait in the food line. We play cornhole and all this other stuff. There's such a weird dynamic because it's a moving city. It's a community.
There's 50, 60 bands on the tour. All the bands' crew, all the tour crew. It's like a small town moving all over the country and you get to know people that you wouldn't normally get to know. Like one year we did Warped Tour and there's a band called Bad Rabbits, a funk band. They were our best friends. That would have never happened had it not been for the dynamic of Warped Tour. It's just really cool. You get to know all these people and you become friends with these people that you would never meet on a regular tour and you get to perform in front of people that would never normally come to see you unless it was for a tour like Warped Tour. There's different — like Neck Deep, Blessthefall, and Hatebreed on the same tour together. Who would have thought that would be possible? I think it's awesome.
That was one of the things that really — "Hey you guys want to do Warped Tour?" Yes, absolutely. Hatebreed and GWAR and Sick Of It All and all these other bands we'd never tour with these types of bands. It's a mish-mash and an amalgam of just good music in one place at one time and you get to experience this as a human being. It's this thing that you see once and you'll never be able to see these bands together ever again and I think that's great.
Thanks to Vincent Bennett for the interview. Grab your copy of the Acacia Strain's 'Gravebloom' at Amazon or iTunes and follow the band of Facebook to keep track of everything the band is up to. Find out where you can hear Full Metal Jackie's weekend show at this location.
Best Metal Album of Each Year Since 1970