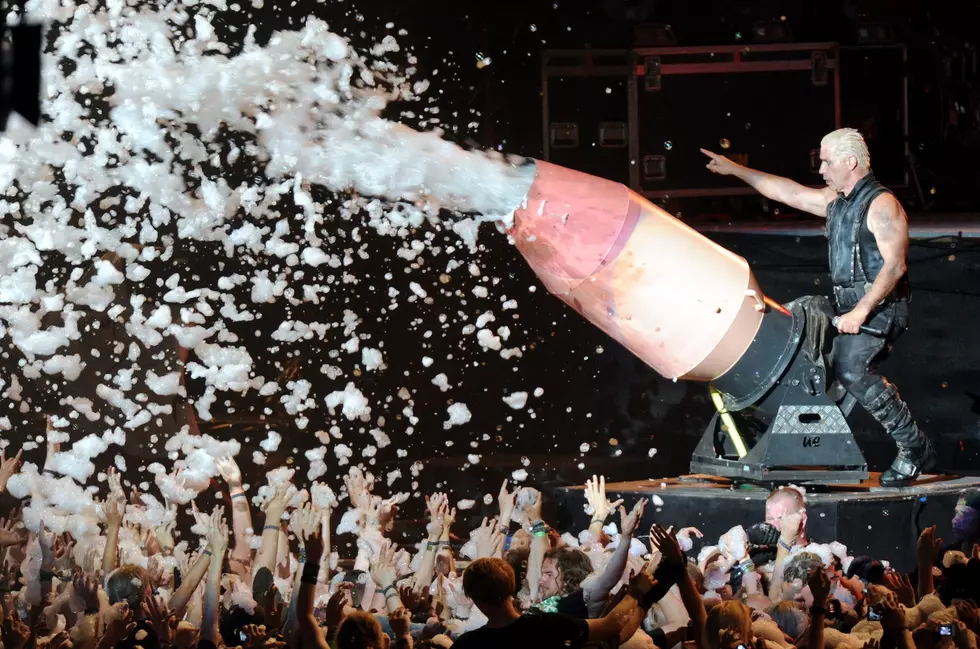 Rammstein Appear to Have Stopped Playing 'Pussy' Live
picture alliance via Getty Images
Rammstein have seemingly cut out the song "Pussy" from their setlist as of last week.
"Pussy" is from the band's 2009 album Liebe ist fur alle da, which translates to Love Is There for Everyone. The single became the band's first No. 1 in Germany, but the NSFW video — which contained graphic clips of the band members engaging in sexual acts with various women — really skyrocketed the song's notoriety.
According to Setlist.fm's Tour Statistics, "Pussy" is Rammstein's 13th most-played song ever. It was debuted live in Berlin in October of 2009, and played frequently through 2013. They brought the song back into their setlist in 2019, and were playing it regularly until this month. Setlist.fm states that the last time the track was played was June 3, just after frontman Till Lindemann was dropped by his publisher Kiepenheuer & Witsch as a result of the allegations that have surfaced online against him.
During the band's last couple of performances, "Pussy" was absent from the setlist, and they didn't replace the track with another song. When they did perform it, Lindemann often shot foam out of a canon shaped like male genitalia, and that was left out of their last few shows as well.
Rammstein haven't commented on their decision to stop playing the song, so any assumptions as to why are purely speculative. However, their fans seem to be pretty upset that it hasn't been played at the last few shows.
"So they just stopped playing 'Pussy'?" a user on Reddit titled a post.
"I was waiting for the setlist of the live at Trencin to be sure. I was thinking it was maybe just at Munich or something like that, but no. They really just stopped playing 'Pussy.' I really like 'Ohne Dich' but damn I was really impatient to see Pussy in live from the Feuerzone, it's one of their signature moment in live," the individual elaborated. "At least I would've like that they replace it with another song, but no we just have one less song than before. I don't want to get into the actual drama etc... But it's really a shame to lose such a fun song and a good moment of the show because of all this mess. I don't think we deserve to get less Rammstein in live."
READ MORE: 10 of the Most Sexually Explicit Rock + Metal Music Videos
"[Not gonna lie], after standing in the sun for 10 hours, and then being up against the heat at the rail, that foam felt fucking amazing (I know, I know lol). It was such an entertainingly absurd moment," someone commented on the post.
"I saw the last performance of 'Pussy' at Odense and none of them looked especially comfortable about it. I felt a bit sad for them [to be honest]. It was a blast; we sang, we danced, we laughed, but in their position I wouldn't have wanted to play it. Continuing with it just gives too much ammo to the people out there who have already decided on their guilt and have the gallows ready to go. But they can't take away our memories," added another fan.
Lindemann is currently under investigation in Berlin as a result of the accusations, which include claims of sexual assault and drugging, specifically during Rammstein's pre-show and after-show parties. Berlin has canceled the band's after parties at their upcoming shows in the city, as reported by Barron's.
According to Finnish publication Helsingin Sanomat, one of the band's assistants, Alena Makeeva — who the publication says recruited women to watch the show from Row 0 and then attend the subsequent after parties — was recently fired [via Google Translate]. The report also says Row 0 has also been disabled and Lindemann got rid of the private room under the stage he sometimes used to have sex with women during the show's interludes.
In a statement Rammstein posted earlier this month on their social media, the band pleaded, "We condemn any kind of transgressions and ask you: do not engage in public prejudice of any kind against those who have made allegations. You have a right to your point of view. But we, the band, also have a right — namely not to be prejudiced either."
100 Best Rock and Metal Albums of the 21st Century
Loudwire's picks for the best rock and metal albums from 2000 to present.