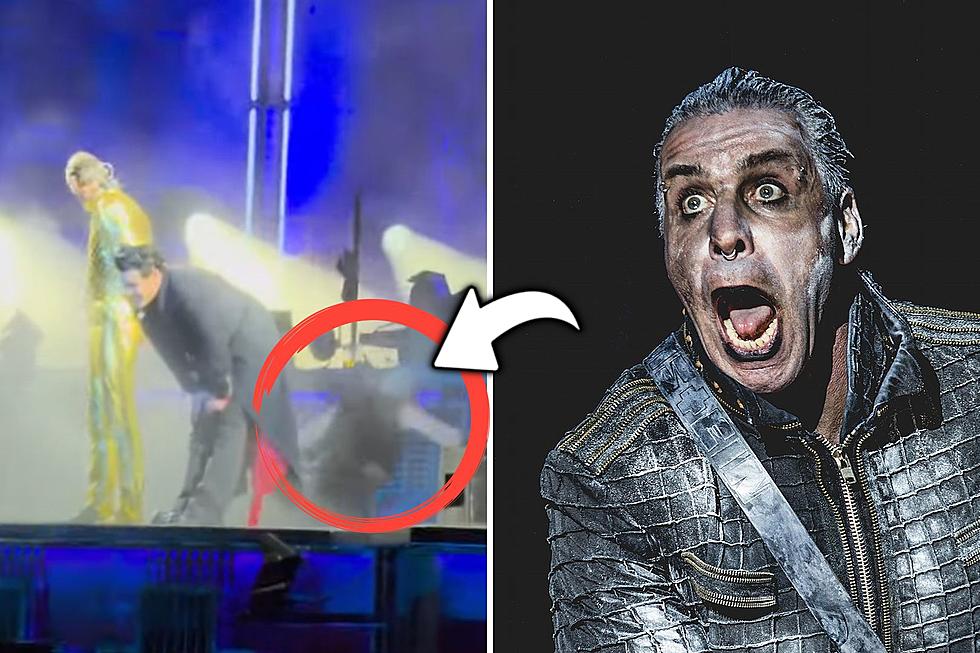 Rammstein's Till Lindemann Falls Down After Thanking Crowd at End of Tour Kickoff Show
YouTube: Till Sexov and his adventures / Francesco Castaldo, Getty Images
On May 22, Rammstein officially kicked off their 2023 tour following a special rehearsal show for fan club members two days prior. At the end of the set, while thanking the crowd, singer Till Lindemann fell backward and took a pretty big tumble.
The six-foot 60-year-old and the rest of the industrial legends had just finished performing a 22-song set in Vilnius, Lithuania in continued support of last year's album, Zeit. Fans were also treated to a couple rarities throughout the night, including show opener "Rammlied," which hadn't been played since 2011. The Du Hast cut "Bestrafe Mich" returned to the set for the first time since 2001 and Rammstein also debuted the Zeit track "Giftig." All three songs had been played at the aforementioned private dress rehearsal show and the May 22 gig marked the first respective public performances in those various capacities.
"Angst," which is also taken from Zeit, was played as well and was not one of the 21 songs fan club members heard at the May 20 dress rehearsal, making it a true live debut.
See the full setlist further down the page.
READ MORE: Lizzo Headbangs + Twerks During New Performance of Rammstein's 'Du Hast,' Band Notices
Following a second encore which consisted of "Rammstein," "Ich Will" and "Adieu," the band took their usual onstage bow while bidding fans farewell and that's when Lindemann went down.
In the fan-filmed video clips below, the hulking singer loses his balance as he takes a step backward and a resulting thud can be heard.
Rammstein will be on tour in Europe through early August. See all the upcoming dates and get tickets at the band's website.
Rammstein Setlist — May 22, 2023 (via setlist.fm)
01. "Rammlied" (First public performance since 2011)
02. "Links 2-3-4"
03. "Bestrafe mich" (First public performance since 2001)
04. "Giftig" (Live debut in public)
05. "Sehnsucht"
06. "Mein Herz brennt"
07. "Puppe"
08. "Angst" (Live debut)
09. "Zeit"
10. "Deutschland"
11. "Radio"
12. "Mein Teil"
13. "Du hast"
14. "Sonne"
Encore:
15. "Ohne dich" (with Duo Abélard) (Piano-version; performed on B-Stage)
16. "Engel" (with Duo Abélard) (Piano-version; performed on B-Stage)
17. "Ausländer"
18. "Du riechst so gut"
19. "Pussy"
Encore 2:
20. "Rammstein"
21. "Ich will"
22. "Adieu"
Till Lindemann Falls at Rammstein's Tour Kickoff Show
'Blitzkrieg With the Meat Rifle' + 9 Other Peculiar Rammstein Lyric Translations
Prepare to be confused! And possibly aroused...
PLAYLIST: Ultimate Industrial
Over 150 songs! Listen/follow here.
18 Rock + Metal Bands Who Have Never Had a Lineup Change