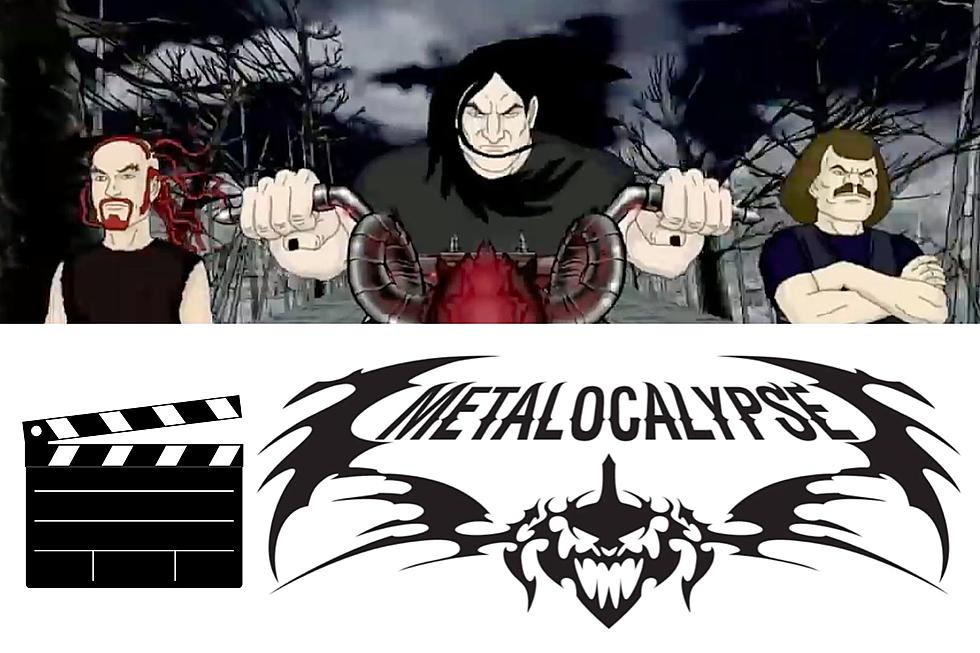 'Metalocalypse: Army of the Doomstar' Movie To Arrive in 2023, Dethklok Tour + Album Announced
YouTube - WEJUSTLAZY / Adult Swim / Metalocalypse / Canva
At long last, Brendon Small's dream of making another Metalocalypse movie has come true, and so has the collective dream of metal fans around the world now that it has been confirmed that Army of the Doomstar will arrive later this year.
It's been 10 years since Metalocalypse: The Doomstar Requiem — A Klok Opera special was released on TV network Adult Swim, which was the home of all four Metalocalypse seasons.
But wait, there's more!
Sweetening the deal is a new Dethklok album, Dethalbum IV as well as a 29-date North American co-headlining Babyklok tour with kawaii metal favorites Babymetal, which stretches from Aug. 30 through Oct. 11. See all of those dates here.
"It's very surreal having so much new Metalocalypse and Dethklok this year with the trifecta of the tour, movie and album," comments Small, co-creator of the animated Metalocalypse series and Dethklok visionary/guitarist/vocalist. "I'm so excited to get on the road with the powerful Babymetal, and to celebrate all the hard work that team Metalocalypse and Dethklok put in over the last two years and beyond!"
READ MORE: 10 Funniest + Most Clever 'Metalocalypse' References to Metal Bands + Culture
A press release offers up a light synopsis of Metalocalypse: Army of the Doomstar, which was written and directed by Small and produced by Titmouse, Adult Swim and Warner Bros. Discovery Home Entertainment, , as follows:
The all-new animated movie begins after the heroic rescue of Toki Wartooth; Dethklok frontman Nathan Explosion finds himself traumatized in a BRUTAL professional and romantic flat-spin, all while he is tasked with fulfilling the prophecy and confronting the ultimate songwriting challenge to save the planet. Can Nathan Explosion look beyond his brutally damaged ego to save his band, stop the Metalocalypse, and finally face the ultimate evil: Salacia?
Fans can expect a star-studded cast full of rock and metal's biggest icons as well, including Kirk Hammett (Metallica), Scott Ian (Anthrax), King Diamond, Amy Lee (Evanescence).
Even more star power is added by way of Victor Brandt (Metalocalypse) Mark Hamill (Batman: The Animated Series, The Machine), Jon Hamm (Confess, Fletch, Top Gun: Maverick), Malcolm McDowell (A Clockwork Orange), Juliet Mills (Passions), Laraine Newman (Saturday Night Live), Raya Yarbrough (Metalocalypse: The Doomstar Requiem - A Klok Opera), and Livia Zita (2022 winner - Society of Voice Arts and Sciences Award) and, of course, co-creators Small and Tommy Blacha.
No official release date has been confirmed, just that the new movie will indeed arrive this year.
See What 28 Rock + Metal Stars Look Like in 'The Simpsons' Episodes