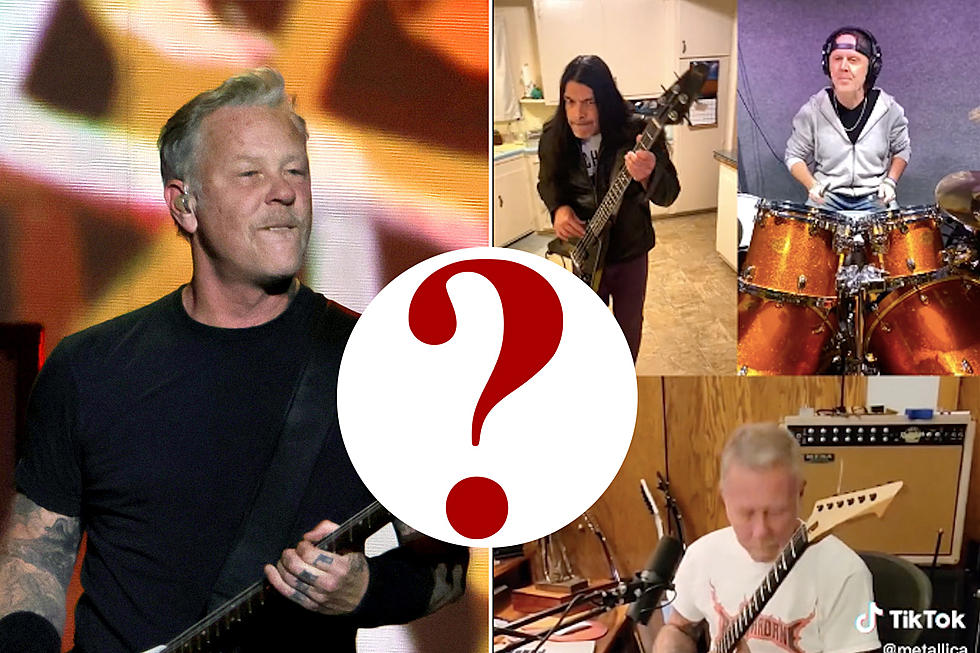 Are Metallica Teasing Another New Song on TikTok?
Ethan Miller, Getty Images / TikTok - Metallica
Artists have come up with really creative ways of releasing new material lately, and it seems that Metallica may be teasing another new song over on their TikTok account.
Metallica uploaded a video of Lars Ulrich playing the drums two days ago (Feb. 25), and then yesterday, they posted another one of Ulrich and Robert Trujillo playing simultaneously. The latest clip, which was shared today, also features James Hetfield jamming along, though all three members are performing their parts from different settings — Trujillo's dog even makes a cameo.
It's safe to assume that Kirk Hammett will appear in the next one, and based on the timeframe, it'l likely be posted tomorrow. Many fans in the comments seem to think that the videos are a way to promote an upcoming new song, which would be the third track the band released from 72 Seasons, which will be released in a little over a month-and-a-half.
Other fans over on Reddit are apparently enjoying what they're hearing in the segments, so check them out for yourself below.
One could argue that seeing the band members play a song together from separate locations is symbolic of the way 72 Seasons came together. The COVID-19 pandemic forced a global lockdown just as the rockers were ready to start working on the follow-up to 2016's Hardwired... To Self-Destruct, so they held weekly meetings on Zoom and started crafting the songs that way.
If it weren't for such technological advancements, it may have been a long time before we heard anything new from Metallica. But, they released "Lux Aeterna" at the end of November and "Screaming Suicide" in mid-January, and we're definitely ready for more. In the meantime, check out Metallica's upcoming tour dates and get tickets here.
Everything We Know About Metallica's '72 Seasons' So Far
What all do we know about 72 Seasons, Metallica's latest studio album that arrives on April 14, 2023? Here are all the details we can gather right now. Check them out below.