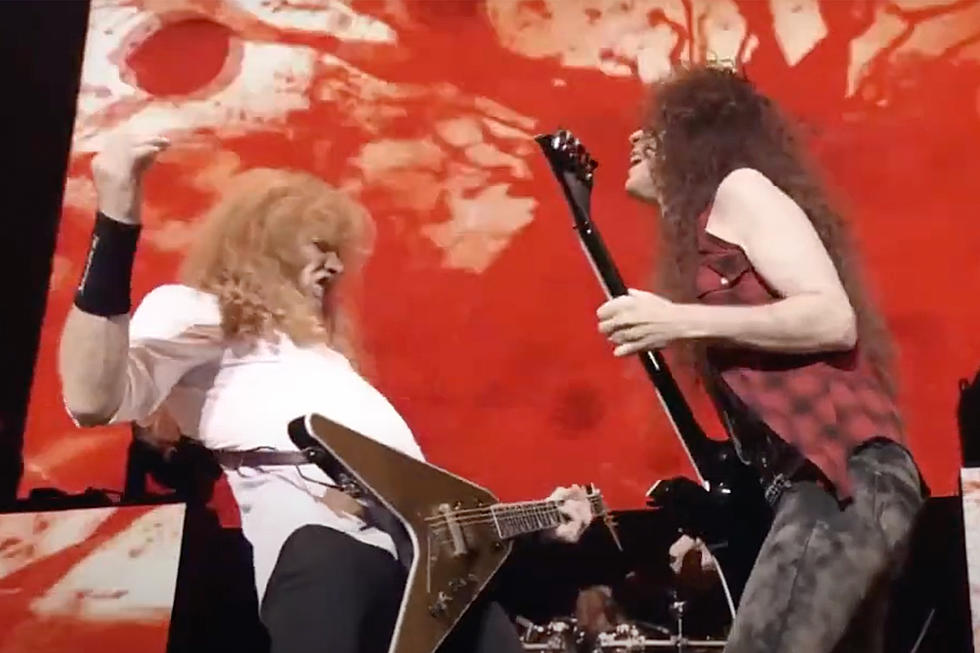 Watch Megadeth Reunite Onstage With Marty Friedman for First Time in 23 Years
YouTube: Jammin' Jared
Earlier this month, it was announced that former Megadeth guitarist Marty Friedman would be returning to the band for a one-night only guest appearance coinciding with Megadeth's Feb. 27 at Tokyo, Japan's legendary Nippon Budokan Arena. That appearance has now taken place with video footage from the blistering onstage reunion now surfacing online.
Friedman, who went on to great acclaim in his adoptive home of Japan following his exit from Megadeth, is actually a Japan Heritage ambassador for the country, so what better way to welcome one of metal's biggest bands than to sit in with his onetime group.
Frontman Dave Mustaine said ahead of the performance, "Marty and I have remained friends over 23 years, since we last played together. However, I hear his music every night, and he still is among the top guitar players I've ever heard. This is an amazing treat for the fans, as well as myself. To be honest, I may drift off while listening to [Megadeth's] Kiko [Loureiro] and Marty play together!" Friedman teased the appearance as "a miraculously special night."
And by most accounts, it lived up to the billing with Friedman first appearing with the group to play "Countdown to Extinction" late within the body of the performance. He then remained onstage to jam with Mustaine and the current lineup of the band on "Tornado of Souls" and "Symphony of Destruction." As stated, video footage has surfaced online and can be viewed below and the full setlist from the livestreamed show is also available.
Friedman enjoyed a 10-year stint in Megadeth from 1990-2000, during which time he played on the epic Rust in Peace album, as well as Countdown to Extinction, Youthanasia, Cryptic Writings and Risk.
Megadeth will play Osaka, Japan tomorrow night (Feb. 28) before heading to Australia for dates in March. They've also got a couple of U.S. dates and some European shows on the books that will take them through the summer. Get your tickets to see Megadeth here.
Megadeth With Marty Friedman, "Tornado of Souls" at Nippon Budokan in Tokyo, Japan
Megadeth With Marty Friedman at Nippon Budokan in Tokyo, Japan
Megadeth at Nippon Budokan in Tokyo, Japan. (Marty Friedman Guest Spot Around 50 Minute Mark)
Megadeth (With Special Guest Marty Friedman) at Tokyo's Nippon Budokan, Feb. 27, 2023 (setlist via Setlist.fm)
Hangar 18
Dread and the Fugitive Mind
The Threat Is Real
Angry Again
Soldier On!
Sweating Bullets
Trust
Conquer or Die!
Dystopia
A tout le monde
Countdown to Extinction (with Marty Friedman) (first time live since August 8th, 2013)
Tornado of Souls (with Marty Friedman)
Symphony of Destruction (with Marty Friedman)
We'll Be Back
Peace Sells
Encore
Holy Wars... The Punishment Due
25 Bands That Got Back Together in 2022
These bands reunited for a short time or got back together for good in 2022.