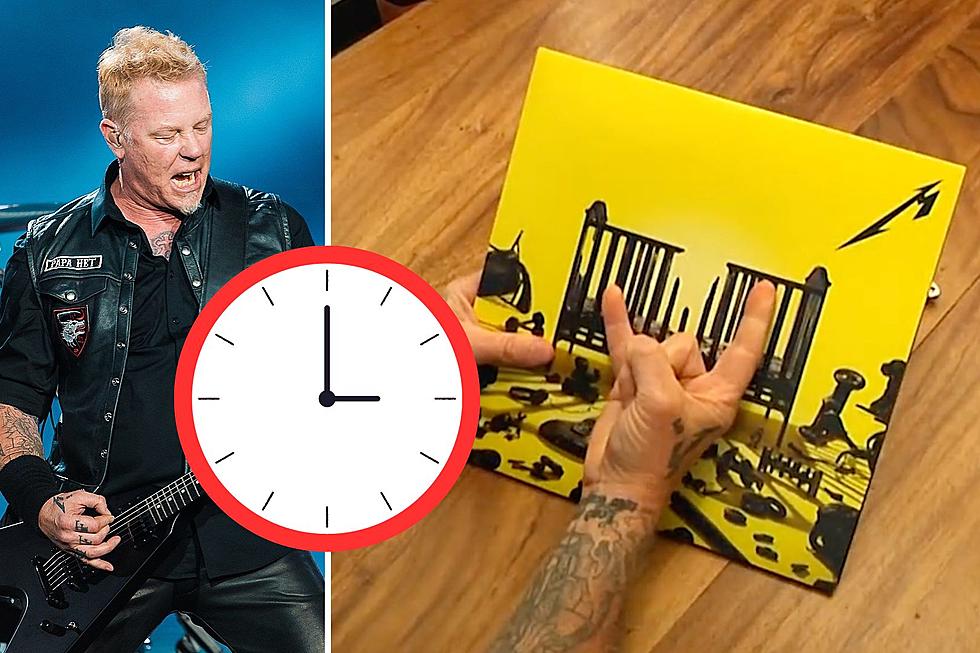 Metallica Unveil the Length of Each Song on '72 Seasons' – One Song Over 11 Minutes!
Mauricio Santana, Getty Images / Blackened Recordings / Canva
Anticipation continues to grow as we inch closer to the April 14 release of Metallica's long-awaited successor to 2016's Hardwired... To Self-Destruct and now the band has officially unveiled the length of all 12 songs on the forthcoming 72 Seasons album.
Yesterday (April 3), Metallica shared three videos on social media where James Hetfield opened up the vinyl, digipak CD and cassette tape variants of 72 Seasons, showing off the packaging and contents of each (watch all those clips here).
While taking a look at the digipak edition, Hetfield holds up the yellow CD, which lists all the songs on the right side of the disc where all the runtimes are in clear view.
With the release of four 72 Seasons songs so far, Metallica have served up tracks in the three, five, six and seven-minute ranges — "Lux Aeterna," "Screaming Suicide," "If Darkness Had a Son" and the title track, in respective to the aforementioned length ranges. You may not have realized it, but each song has been longer than the previous one as Metallica fans begin to piece together the musical identity of the group's 11th studio effort.
With an average song length of six minutes and 43 seconds, fans should again prepare for a demanding album.
See the runtimes below.
Metallica, 72 Seasons Track Listing + Runtimes
01. "72 Seasons" (7:39)
02. "Shadows Follow" (6:12)
03. "Screaming Suicide" (5:30)
04. "Sleepwalk My Life Away" (6:56)
05. "You Must Burn!" (7:03)
06. "Lux Aeterna" (3:22)
07. "Crown of Barbed Wire" (5:49)
08. "Chasing Light" (6:45)
09. "If Darkness Had a Son" (6:36)
10. "Too Far Gone?" (4:34)
11. "Room of Mirrors" (5:34)
12. "Inamorata" (11:10)
Total runtime: 77:13 (one hour, 17 minutes and 13 seconds)
Average song length: 6:43
READ MORE: First Metallica '72 Seasons' Review Calls It 'An Intense Album' That 'Goes Hard'
How long is 72 Seasons compared to other Metallica albums?
Including Lulu, the divisive collaborative 2011 album with Lou Reed, 72 Seasons will be the fourth longest Metallica LP and, excluding it (as most fans do), the record's length is topped only by Reload and Hardwired... To Self-Destruct, falling just 15 seconds shy of the latter's total runtime.
Lengthy albums are on-brand for Metallica with only three records falling under the one hour mark. Interestingly, those three records happen to be the metal legends' first three releases, meaning they haven't put out less than an hour of new material since 1986.
View the runtimes for all of Metallica's studio albums directly below.
Kill 'Em All — 51:20
Ride the Lightning — 47:25
Master of Puppets — 54:47
...And Justice For All — 65:24
Metallica (aka 'The Black Album') — 62:40
Load — 78:59
Reload — 76:04
St. Anger — 75:04
Death Magnetic — 74:46
Lulu — 87:05
Hardwired... To Self-Destruct — 77:42
72 Seasons — 77:13
Catch Metallica on the road this year and next as they support 72 Seasons at these dates and if you need tickets, got get them here.
Metallica: A Photo Timeline of Their Remarkable Career
A photo timeline of Metallica's career.