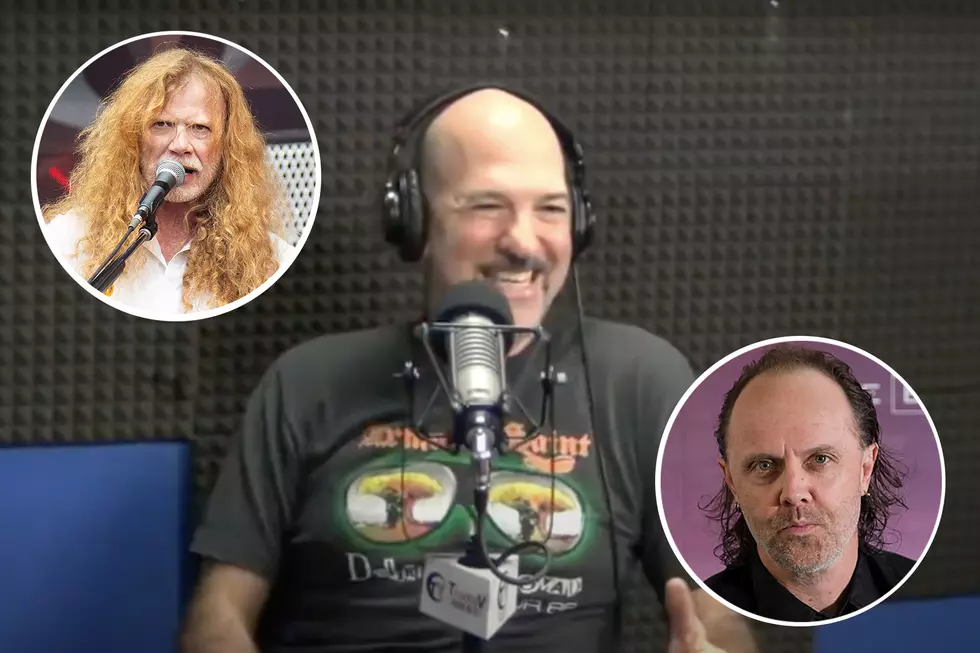 Metal Documentarian Bob Nalbandian Dies, Dave Mustaine, Lars Ulrich + More Pay Tribute
Joseph Okpako, WireImage/Getty Images / YouTube - Bob Nalbandian / Ian Gavan, Getty Images
Bob Nalbandian, metal documentarian and journalist, has died at 58 after battling a rare form of lymphoma. Dave Mustaine, Lars Ulrich and Marty Friedman were among the musicians who've paid tribute to Nalbandian.
Nalbandian kicked off his career in the metal world in 1982 as the publisher and editor-in-chief of The Headbanger, and contributed to music publications including Hit Parader, Creem and a few others. He worked publicity campaigns for Sepultura and Type O Negative at Roadrunner Records, worked as a band manager, later started a podcast called The Shockwaves Skull Sessions and then worked on a metal documentary series called Inside Metal. 
As far as his history with Megadeth, Nalbandian introduced Friedman to the band, which resulted in him playing guitar for them for about a decade starting in 1990.
"I had a friend — he's still a good friend of mine — named Bob Nalbandian. Right now he's doing some fantastic documentaries on heavy metal and stuff. He's a brilliant guy. He's been my friend since forever. He heard about Megadeth's audition," Friedman recalled to us during an episode of Wikipedia: Fact or Fiction? in 2018.
"He called me up and said, 'Dude, they're looking for a guitar player. If you're interested, call Ron Laffitte,' who was Megadeth's manager at the time. I didn't know anybody in the band or Laffitte. And I called, and that's what happened."
Deadline reports that Nalbandian died on Dec. 30, shortly after he'd been diagnosed with mantle cell lymphoma, which is an aggressive and rare form of non-Hodgkin lymphoma [via Lymphoma.org]. Mustaine, Friedman, Ulrich David Ellefson and several others have posted on social media to honor him.
"Sad news today, my friend Bob Nalbandian, the metal legend who helped me find Marty Friedman, has passed away," Mustaine wrote in a post. "We will miss you terribly, Bob. My sincere condolences to his family and friends."
"Bob introduced me to Megadeth, and for that I`ll always be grateful," Friedman added to Mustaine's post on Twitter. "He also did similar deeds for countless others, as he was a walking encyclopedia of metal, and a trusted confidant to all. I`ll miss my dear friend Bob. who did so much for others, purely for the love of music."
"Bob, thank you for your contributions to the hard rock & metal community.
For over 40 years your spirit, passion and dedication to this music and everything it represents has been unparalleled and inspiring.
Rest in Peace, brother," Ulrich wrote in his own tribute.
See the tributes below. We send our condolences to Nalbanian's loved ones and friends.
Marty Friedman + Dave Mustaine
Lars Ulrich (Metallica)
David Ellefson
Monte Pittman (Ministry)
Marten Andersson (Lita Ford)
Andy Dowling (Lord)
Rockers We've Lost in 2022
Rock + Metal Musicians Who Died in 2022