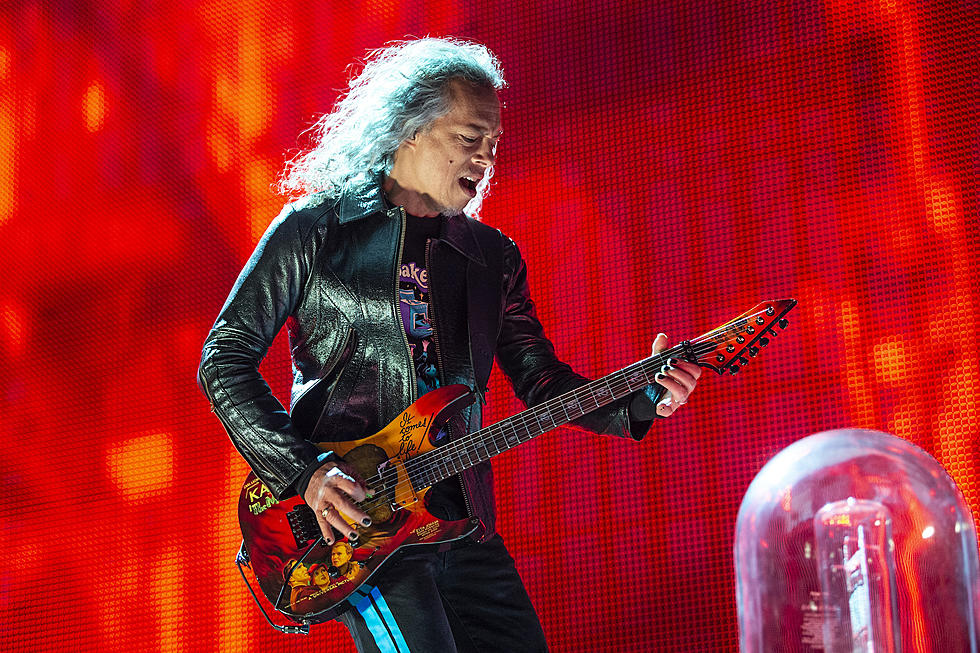 Kirk Hammett Reveals Soaring + Cinematic New Song 'High Plains Drifter'
Jordi Vidal/Redferns, Getty Images
Has Kirk Hammett entered the Old West? The Metallica guitarist certainly shows a different side to his playing with the newly released song "High Plains Drifter."
If that name sounds familiar, it's likely because it's also the title to the 1973 western film of the same name and it's evident that Hammett's track would fit well within that Old West soundtrack sound. The song is featured on Hammett's new solo EP, Portals, opening the second side of the set.
"This music was created with what I describe as an Audio-Cinematic approach. They're soundtracks to the movies in your mind," says Hammett of his vision for the four-song EP that's due on April 23.
While Hammett's playing is featured in "High Plains Drifter," he's hardly the only musician heard within this soaring song. Edwin Outwater, Queens of the Stone Age's Jon Theodore and members of the L.A. Philharmonic help expand the musical scope of the track.
Speaking to Loudwire about the song, Hammett explained, "The piece originally came out of a flamenco thing that I'd written. I played it for a couple of guys in the band, and they didn't show much interest, so I was just like, 'OK, I'm just gonna turn this into something else.' Then I played it for Edwin [Portals collaborator and conductor Edwin Outwater] and he loved it, so that's how it became 'High Plains Drifter.'"
Hammett continues, "I had played it on a classical guitar for Rob [Metallica bassist Robert Trujillo], and he's like, 'Oh, cool.' And then I played it for [Metallica producer] Greg Fidelman, who's kinda the filter for this stuff, and he's just like, 'Oh, OK — I kinda know what you're trying to do.' And that was it! If I play a riff and people aren't going 'Wow!' or standing up or asking to hear it again, it's not going to work in Metallica."
Hammett reveals that while the title references the 1973 film of the same name, the song "was not meant to be specifically music for that film, but it was once it was written, I immediately thought it conveyed the same sentiment as the film, so the piece was christened accordingly."
Hammett's "High Plains Drifter" is available via multiple platforms right here. You can also look for Portals available for pre-order in CD, digital and vinyl forms ahead of the April 23 release. It will also be a Record Store Day exclusive with fans being able to purchase an Ocean Blue vinyl EP.
Kirk Hammett, "High Plains Drifter"
66 Best Hard Rock + Metal Guitarists of All-Time