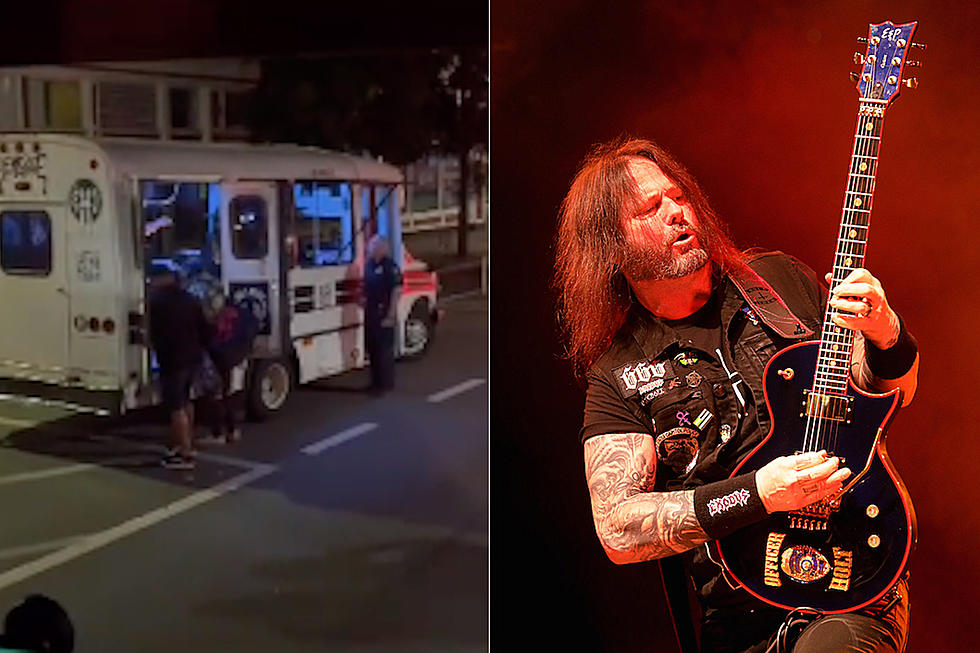 Metal Band Hemorage's Bus Concert Shut Down By Cops, Gary Holt Buys Their Merch
Instagram - @garyholt_official / Dave Simpson, Getty Images
If you haven't heard of the San Francisco band Hemorage, they've been making a name for themselves in California playing "side shows" from inside their bus near other concerts, and starting mosh pits in the streets. Last night (April 12), their bus concert was shut down by cops, so Gary Holt offered his support by buying their merch.
Exodus are currently on tour with Testament and Death Angel, and the group played a concert last night (April 12) in San Diego. Hemorage showed up to put on a performance of their own. A crowd gathered in the streets to check out the bus show and even started moshing. Holt captured some footage of the event and posted it on his Instagram.
"Hemorage are raging in the streets of San Diego! Roll up in mini bus, start killing it right next to our bus, simply the coolest thing ever, security guard be damned!" Holt wrote in the caption of the first video.
Then, things took a turn for the worse and the local police shut the mobile concert down. However, Holt and bandmate Lee Altus still offered them support.
"When Hemorage were shut down by the San Diego police yesterday! Lee and I did make it down to buy shirts! But the street concert came to an end right then and the there! This band rules! Buy their merch and support this band!" Holt wrote in a second Instagram post.
Check out both videos below.
According to their own Instagram, Hemorage have been playing "mobile shows" since 2017. They've performed what they call "side shows" from inside their bus near other concerts that have taken place in California, including System of a Down and Korn, Municipal Waste, Metallica, Soulfly, Slash and Turnstile. Check out their website for more information.
16 Things Metalheads Really Need to Get Over
Get over it! Here are 16 things that metalheads really should get over.