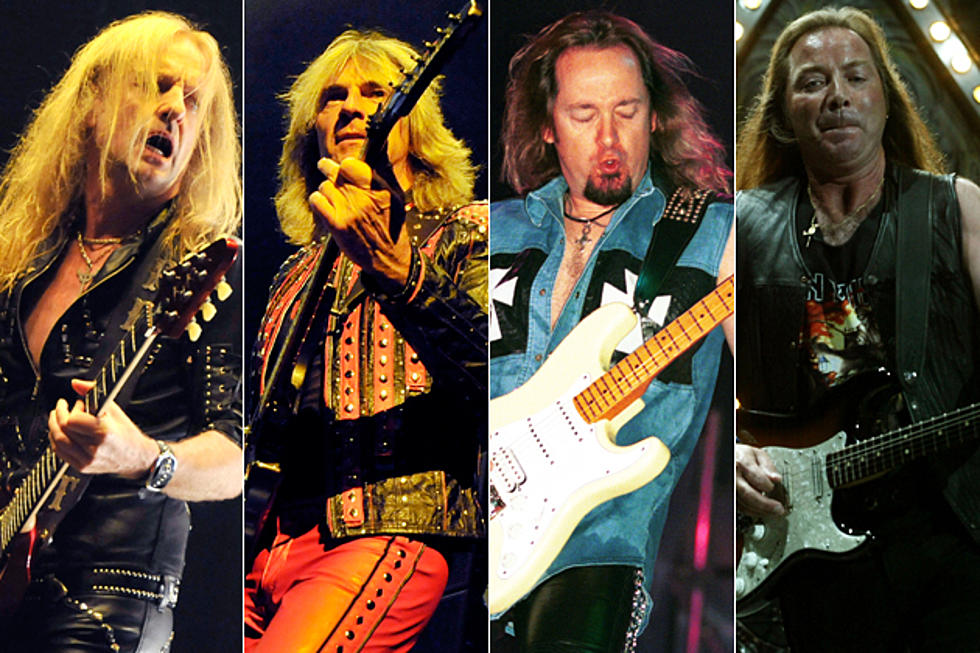 K.K. Downing + Glenn Tipton vs. Adrian Smith + Dave Murray – Make Some Noise Debate
Kevin Winter (2) / George De Sota / Karl Walter, Getty Images
The guitar is an essential part to metal's success and there are numerous acts who've doubled up on the instrument to give it that much more focus in their overall sound. Two of these acts -- Judas Priest and Iron Maiden -- have become icons of metal due in large part to the massive riffs laid down by each of their guitarists.
It's obvious that you can't lose picking either Judas Priest or Iron Maiden when it comes to guitar driven metal, but two of our writers have entered the Make Some Noise debate ring to make a case for which guitar duo is better -- Priest's K.K. Downing and Glenn Tipton or Maiden's Adrian Smith and Dave Murray. Check out the arguments for both and then make some noise of your own by voting for which you believe to be the better guitar duo. And if voting is not enough for you, take your case to the comments section at the bottom of the post.
Judas Priest's K.K. Downing and Glenn Tipton are better than Iron Maiden's Adrian Smith and Dave Murray.
The Case: Arguing about which is the better guitar duo -- K.K. Downing and Glenn Tipton or Adrian Smith and Dave Murray -- is like arguing about who would win in a fight between Batman and Iron Man (fyi, Batman would kick Iron Man's iron butt.) This is the cream of the crop in metal royalty we're talking about. But we can't help ourselves.
At the end of the day, though, K.K. Downing and Glenn Tipton simply cannot be beat. They worked together as the best metal guitar team to ever grace the stage for over 30 years. Several different facts set them ahead of the Iron Maiden twosome. One of the first things that comes to mind is the diverse range of influences Downing and Tipton brought to bear in Judas Priest. They started out playing bluesy riffs, and that sound continued to show throughout their careers.
You can notice these influences with some of the covers Judas Priest chose. They covered songs written by bands ranging from Peter Green-era Fleetwood Mac ('The Green Manalishi') to folk legend Joan Baez ('Diamonds and Rust') to Chuck Berry ('Johnny B. Goode'). While Smith and Murray covered a slew of songs, those covers never reached legendary status.
Downing and Tipton also did more with writing songs than the Maiden team. Most of Iron Maiden's songs were penned by Maiden bassist Steve Harris. While Murray and Smith played the hell out of those songs, they didn't write as many quality songs as Downing and Tipton.
One huge factor that made Downing and Tipton one of the greatest guitar duos ever was their guitar tone. Smith and Murray's guitar tones, while very crisp and clear, sound downright wimpy when compared to the heavy riffs Judas Priest unleashes. Downing and Tipton's tones are both incredibly heavy and complementary to each other. That Judas Priest sound simply cannot be beat. It has been and remains one of the heaviest sounds in metal … period.
The Evidence: Diverse influences, successful covers, songwriting abilities, guitar tones
Iron Maiden's Adrian Smith and Dave Murray are better than Judas Priest's K.K. Downing and Glenn Tipton.
The Case: When it comes to Iron Maiden, there's one thing they inarguably do better than any other metal band and that's play solos. The soloing in Maiden tracks are almost songs within a song and seem to transcend the music. While solos can always put a grin on someone's face, it's the ability of Adrian Smith and Dave Murray to trade off with each other in ways that seem like they've melded minds. The most shining examples are 'The Trooper,' 'Number of the Beast,' 'Seventh Son of a Seventh Son,' and the phenomenal section in 'Aces High.'
Dave Murray has the smoothest legato playing around, letting his fingers fly across the fretboard releasing a flurry of notes. When he trades off with Adrian, there's an immediate change of the mood as his solos are noticeably more emotional and played with more feeling than face-melting. When Janick Gers replaced Smith following his departure in the late '80s, the solos heard on the live albums were not the same. Gers' staccato playing is unable to replicate the feeling of Smith's guitar legacy.
Murray has always been shy in the writing process, cranking out the hidden gems like 'Judas Be My Guide' 'Still Life,' and 'The Prophecy' on albums rather than the hits. The hits were left up to Steve Harris, Bruce Dickinson, and Adrian Smith. This balance gives Iron Maiden's albums depth with Dave contributing those one or two songs that really push the album to the next level rather than some lackluster filler.
Since K.K. Downing left Judas Priest, Richie Faulkner has been accepted as the band's new guitarist rather quickly. We have yet to hear new music featuring this young guitarist, but the fans are not clamoring for Downing's return. On the Iron Maiden side of things, there's an obvious difference in quality when Adrian left the band and had rejoined again with Dickinson in 1999. Sure, the immediate upswing can be attributed to Bruce's return, but with Smith as another key songwriter, the two of them returning is really what brought the band back from near death.
Oh, and here's a fun fact. Adrian Smith bought his first guitar from Dave Murray when he was 15 years old. Destiny? You bet!
The Evidence: solos, Adrian Smith's absence and return, Dave Murray's hidden gems.
We've voiced our opinions. Now it's time to have your say. Vote for whether Judas Priest's K.K. Downing and Glenn Tipton or Iron Maiden's Adrian Smith and Dave Murray is better metal guitar duo in the poll below and if you feel the need to back up your opinion, hit the comments section.