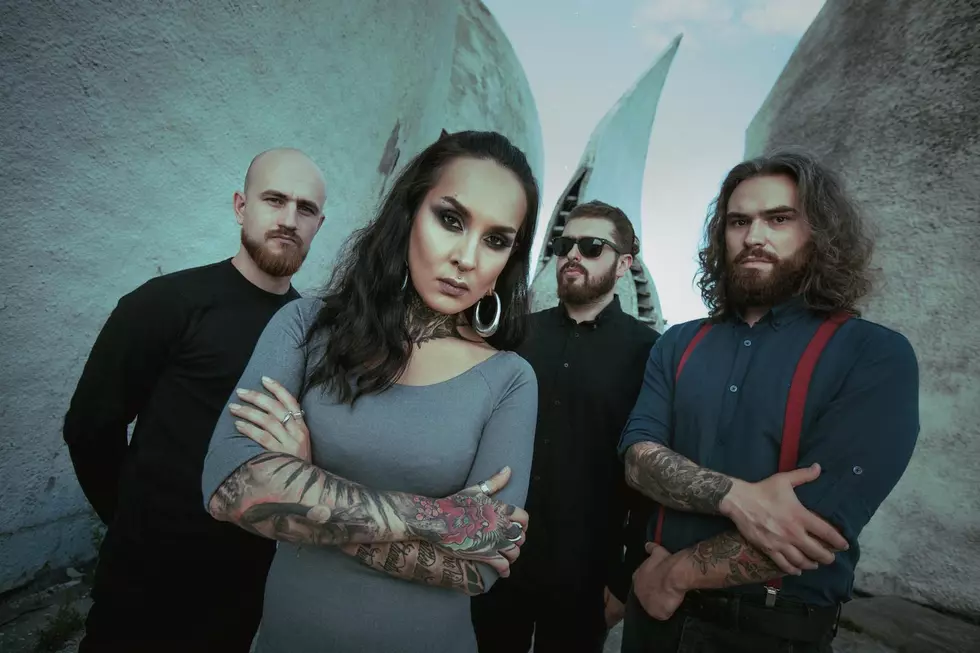 Jinjer Announce 2020 Tour With Suicide Silence + Toothgrinder
Photo by Tementiy Pronov
Jinjer have just announced a U.S. headlining tour with support from Suicide Silence and Toothgrinder, along with additional international tour dates. The run of shows marks yet another high point for the Ukrainian band, whose popularity has exploded in the past couple of years.
Jinjer had a massive year in 2019, releasing the acclaimed EP Micro and its full-length counterpart, Macro. The band's 2020 tour dates will bring them to Australia and Latin America before a month-long run in the United States.
"We are simply over the moon! Our last tour of North America was real fire and now we're coming back to give you even more!" says Jinjer bassist Eugene Abdukhanov. "More new songs, better sound and stages, and louder shows! On top of everything, we are proud to have our friends from Suicide Silence and Toothgrinder on board for the whole run. It will be fantastic."
The U.S. portion of Jinjer's 2020 tour will begin April 23 in San Francisco and conclude May 23 in Denver. Pre-sale tickets for Citi members are available starting today (Dec. 3) and pre-sales via Ticketmaster, Live Nation and local venues begin tomorrow. Tickets will become available to the general public Dec. 6 at 10AM local time.
Check out the full list of shows below and click here to grab Jinjer's newest album, Macro.
MACRO AUSTRALIAN TOUR 2020
03.03.20 AU - Adelaide / Lion Arts Factory
04.03.20 AU - Canberra / The Basement
05.03.20 AU - Melbourne / Max Watts
06.03.20 AU - Sydney / Manning
07.03.20 AU - Brisbane / The Zoo
MACRO OVER LATIN AMERICA TOUR 2020
10.03.20 SV - San Salvador / Buhos
11.03.20 GT - Guatemala City / Rock Ol Vuh13.03.20 MX - Monterrey / Cafe Iguana
14.03.20 MX - Guadalajara / Foro Independencia
15.03.20 MX - Mexico City / Hell & Heaven Festival17.03.20 CR - San Jose / Peppers Club
18.03.20 CO - Bogota / Ace Of Spades
19.03.20 PE - Lima / La Oficina Bar
21.03.20 CL - Santiago / Blondie
22.03.20 AR - Teatro Flores
24.03.20 UY - Montevideo / Blast
27.03.20 BR - Limeira / Bar Da Montanha
28.03.20 BR - Sao Paulo / Carioca Club
JINJER NORTH AMERICAN HEADLINE TOUR DATES
Support from Suicide Silence and Toothgrinder
4/23 - San Francisco, Calif. @ The Filmore
4/24 - Los Angeles, Calif. @ Belasco Theater
4/25 - Las Vegas, Nev. @ House Of Blues
4/26 - Phoenix, Ariz. @ The Pressroom
4/28 - Houston, Texas @ House Of Blues
4/29 - Dallas, Texas @ House Of Blues
4/30 - Memphis, Tenn. @ Minglewood Hall
5/02 - Charlotte, N.C. @ Epicenter **Festival
5/03 - Norfolk, Va. @ The NorVa
5/05 - Brooklyn, N.Y. @ Warsaw
5/06 - Boston, Mass. @ House Of Blues
5/07 - Silver Spring, Md. @ The Filmore Silver Spring
5/10 - Pensacola, Fla. @ Vinyl
5/12 - Atlanta, Ga. @ Buckhead Theater
5/13 - Nashville, Tenn. @ TBA
5/15 - Columbus, Ohio @ Sonic Temple **Festival
5/16 - Milwaukee, Wis. @ The Rave II
5/17 - Chicago, Ill. @ House Of Blues
5/19 - Minneapolis, Minn. @ The Filmore Minneapolis
5/20 - Lawrence, Kansas @ Granada Theater
5/22 - Lincoln, Neb. @ Bourbon Theater
5/23 - Denver, Colo. @ Summit
See Jinjer in the 66 Best Metal Songs of the Decade: 2010 - 2019