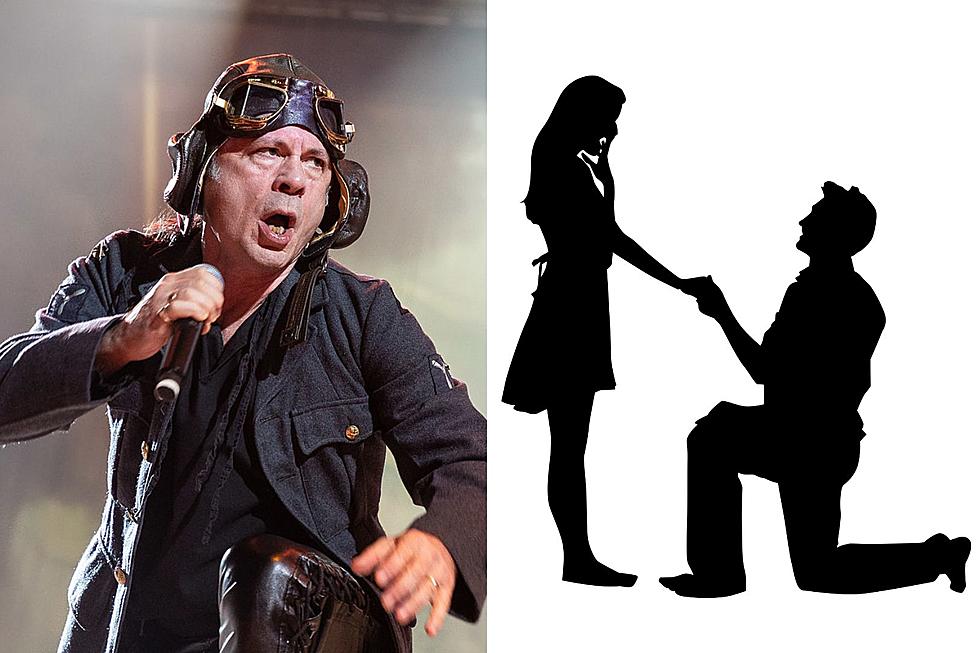 Iron Maiden's Bruce Dickinson Announces Engagement to Leana Dolci
Johnny Perilla, Loudwire / Canva
Iron Maiden singer Bruce Dickinson has revealed he is now engaged to Leana Dolci, his girlfriend of the last few years.
Despite making countless high-profile appearances the world over as the most public face of Iron Maiden and a continuous promoter of his other endeavors, details of Dickinson's private life rarely trickle out, as is the case with the rest of Maiden's members.
He revealed the milestone nonchalantly in an interview broadcasted on the N1 TV channel in Sarajevo, right as the chat was winding down.
The singer was in the Bosnian capital city as one of the performers for the Jon Lord Concert for Group and Orchestra in celebration of the late and influential Deep Purple legend. Dickinson is a notable figure in the country's cultural history and was the subject of the Scream For Me Sarajevo documentary which concentrates on his daring 1994 solo concert inside the city which was, at the time, an active war zone. He was even made an honorary citizen in 2019.
"This is your home, I hope you know that," the interviewer says in the video clip below.
READ MORE: Watch Bruce Dickinson Show Off His Dance Moves at Son Austin's Wedding
"Well, I brought my fiancee. [She's] coming. She's never been here before, she's French," he replies, talking about the sights and the "wonderful bits" of Sarajevo he wants to show her.
It'll be his third time getting married if all goes ahead as intended.
Dickinson will return to the stage with Iron Maiden in late May, kicking off The Future Past tour where the band will place a special emphasis on songs off their latest album, Senjutsu, as well as 1986's Somewhere In Time, amid other hits. See all of their scheduled dates here and head to this location for tickets.
Bruce Dickinson Interviewed on Bosnian Television, Reveals Engagement
Ranking the Opening Song on Every Iron Maiden Album
Ranking the opening track on every one of Iron Maiden's studio albums.
PLAYLIST: Early Traditional Metal (NWOBHM & Beyond)
Listen/follow here and view the first 100 songs in the playlist below.
Ranking the Closing Song on Every Iron Maiden Album