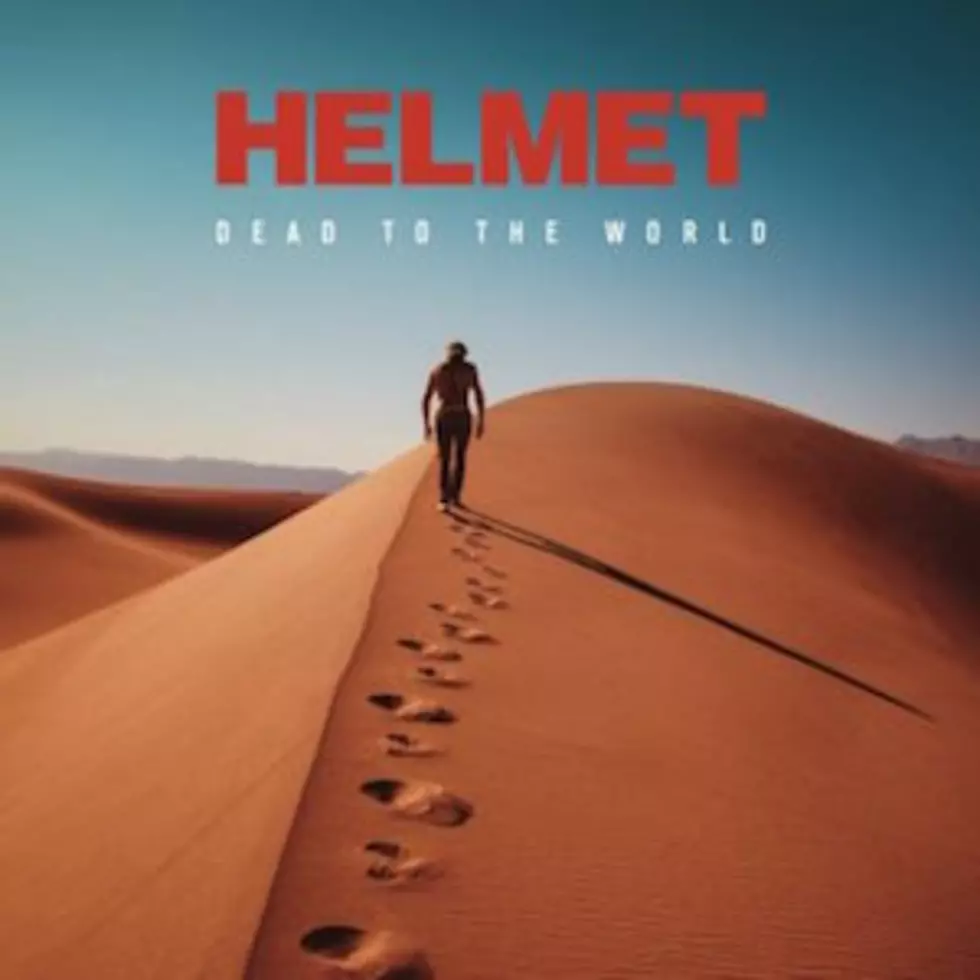 Helmet Announce 'Dead to the World' Album, Fall 2016 Tour Dates
earMUSIC
Strap in! Helmet are back with their first new album in six years -- Dead to the World. The veteran rockers will release the disc on Oct. 28 and they've just announced a fall trek to support the new effort.
"Catch phrases, punchlines, guns, bluster, ammo, incivility, impatience, murder. You, me, us, them, life, liberty and the pursuit of property. We disagree, we disrespect, discourse disappears in the age of access. When in doubt GET LOUD! It's my way or the highway, thank you Lawrence Tierney," says frontman Page Hamilton in a stream of consciousness comment about the new disc, adding, "Religious tchotchkes nailed to the walls of homes above razor-scarred mirrors. Do you meditate, levitate, pray? Live in LA! I'm a huge fan, got a perfume line, smell nice, plan my next move. Threats loom, the bad news network blooms, fear sells. Just get em out, the spying neighbors, suspects, terrorists our forefathers intent. 'If you don't like it, leave' and call it democracy."
Hamilton produced the Helmet disc with Jay Baumgardner mixing the effort. You can look for Dead to the World arriving Oct. 28 via earMUSIC. The track listing for the album can be viewed below.
Meanwhile, as stated, Helmet will be hitting the road this fall. Kicking off Nov. 3 in Bloomington, Ind., the trek will briefly dip into Canada while crossing the U.S. and eventually coming to a conclusion on Dec. 17 in St. Louis. Local H will provide support on the run. See all of the stops below.
Helmet, Dead to the World Track Listing
1. "Life or Death"
2. "I ♥ My Guru"
3. "Bad News"
4. "Red Scare"
5. "Dead to the World"
6. "Green Shirt"
7. "Expect the World"
8. "Die Alone"
9. "Drunk in the Afternoon"
10. "Look Alive"
11. "Life or Death (Slow)"
Helmet / Local H Fall 2016 Tour Dates
11/3 — Bloomington, Ind. -- Castle Theatre
11/4 — Detroit, Mich. -- St. Andrews
11/5 — Toronto, Ontario -- Lee's Palace
11/6 — Cleveland, Ohio -- Beachland Ballroom
11/7 — Baltimore, Md. -- Soundstage
11/9 — Philadelphia, Pa. -- World Café Live
11/10 — Boston, Mass. -- Brighton Music Hall
11/11 — Pawtucket, R.I. -- Met
11/12 — New York, N.Y. -- Highline Ballroom
11/13 — Brooklyn, N.Y. -- Music Hall Of Williamsburg
11/15 — Washington, D.C. -- Black Cat
11/16 — Charlotte, N.C. -- Visulite Theatre
11/17 — Durham, N.C. -- Motorco Music Hall
11/18 — Atlanta, Ga. -- Masquerade Heaven
11/19 — Jacksonville, Fla. -- Jack Rabbits
11/20 — St. Petersburg, Fla. -- State Theatre
11/22 — Fort Lauderdale, Fla. -- Revolution
11/23 — Orlando, Fla. -- The Social
11/25 — Houston, Texas -- The White Oak
11/26 — Austin, Texas -- MoHawk
11/27 — Dallas, Texas -- Gas Monkey
11/29 — Phoenix, Ariz. -- The Crescent Ballroom
12/1 — Los Angeles, Calif. -- Roxy
12/2 — San Diego, Calif. -- Casbah
12/3 — Ventura, Calif. -- Discovery
12/4 — San Francisco, Calif. -- The Independent
12/6 — Portland, Ore. -- Dante's
12/7 — Seattle, Wash. -- The Crocodile
12/9 — Billings, Mont. -- Pub Station
12/10 — Denver, Colo. -- Marquis Theatre
12/11 — Omaha, Neb. -- Slowdown
12/13 — Kansas City, Mo. -- The Record Bar
12/14 — Minneapolis, Minn. -- Fine Line Music Café
12/15 — Madison, Wis. -- High Noon
12/16 — Chicago, Ill. -- Metro
12/17 — St. Louis, Mo. -- Delmar Hall