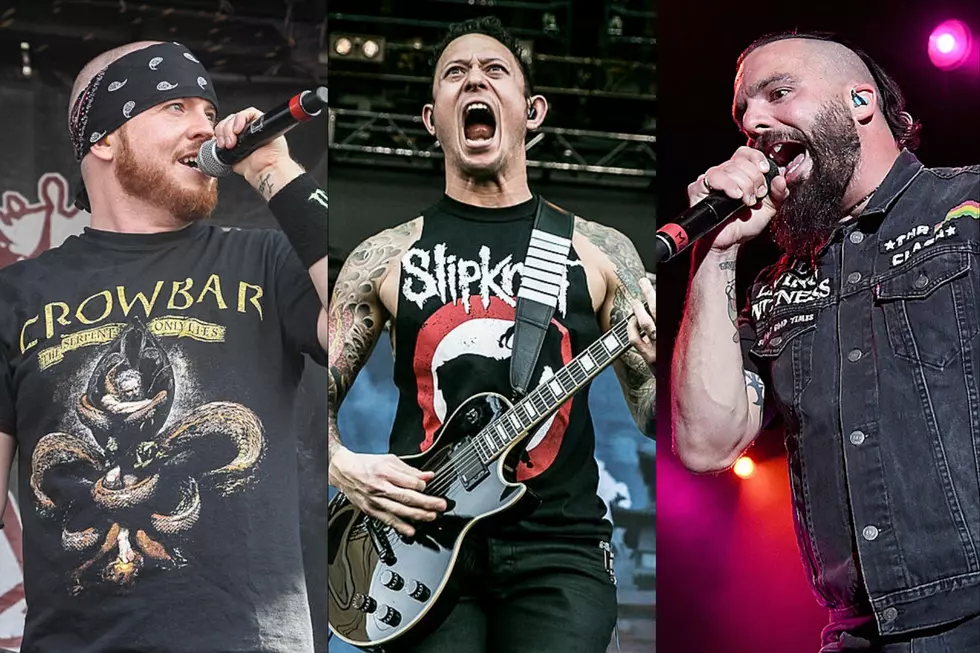 Hear Two New Jasta Tracks Featuring Trivium + Killswitch Engage Vocalists
Johnny Perilla / Kathy Flynn / Ethan Miller, Getty Images
Speaking on the latter, the Hatebreed founder took to Instagram Tuesday (Nov. 5) to give fans a glimpse of the creative thrust behind the song. Listen to both tunes down toward the bottom of this post and view the artwork and track listing further down.
"[Leach] absolutely nailed this track and helped inspire the lyrics," Jasta writes. "[I]magine this as a sequel or a prequel to other tracks we've both written. It's about & for the wild ones, the 'crazies' so to speak. The creative wave makers and game changers who have all been dismissed along the way but vindicated in the end. At some point they had to 'draw the line' to put a limit on what they will do or what they will allow happen if they view it is wrong or in the way of their process or limiting what they say or what they can create."
He continues, "The line is different for everyone and for some it is extremely hard to draw. Think about all the awesome art, film, photographs, sculptures, albums, radio shows, books, comedy specials, architecture, tattoos or whatever you deem is art and the person or people behind it at some point had to have the 'Strength to Draw the Line.'"
Pre-orders for Lost Chapters Vol. 2 are available now. In addition to Heafy and Leach, the album sports guest appearances by Frankie Palmeri (Emmure), Kirk Windstein (Crowbar), Zoli Teglas (Ignite), Howard Jones (Light the Torch) and Billy Graziadei (Biohazard). See Jasta's latest updates after the songs.
Jasta Featuring Matthew K. Heafy, "When the Contagion Is You"
Jasta Featuring Jesse Leach, "Strength to Draw the Line"
Jasta, The Lost Chapters — Volume 2 Album Art + Track Listing
01. "They Want Your Soul" (Featuring George "Corpsegrinder" Fisher)
02. "Return From War" (Featuring Max Cavalera)
03. "Strength To Draw The Line" (Featuring Jesse Leach)
04. "Cleansed By The Waves" (Featuring Zoli Teglas)
05. "When The Contagion Is You" (Featuring Matthew K. Heafy)
06. "Spilled Blood Never Dries" (Featuring Kirk Windstein)
07. "Heaven Gets What It Wants" (Featuring Howard Jones)
08. "Silence Is The Enemy" (Featuring BillyBio)
09. "Just Breathing" (Featuring Frank Palmeri)
10. "Our Guardian Angel" (Featuring Phil Rind)
11. "13 Appears" (Featuring Tommy Victor)
12. "Holy Wars... The Punishment Due" (Featuring Joey. Concepcion)