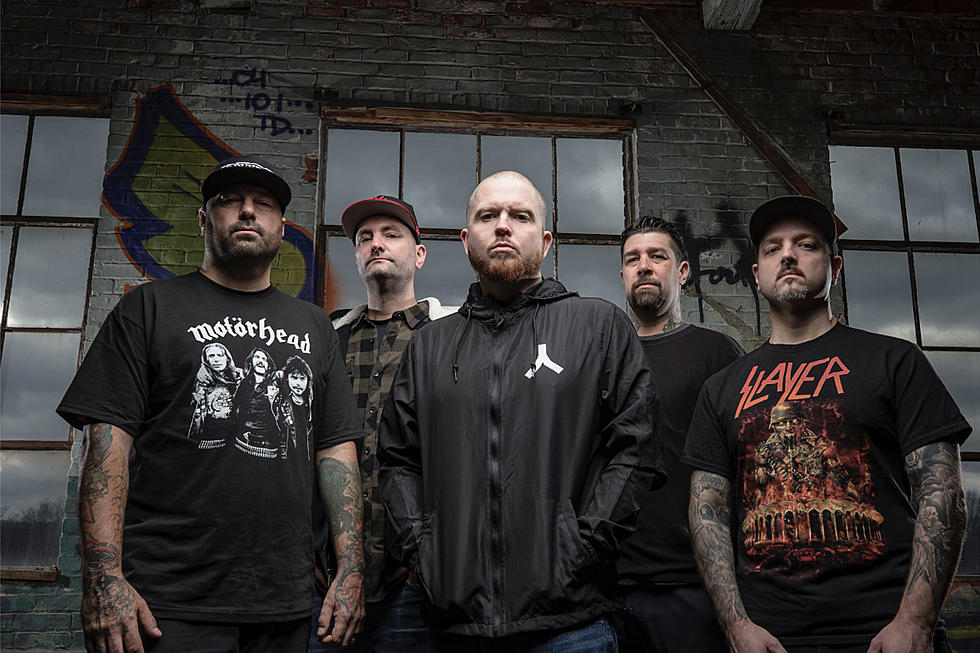 Hatebreed Book '20 Years of Brutality' Fall 2023 Tour With Terror, Vein.FM + Jesus Piece
Atom Splitter PR
Time flies! Just as Hatebreed enjoyed a 20th anniversary tour in support of their Perseverance album, now it's come time to celebrate the band's The Rise of Brutality record. The Jamey Jasta-led band will hit the road this fall to revisit the record, and they've lined up killer support for the tour as well.
The "20 Years of Brutality" trek kicks off Sept. 3 in Quebec City, Quebec, a day after their Born Dead Fest appearance in Albany, New York. The tour is set to run through a Sept. 24 finale in Tampa, Florida, and these dates will feature support from Terror, Vein.FM and Jesus Piece, making for a truly brutal concert.
"It's hard to believe that it's been 20 years since the release of The Rise of Brutality album," says singer Jamey Jasta. "These songs are always fun to play and we're looking forward to adding some of them to the set that we've previously either never or rarely played live. Plus, it's always a bonus having Terror on the tour along with Vein.fm and Jesus Piece. This will make this tour an event not to be missed!"
The Rise of Brutality continued Hatebreed's ascent in the first decade of the 21st Century. The album debuted at No. 30 on the Billboard 200 Album Chart, and spawned the songs "This Is Now" and "Live for This," with the former track also receiving significant play on MTV2's Headbangers Ball.
READ MORE: Best Gym Jams to Get Your Heart Rate Going
Tickets for the run go on sale this Friday (June 16) at 10AM local time. Get your tickets here.
Hatebreed "20 Years of Brutality" Fall 2023 Headline Tour
Sept. 2 — Albany, N.Y. @ Born Dead Fest @ Empire Live*
Sept. 3 — Quebec City, Quebec @ Theatre Capitole
Sept. 4 — Montreal, Quebec @ Olympia
Sept. 5 — Toronto, Ontario @ Danforth Music Hall
Sept. 6 — Pontiac, Mich. @ Crofoot Ballroom
Sept. 7 — Milwaukee, Wis. @ The Rave
Sept. 8 — Grand Rapids, Mich. @ Intersection
Sept. 9 — Buffalo, N.Y. @ Town Ballroom
Sept. 10 — Sayreville, N.J. @ Starland Ballroom
Sept. 12 — Nashville, Tenn. @ Eastside Bowl
Sept. 13 — Cincinnati, Ohio @ Bogarts
Sept. 14 — Pittsburgh, Pa. @ Roxian Theatre
Sept. 15 — Baltimore, Md. @ Baltimore Soundstage
Sept. 16 — Worcester, Mass. @ New England Metal Fest @ Palladium*
Sept. 17 — Philadelphia, Pa. @ Franklin Music Hall
Sept. 19 — Knoxville, Tenn. @ The Mill & Mine
Sept. 20 — Atlanta, Ga. @ The Masquerade (Heaven)
Sept. 21 — Charlotte, N.C. @ The Fillmore Charlotte
Sept. 22 — Birmingham, Ala. @ Furnace Fest*
Sept. 23 — Orlando, Fla. @ The Beacham
Sept. 24 — Tampa, Fla. @ The Orpheum
*Festival Dates
Your Guide to Rock + Metal Bands Touring in 2023
Check out over 200 rock and metal bands' touring schedules for 2023.