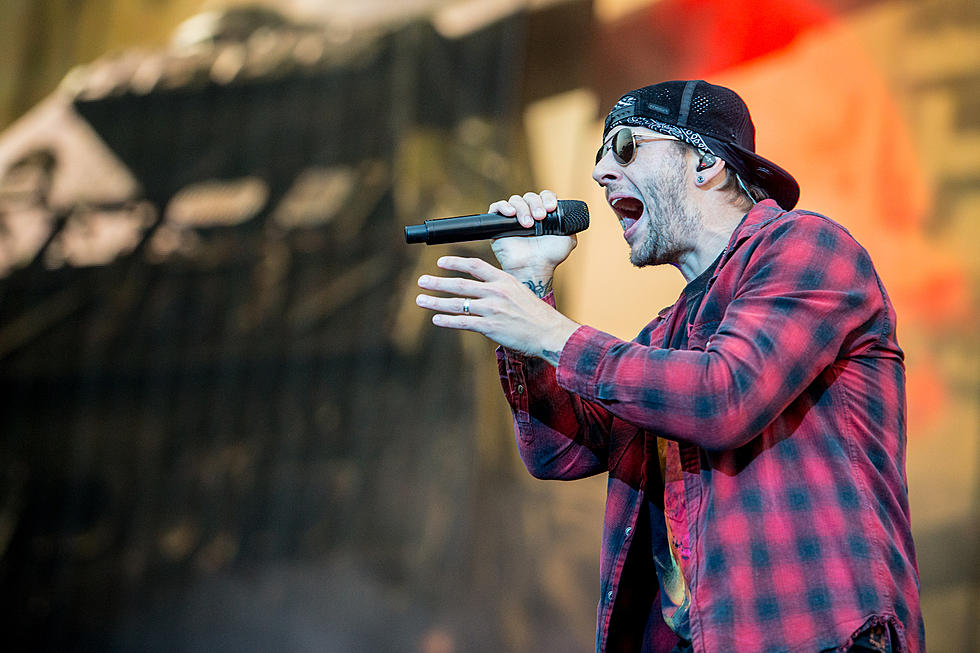 Hear the Isolated Vocals Version of Avenged Sevenfold's 'Nobody'
Ollie Millington, Getty Images
Ever since Avenged Sevenfold released their new single "Nobody" last week, M. Shadows' voice has been one of the most-discussed topics amongst the band's fanbase. Someone uploaded an isolated vocals version of the song on YouTube, so now everyone can hear the frontman's performance without all the instrumentation behind it.
"Nobody" is the first single from Avenged's upcoming eighth album Life Is But a Dream, which will be available June 2 and can be pre-ordered here. The nearly-six-minute song sees the band experiment with some new sounds while tackling the subject of human existence — a theme that is apparently going to be recurring throughout the album, according to the band.
Following the track's release, it generated a large mix of reactions from fans and listeners, with some thinking it's one of their greatest pieces of music, and others feeling quite the opposite. One of the elements of the song that's been highlighted is Shadows' vocal style, which many seem to think has changed since 2016's The Stage, though others believe the mixing process is to blame for it sounding different.
"He changed his technique on The Stage to something more sustainable and that coupled with the lack of autotune made everyone think he was losing it. I remember how annoying those comments were," a user wrote in a Reddit post with a link to the isolated vocals video. "Truth is his voice is still great and he sounds amazing. His use of rasp is perfect and doesn't sound forced. His range is definitely still there. He hits the notes perfectly. He sounds amazing. The mixing on his vocals is simply too quite. His vocals need to be turned up so they can shine."
READ MORE: Demo Version of Avenged Sevenfold's 'Nobody' Has REALLY Different Lyrics
Listen to the isolated vocals version of the song below, and follow along with the lyrics as you listen.
Shadows has suffered from some throat issues over the years, with the most recent instance resulting in the cancelation of their summer 2018 tour. The singer contracted a viral infection that risked damaging his voice, and his doctors suggested he take a few months off to recover. They haven't performed since that year, so their upcoming shows in Los Angeles and New York this June will mark their first concerts since. See the dates and get tickets here.
Avenged Sevenfold, 'Nobody' Lyrics [via Genius]
Ride in the shadows wandering beyond the frame
Float like a feather through space and time outside a dream
Pirouette with divinity in a dance we've shared before
"Someone dissolution"
This is "I am all" as "I am none"
Here we fly so high, no, I, no coming down

Shedding weight as I'm coming undone
All that's left converging as one
I am the sun
I am the sun

I'm a God, I'm awake, I'm the one in everything
I'm alive, I'm the dead, I'm a man without a head

I walk with death in final exhalation
And come apart through violent separation
A thousand floors ascend into the ether
A lunatic enchanted by the reaper
And down below I leave a stranger laying lifeless as the light begins to shatter the skies
I ascend and leave behind the "used to be"
And tear the fabric worn to cover my eyes and see
I see

Nobody

Breathe in the silence, ebb and flow among the waves
Blur on the spectrum in light come dark in equal phase
All I ever was, has been and always will be

Here I end as I started again beyond death and borne on the wind
I am the sun
I am the sun

I'm a God, I'm awake, I'm the one in everything
I'm alive, I'm the dead, I'm a man without a head

A crack in the darkness
A tear in the sky
A narrow moment when we find ourselves
And all we occupy
Return to the boundless
Immerse in the free
Letting go as you lose your name
And all you've known to be

Nobody
Nobody
Nobody
Nobody
Avenged Sevenfold - 'Nobody' (Isolated Vocals)
Top 66 Hard Rock + Metal Frontmen of All Time
See Loudwire's picks for the Top 66 Hard Rock + Metal Frontmen of All Time