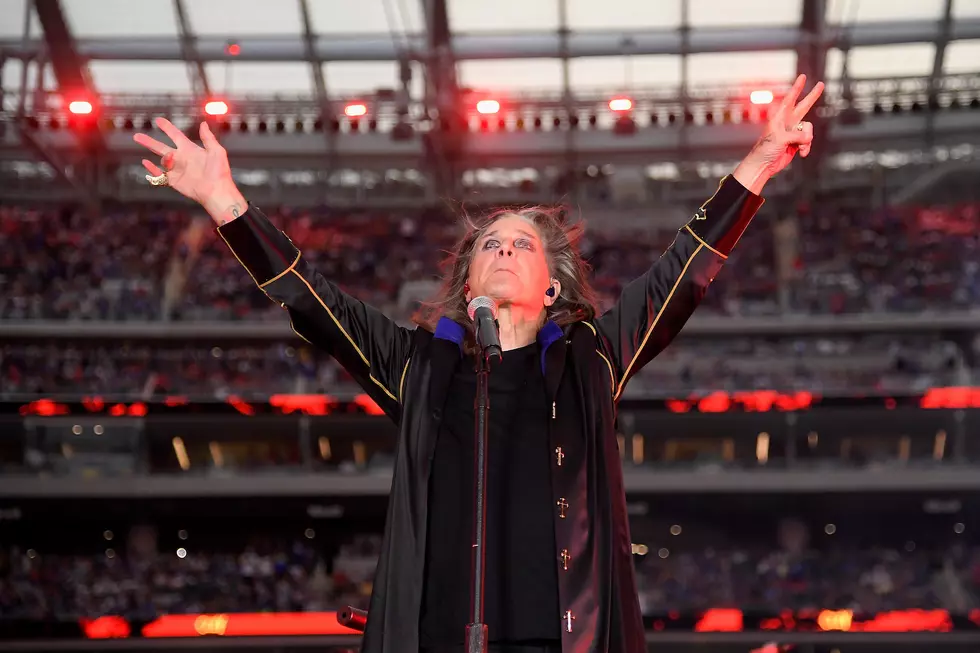 Why There's Still a Good Chance Ozzy Osbourne Could Be Knighted
Kevork Djansezian, Getty Images
Australian Black Sabbath fan Helen Maidiotis has been trying to get Ozzy Osbourne knighted since at least 2013. Although she got additional support in 2014 – as well as tried again in 2019 – it's yet to happen. Luckily, though, she has a new reason to believe it's still possible.
Last Thursday (Jan. 19), Maidiotis tweeted an image of a promising letter she received from the U.K. government regarding her quest. Specifically, it came from the Department for Digital, Culture, Media and Sport Honours Team, and it reads:
As you are aware Mr. Osbourne has been under consideration for an honour for a while. Unfortunately to date he has been unsuccessful. As I am sure you will appreciate, there is extremely fierce competition for the very limited number of awards available. The fact that Mr. Osbourne is not recognised by an honour does not mean that his contribution is not appreciated. With some 1,000 awards available in each round, and perhaps six or seven times that number of nominations, unfortunately it is not possible for every candidate, however valuable their service, to succeed.

However, I can confirm his case remains under consideration at this time. If you have any additional supporting information you would like to share with us, you would be most welcome to do so. We can then ensure his case continues to receive full and careful consideration. However, as we have previously explained, we can unfortunately give no guarantee as to the eventual outcome or timescale.
You can view her tweet below:
To date, her Change.org petition has secured nearly 35,000 signatures, and she posted the following response/explanation to the website on Jan. 19: "Last night I received this reply from the cabinet on her behalf and as you can see from the reply, it is not exactly what we were hoping for but it is still a positive response nevertheless.  It means we still have a chance as 'he is still under consideration.'"
She continued:
What we need to do now is to keep pushing the signatures and doing everything we can to keep spreading the word. Contact your radio stations and online music websites etc to get articles written about the need for this to happen for Ozzy Osbourne. The more we push for media exposure the better our chances for success!  So start today, share the link to the petition, and contact your local radio stations, online entertainment websites, etc! Let's get this done for Ozzy once and for all! Thank you for your continued support over the last decade! It's very much appreciated.
As for Ozzy, he's been keeping quite busy despite his recent physical ailment(s). For instance, he donated a signed Gibson SG electric guitar to Julien's Auctions (as part of their annual MusiCares Charity Relief Auction, which will take place on Sunday, Feb. 5 in Beverly Hills, Calif.) He's also been anxiously gearing up for a new reality show – Home to Roost – which will revolve around his and Sharon's move back to England from Los Angeles.
Of course, those are just a few of the many reasons why he deserves to become Sir Ozzy Osbourne, right? So, if you'd like to join Maidiotis' cause, make sure you sign her petition ASAP!
Photos: Ozzy Osbourne Through the Years
Chart Ozzy Osbourne's career by scrolling through these photos.