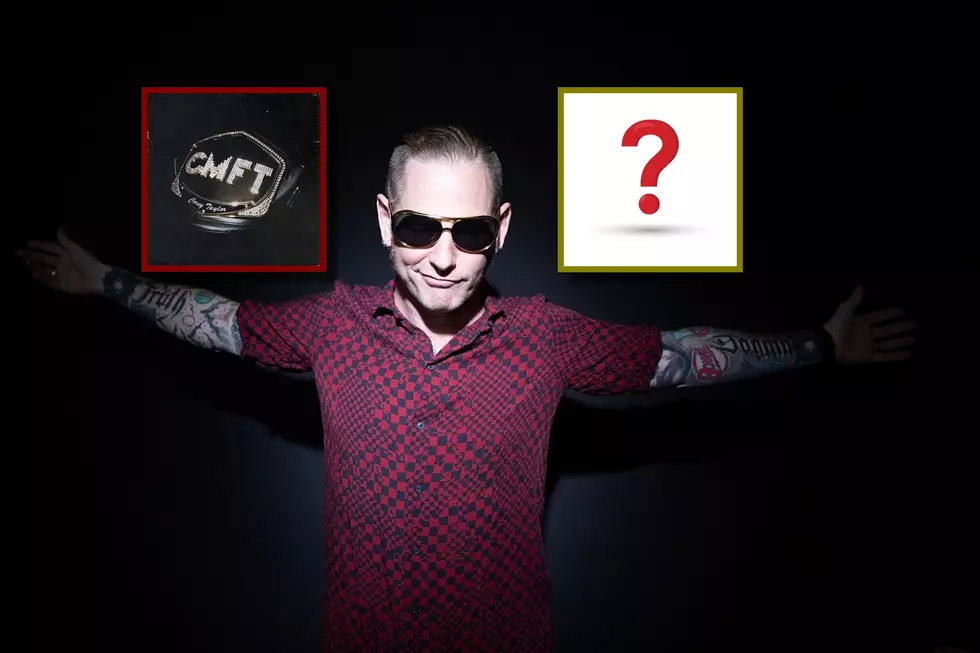 Corey Taylor Reveals Working Titles for 17 New Solo Songs – 'All I Want Is Hate,' 'Starmate' + More
Ashley Osborn / Roadrunner Records / Elena Brovko, iStock/Getty
UPDATE (Jan. 25, 2023): Corey Taylor has now leaked even more info about the forthcoming solo follow-up effort to his 2020 debut solo album. In a pair of new photos, the Slipknot singer shows off a handmade recording progress chart for his new material displaying 17 working song titles, as ThePRP reported. See the photo here and down toward the bottom of this post. Taylor has also posted video of him belting at full aggression during.a vocal take.
The working titles are "Beyond," "The Box," "Post Traumatic Blues," "Talk Sick," "We Are the Rest," "Sorry Me," "Breath of Fresh Smoke," "Hey Manifesto," "Midnight," "Stay Calm," "Starmate," "Punchline," "Someday, I'll Change Your Mind," "Not in the Mood to Live," "Dead Flies," "All I Want Is Hate" and "That Mouse Is Dead." Below, read Loudwire's original report (Jan. 22) on the start of Taylor's second solo album.
Slipknot and Stone Sour frontman Corey Taylor has begun recording the successor to his 2020 debut LP, CMFT, according to bassist Eliot Lorango. If that weren't enough, Taylor gave some rousing details about the record via a recent social media video.
Last Wednesday (Jan. 18), Lorango shared to Instagram a black and white photo of himself playing bass, with this caption: "Day 1 in the studio with @coreytaylor and the dudes. Sounding rad!" He followed it with another in-studio (color) photo last night (Jan. 21), commenting, "8 string bass might be making an appearance on this record. They're also super fun to tune."
You can view those posts below:
Yesterday afternoon, Taylor himself hyped up the record, too, via a short but sweet social media clip (which you can check out below). In it, he states the following as he drives to the studio:
I'm really, really excited. I mean, everything's bigger this time. Everything sounds better. Everything's running better. Everything's running hot. Instead of where I came from, this is where I'm going. Musically, it's harder. It's faster, but there's still tons of stuff from the first album. So, there's elements of Slipknot. There's elements of Stone Sour. There's elements of 'CMFT.' There's elements of the stuff that I've been doing for years. Just, like, cover-wise or whatever.

All the stuff that I've always wanted to do. We're doing that. Just cranking it up and it all sounds so fucking good that I can't even describe to you how stoked I am to be starting on this. Today's the day. Today's the fucking one. Let's get going! I'm serious as a heartattack. Nobody is ready for what they're about to hear, but first, we gotta record it.
The snippet ends with Taylor closing the door behind him, revealing a handwritten sign of "CMF2" on the door.
Unsurprising, all three posts were met with encouraging comments from thrilled fans. Specifically, one of Lorango's supporters wrote, "Riffs so tough, you immediately sprouted a BEARD!!!" while one of Taylor's followers declared: "I can't wait to hear it, CMFT was a perfect Corey Taylor album in my eyes. The people expecting a solo slipknot or stone sour type album were crazy. Got CMFT day one on vinyl, I'll definitely get 2 as well."
Back in August 2022, Taylor spoke with Eddie Trunk – on SiriusXM's Trunk Nation – about the upcoming album (which will once again be co-produced by Jay Ruston). As transcribed by Blabbermouth, Taylor explained:
It's about 15 songs. And it's one of those cool things where some of it's older stuff that I've written over the years. There's actually a couple of songs that some of the fans know because I debuted them live when I was doing the JBKB [Corey Taylor & the Junk Beer Kidnap Band] thing. So, there's a song like "Beyond" and a song like "Breath Of Fresh Smoke" — both of those songs are getting recorded and released . . . But then a bunch of newer stuff.

And there's definitely a darker edge to it. It's still very melodic, but I'm definitely starting to kind of bring together the things that I'm known for. And it's less an homage of the stuff that I grew up on and more of what people are used to hearing from me — but still a solo album. So, there's still great rock and roll on it. There's some heavier stuff, but there's some really great slower stuff. It's gonna be really rad.
In the same interview, Taylor vowed to "throw together a really rad, 'rock is back' kind of tour for the solo stuff." He added: "[I'll] start bringing out some of the younger — maybe not even some of the younger rock bands, but just some of the bands that don't get the chance or just don't get the looks that are afforded to either pop bands and hip-hop bands or people like me who are kind of grandfathered in."
As Loudwire previously reported, Slipknot might finally put out their unreleased record, Look Outside Your Window, this year as well. Thus, 2023 is shaping up to be quite an active and fulfilling time for Taylor.
Are you looking forward to either release, though? Let us know!
Most Anticipated Rock + Metal Albums of 2023
2023 is looking good for rock and metal albums already.