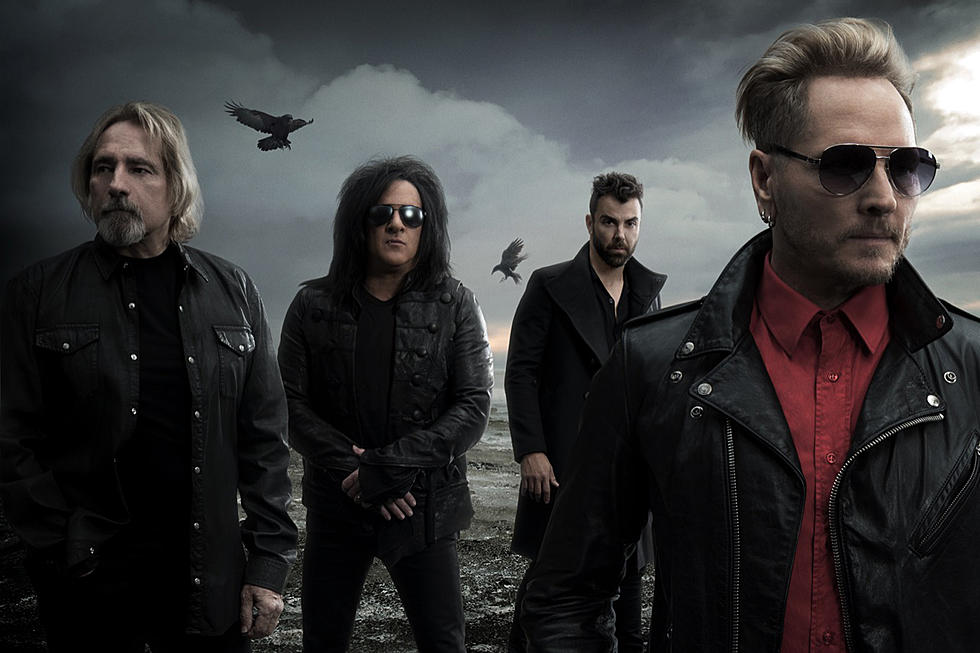 Geezer Butler Reveals Matt Sorum + Franky Perez 'Fell Out' Over Deadland Ritual
Courtesy of Deadland Ritual
Deadland Ritual was a pretty short-lived supergroup that showed great promise with the 2018 single "Down in Flames" and its 2019 follow-up, "Broken and Bruised," and while the narrative of why they didn't continue has centered around the pandemic interruption and their pre-pandemic touring providing an experience they weren't accustomed to, according to Geezer Butler there was a falling out between two of the band members that could have also factored into it.
"Matt [Sorum] and the singer [Franky Perez] fell out," explained Butler to the Appetite for Distortion podcast (as heard below). "It was right before we were gonna go into the studio and record the album. We'd written 12 songs for an album, and everything was going fine. Then the pandemic hit, and all the studios closed down. And that was it. You couldn't leave your house for three months, or whatever it was. So we were all restricted to our various homes everywhere. And nothing ever came of it. That's when I started writing the book instead."
Sorum and Perez had a history working together prior to Deadland Ritual, as Perez was a frequent guest of Sorum's pre-Kings of Chaos covers band Camp Freddy. Butler and guitarist Steve Stevens had also made guest turns with Camp Freddy over the years while Sorum was leading the group as well.
The bassist didn't elaborate on the dispute between the two musicians, but did offer some hope on the music they had been working on prior to Deadland Ritual's split.
When asked if the Deadland material might ever surface, Butler revealed, "I think Matt's gonna do one or two on his new [Kings of Chaos] album that should be out sometime this year."
He added, "I was in [Deadland Ritual guitarist] Steve Stevens's studio and we both did a song for Matt."
Since Deadland Ritual, Sorum has co-produced and played on Billy Gibbons' Hardware solo album and turned his attention to a full-fledged Kings of Chaos album. Perez, meanwhile, has issued a pair of solo records, Suddenly 44 and Crossing the Great Divide, while also reuniting with Apocalyptica and Geezer Butler on the 2022 Diane Warren-penned single "I'll Get Through It."
Though never officially calling it quits, both Butler and Stevens stated in separate interviews they felt the band had come to its end. In a 2021 interview, Butler commented, "We had about 13 or 14 songs written, and we were about to go into the studio when the pandemic came along. And now Steve won't leave his house [laughter], and so I think the singer [Franky Perez] is doing something else, and Matt is doing something also."
READ MORE: Geezer Butler Reveals What Classic Metal Album Restored His Faith in Rock 'n' Roll
Then, in 2022, Stevens elaborated on the band's status in an interview with Eddie Trunk. "I think it's done, although there was a lot of material that was written that I hope will see the light of day in some form or another. I'm still friendly with all those guys," commented the guitarist at the time.
As for why the band stopped after releasing only two songs, Stevens added that he felt a dose of reality hit the group as they started to promote their music. "It was really difficult. We were about to sign a deal. We went out and toured Europe. We're all seasoned musicians and we're used to a certain lifestyle, and here we were having to open," said the guitarist.
He continued, "We did a number of festival dates and small club dates. Initially, everyone said they were willing to do that, willing to get in the trenches. When reality hit and there was crappy food and crappy hotels and all that kind of stuff, I think people lost interest."
As Butler stated, when things didn't progress for Deadland Ritual, he turned his attention to writing his memoir. Into the Void: From Birth to Black Sabbath - And Beyond is available now.
Geezer Butler Appears on the Appetite for Distortion Podcast
Top 66 Rock + Metal Bassists of All Time
Counting down the very best bassists in rock and metal history.