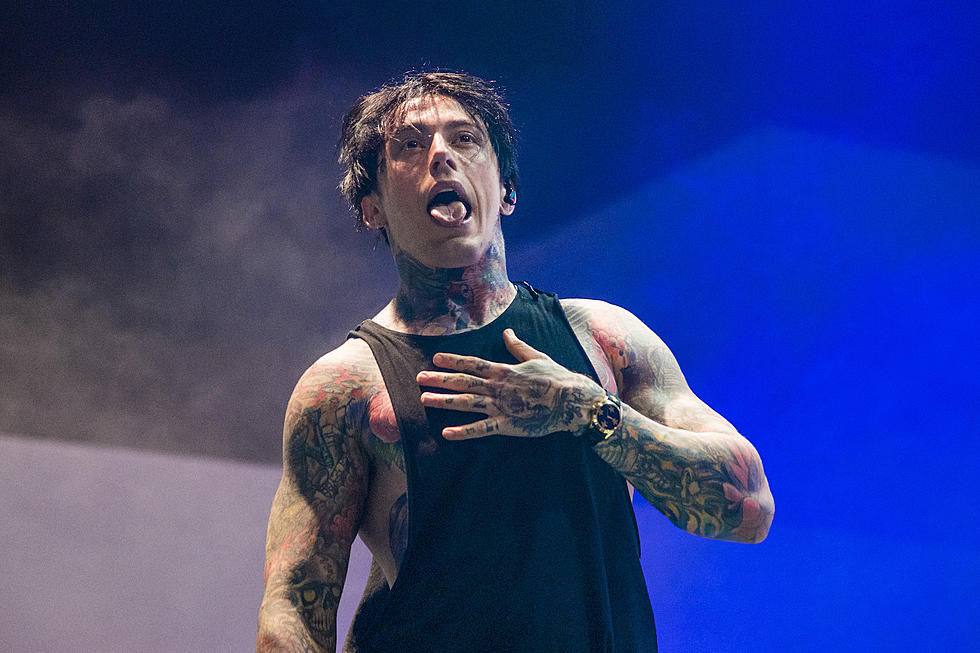 Falling in Reverse Announce Late 2019 Tour With Crown the Empire + Tom MacDonald
Erika Goldring, Getty Images
Falling in Reverse will keep the momentum going as 2019 winds down. The band has just announced another U.S. tour leg, set to kick off in November and carry over into December of this year.
The "Episode IV Tour" will find the band teaming up with Crown the Empire and Tom MacDonald on dates that officially begin on Nov. 7 in Ventura, Calif. The tour concludes almost back where it started on Dec. 11 in Anaheim, Calif. See all of the stops listed below.
Falling in Reverse are currently supporting their Coming Home album. They also recently released the new song "DRUGS," which features a guest turn by the ever-present Corey Taylor. The track is a third and final song of a trilogy of standalone singles that aren't currently attached to any album.
Crown the Empire are promoting their recent release, Sudden Sky. MacDonald is promoting his Deathreats album. Get ticketing information for the run right here.
Falling in Reverse / Crown the Empire / Tom MacDonald 2019 Tour Dates
Nov. 7 — Ventura, Calif. @ Ventura Theater
Nov. 8 — Flagstaff, Ariz. @ The Orpheum
Nov. 9 — Tucson, Ariz. @ The Rialto Theatre
Nov. 11 — Dallas, Texas @ House of Blues
Nov. 12 — Houston, Texas @ House of Blues
Nov. 14 — Louisville, Ky. @ Mercury Ballroom
Nov. 15 — Indianapolis, Ind. @ Egyptian Room @ Old National Centre
Nov. 16 — Rochester, N.Y. @ Main Street Armory
Nov. 17 — Columbus, Ohio @ Athenaeum Theatre
Nov. 19 — New Haven, Ct. @ Toad's Place
Nov. 20 — Providence, R.I. @ The Strand
Nov. 22 — Stroudsburg, Pa. @ The Sherman Theater
Nov. 23 — Albany, N.Y. @ Upstate Concert Hall
Nov. 24 — Wilmington, Del. @ The Queen
Nov. 26 — Grand Rapids, Mich. @ Intersection
Nov. 27 — Belvidere, Ill. @ Apollo Theatre AC
Nov. 29 — Omaha, Neb. @ The Slowdown
Nov. 30 — Madison, Wis. @ The Sylvie
Dec. 1 — Columbia, Mo. @ The Blue Note
Dec. 3 — St Louis, Mo. @ The Pageant
Dec. 10 — San Francisco, Calif. @ The Regency Ballroom
Dec. 11 — Anaheim, Calif. @ House of Blues
25 Best Metalcore Albums of All-Time