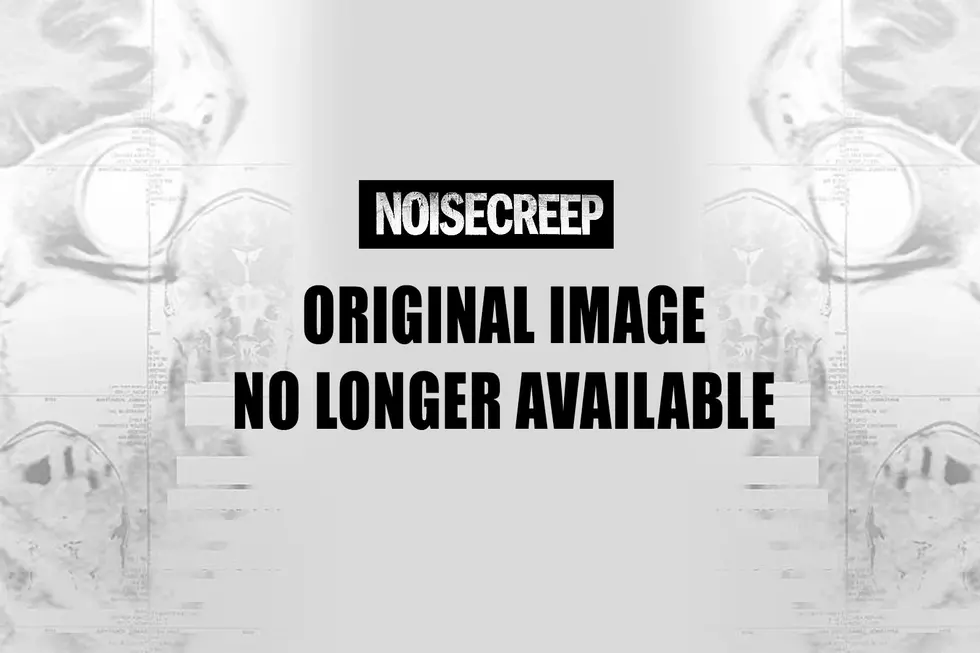 10 All-Time Best Heavy Metal EPs
While they haven't exactly gone the way of the CD Single (ie. pretty much extinct, if we're talking physical CD Singles), the EP (Extended Play) seems to be a dying breed.
Used to be that a band would stick an EP out there to keep the name going if they couldn't keep to an album-a-year cycle, or they were just bursting with new material and wanted to share it with the world, or they recorded something that might not make sense on the next album.
The best EPs aren't the obvious contract fillers (live EPs? C'mon), but are either an introduction to a new band or a stand-alone statement, no silly cover songs or remixes, just good solid new material. Where have all the great EPs gone? There aren't a ton of them in recent memory, but go back to the '80s and '90s and you find some killers.
Not quite an album, but more than just a single, EPs are also good if you just need a concentrated espresso shot of metal without the full-length meal.
'Haunting the Chapel,' Slayer (1984, Metal Blade)
Haunting the Chapel is by far the greatest EP of all time. Showcasing a noisier, more dissonant, wholly frightening Slayer from the one heard on Show No Mercy, these three songs leave you red-faced, breathless and simmering in unholy hellfire. Opener "Chemical Warfare" is an adrenaline-soaked blaster, played with unbelievable dexterity and energy. Somehow they hold it all together (having Dave Lombardo on drums helps), although the solos of Kerry King and Jeff Hanneman are completely and utterly unhinged things of mind-numbing madness. They follow up with the tangled chaos of "Captor of Sin" and blacker-than-black "Haunting the Chapel." This is inspired as hell, showing Slayer graduating in huge leaps, which they would do from phase to phase until reaching stasis in 1990. This might just be the best-ever thing these guys have done, and yes, I love Reign in Blood to absolute death. Such is the power of the occult noise that emanates from this EP.
'Queensrÿche,' Queensrÿche (1982, 206 Records)
Originally released on tiny Seattle independent 206 Records and later licensed by EMI, this four-song EP introduced the world to this most regal of metal bands. They arrived on the scene without warning – no demos, no 7" singles, hardly any live shows under their belt – and stealthily blew everyone away with this release. While comparisons to Iron Maiden were made very quickly, time has distanced this EP from such facile comparisons, and of course Queensrÿche paved their own unique roads in successive years. Opener "Queen of the Reich" is the clear highlight, but closer "The Lady Wore Black" is also a masterpiece of sharp medieval metal. Dark and dungeon-y, "Blinded" and "Nightrider" sit between these two songs, and they're also way better than any untested rookie band has a right to be. The jaw still drops in amazement when listening to the confidence and energy the band puts forth here.
'The Eyes of Horror,' Possessed (1987, Combat)
This was the second Possessed release in a row that had a really weird guitar sound. Not as hollow and thin as on Beyond the Gates, the buzzing, wiry guitars here have such a weird effect that it starts to sound completely demented, which is appropriate, given the subject matter. It's still odd that the rhythm guitars sound so anemic, considering the EP was produced by none other than Joe Satriani, but then he probably wasn't used to dealing with freakers like Possessed. That said, the lead guitar sounds and performances are some of the best you'll ever hear. Polishing off and updating old nugget "Swing of the Axe," there are four fresher compositions here, each one of them killer, but opener "Confessions" is a highlight, a gnarly ball of evil precision death/thrash, and the slightly progressive-tinged "Storm in my Mind" rules too, featuring more demonically delicious lead work.
'The $5.98 EP – Garage Days Re-revisited,' Metallica (1987, Elektra)
They later changed the title for the CD generation (The $9.98 CD), but what's noteworthy here is how this is such a great EP made of nothing but cover songs. Nobody with the same idea has topped it since, not Overkill, not Napalm Death, not frickin' anybody. The EP introduced then-new bassist Jason Newsted, and their covering the likes of Diamond Head, Holocaust, Killing Joke, Budgie and Misfits reminds what an eclectic and obscure set of influences went into inspiring a band who were themselves massively influential. The sound is big and earthy and powerful, and one wonders what might have been had they taken the same recording approach with the ...And Justice for All album? (ie. set up in a garage and jam it out!) For all the creative missteps the band has made since the mid '90s, this EP takes us back to a time when Metallica could do absolutely no wrong.
'Hollowman,' Entombed (1993, Earache)
Fresh off the tremendous impact of what have since become monumental death metal works (1990's Left Hand Path and 1991's Clandestine), Entombed loosened up a bit, injected some good ol' rock and roll into their sound, and blasted 'heads with this six-song EP. Two of the songs made it to the Wolverine Blues album ("Hollowman" and "Wolverine Blues"), but I prefer this EP's version of "Wolverine Blues," with that twisted, pent-up narration. And if you forgot about some of the less-talked-about songs on this EP, one very loud spin of "Put Off the Scent" and the obliterating two-minutes-and-nineteen-seconds of "Serpent Speech" will serve as a mindblowing reminder.
[Here's your Middle-of-the-Article EP FUN FACT! Did you know Alice in Chains' 1994 EP, Jar of Flies, was the first-ever EP to reach the Billboard number one spot? Now you do.]
'A Twist of Fate,' John Arch (2003, Metal Blade)
Estranged from Fates Warning in 1987, John Arch disappeared from view, despite auditioning for Dream Theater in the early '90s. A cult of believers continued to hold his name up in obsessed reverence for the work he did with Fates Warning between 1984 and 1986. His vocal approach makes high art of the typical high-register metal vocal style, and the three albums he performed on in the 1980s left devotees dying for more. It took 15 years, but Arch finally resurfaced, and with the help of Fates Warning leader Jim Matheos and erstwhile Dream Theater drummer Mike Portnoy, recorded two lengthy songs (the 12-minute "Relentless" and 16-minute "Cheyenne"). While something like this could have been a disaster, it was most decidedly not. It sounded how Fates Warning might have evolved had Arch never gone – epic progressive metal of the finest kind. The only regrettable thing about this release is that tacky, ugly-ass album cover.
'Mercyful Fate,' Mercyful Fate (1982, Rave-On)
Often mistakenly referred to as the A Corpse Without Soul EP, this four-song classic of dark occult heavy metal introduced the world to this now-legendary Danish troop. With a recording that lacks nothing despite its age, the riffs sizzle, the lead guitar work is about as good as it ever gets in heavy metal, and the vocals of King Diamond are delivered in earnest, being a long while before he started sounding like a kooky caricature of himself. 22 minutes of pure greatness.
'Soul Sacrifice,' Cathedral (1992, Earache)
While 2013 is the year that Cathedral bows out with final album The Last Spire, 1992 found the band in peak form. Following up the turbid depression-doom of Forest of Equilibrium, these Birmingham blokes explored a slightly less pitch-black space within which to do their thing. These four songs are played with an energy and force that's miles away from the classic downer debut. The title track features some of the heaviest riffing known to man, complete with an appropriately overdriven guitar tone. Lee Dorrian's vocals are still sick, and their double-tracking throughout the EP gives his voice a ghastly allure. "Autumn Twilight" is a bit of weird mysticism, "Frozen Rapture" epitomizes pure doom, and "Golden Blood (Flooding)" finds the band's arrangements becoming more complex, nearly bonkers in a prog rock sort of way.
'Helloween,' Helloween (1984, Noise)
Early Helloween was a really weird sort of metal sound in 1984. Merging the raw, frenzied speed-laden metal that was on the ascendant at the time with the melodic component of traditional heavy metal (Judas Priest, Iron Maiden), and adding the strange vocals of Kai Hansen and a bit of classical-inspired bombast, Helloween invented the Euro power metal blueprint later adopted by bands like Blind Guardian, Edguy and Hammerfall. This 5-song EP is solid in every single pocket and corner, highlights being the multi-leveled "Victim of Fate" and the storming celestial burst of opener "Starlight."
'Apocalyptic Raids,' Hellhammer (1984, Noise)
Outdoing Venom in every single department (guitar tone, imagery, sloppiness, believability), this Swiss trio were an entirely radical outcast of a band in 1984. While they could call bands like Venom and Bathory peers, Hellhammer had their own demented bent that found them an island unto their own. Gruff vocals, bloated guitar sound, and seriously arcane lyrics, Hellhammer were just too nuts to last very long, morphing into the only slightly less madcap Celtic Frost, who would eventually realize the eccentricity of what Hellhammer was trying to do with 1987's Into the Pandemonium. But that's another story for another time...
--
Jeff Wagner is the former editor of the influential Metal Maniacs magazine and the author of Mean Deviation: Four Decades of Progressive Heavy Metal, an exhaustive history on the sound and its various subgenres.