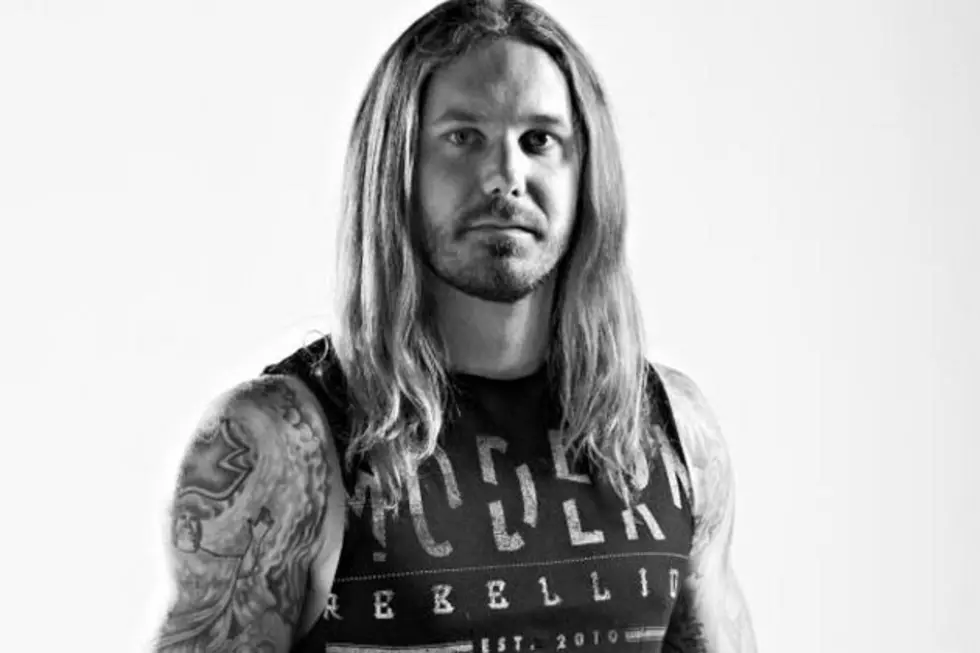 As I Lay Dying's Tim Lambesis Filed a $35 Million Lawsuit Against Medical Team After Allegedly Developing Gynecomastia
Facebook
Incarcerated As I Lay Dying vocalist Tim Lambesis filed a $35 million lawsuit against a California medical team earlier this year. The suit stems from accusations of medical negligence, which claim Lambesis was not given a prescribed medication for nearly two months, allegedly resulting in the metal vocalist developing gynecomastia (enlarged breasts).
In 2014, Lambesis was sentenced to six years in prison after being found guilty of attempting to hire a hitman to murder his estranged wife. Tim appealed the ruling in an effort to reduce his prison sentence, but his request was ultimately denied. News on Tim Lambesis ceased breaking afterward, but Loudwire unveiled some recent transcripts detailing a new legal battle for the As I Lay Dying singer.
In a legal document filed by Lambesis' representatives, Tim claimed "a nurse, doctor, and psychiatrist at the San Diego County Sheriff Department's Vista Detention Facility and George F. Bailey Detention Facility acted with deliberate indifference to his serious medical needs in May and June 2014 by denying him medication which had been prescribed for him prior to his incarceration." According to a separate document on CaseText, that medication is revealed to be anastrozole, which was prescribed to Lambesis to combat side effects of withdrawal from anabolic steroids.
Lambesis claims he presented Vista Detention Facility nurse Mary Abiaro with his prescription for anastrozole on May 16, 2014 and she advised him the facility did not have the medication in stock. The incarcerated musician alleges Abiaro failed to log his anastrozole prescription into his medical record, resulting in a delay in receiving the medication, and in the interim, a denial of necessary medical treatment. Lambesis says he didn't see a doctor until May 25, when he was transferred to a different facility.
The incarcerated metal singer claims during that 10-day period, he experienced "exponential terror" as he "contemplated the very potential [sic] of my suffering male breast development." Lambesis says he now suffers from gynecomastia due to the hormonal imbalance caused by the failure to receive his prescribed medication until July 17, 2014. Lambesis now seeks $35,500,000 in general and punitive damages.
Part of Lambesis' claim reads:
On or about June 10, 2014, my very fears evinced themselves upon my physique in the first palpable formings of, painfully sensitive, breast enlargement. Panic striken — at these initial signs of gynecomastia, I began to physically shake uncontrollably; shivering with battling anxiety and depression. Such chronic anxiety caused me to compulsively rub and scratch myself excessively and upon unusual places of my person.

On or about July 10, 2014, I noticed my breasts ceased enlargening; having attained gynecomastic maturation, that is, fully formed male mammaries, respectively. The terror I felt at this moment of confirmed maturation has left me traumatized indefinitely. Without further recourse, knowing the situation hopeless; I could not help but test the painful sensitivity of my fully formed breasts with hardened hurtful nipples, I examined my body compulsively, frantically.

On July 11, 2014, I enjoyed visitation with GBDF Doctor John Serra. Serra was the professional to my patient. Serra expressly appreciated my gynecomastic constitution; noted, and treated, the rectal tag I had developed, expedited my (anastrozole) prescription, and ordered my medication be administered effective immediately.

On July 17, 2014, I finally began receiving daily dosages of anastrozole.

By the time I enjoyed my right to adequate medical care — while incarcerated — the damage was done. I now suffer the adverse adornment of fully formed breasts, respectively, upon my physique — that is, a permanent gynecomastic consitution. To date, the pain and ultra-sensitivity associated with my, now, male mammaries remains. Worst of, all is the anxiety and depression I experience just knowing, feeling, seeing, the protuberances that are my male breasts.

As I am a stage performer by profession, much of my act is based upon the visual stimulus of audience perception — i.e., as a front man of leading rockstardom, my continued success is contingent upon my projecting a favorable physical image, Now, with the advent of these unsightly breasts, my music career shall undoubtedly suffer monetarily.

Therefore I demand compensatory relief: recompense the medical cost of the surgeries necessitated to redress my breasts to normal, masculine comforts; recompense the projected costs of psychotherapy thus in treating the mental trauma — e.g., extreme anxiety, severe depression, mental anguish, emotional distress — I continue to endure proximate the, respective, gross negligence and deliberate indifference to my serious medical needs that VDF Nurse Mary Abiaro, GBDF 'Doctor' Pace have afforded me; recompense the loss of revenue concerning my career as a stage performer — i.e., the adverse affects, monetary losses, that my unsightly breasts have had upon my illustrious, tremendously marketable and exceedingly profitable, image of commanding physicality. Even my songwriting has been adversely affected as my guitar brushes against my sensitive breasts thus disrupting my very concentration ceasing valuable production.
Nurse Abiaro moved to dismiss Lambesis' lawsuit, which was partially granted by California District Court Judge Michael Anello. Lambesis' punitive damages claim was dismissed by Judge Anello, but Tim's medical negligence claim is scheduled to go to trial Aug. 8, 2017.
See As I Lay Dying in the Top 50 Metal Bands Who Released Their First Album in the 21st Century
10 Shocking Crimes in Rock + Metal History