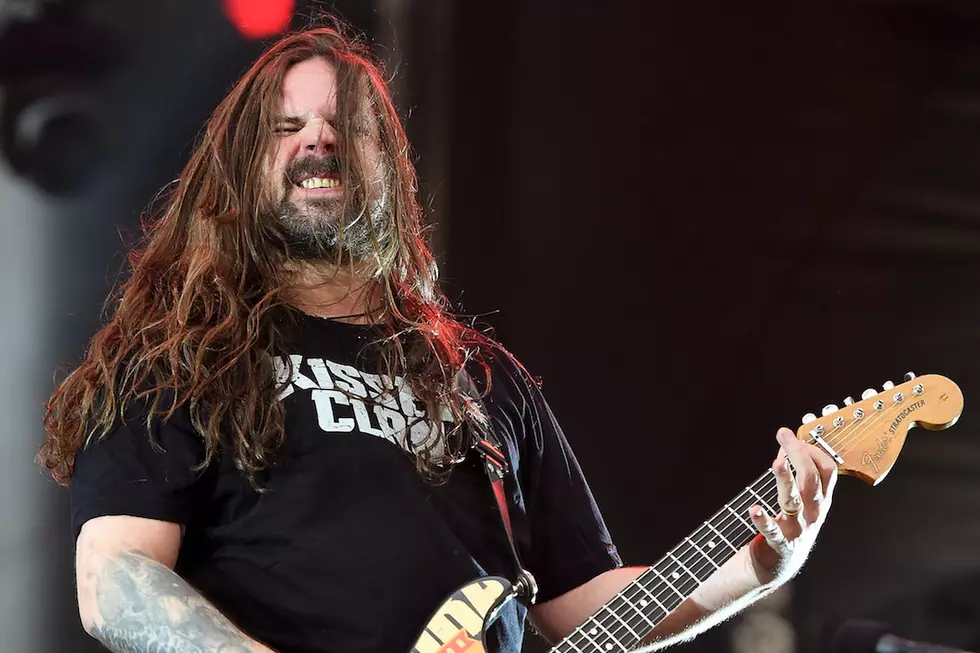 Andreas Kisser: Classic Sepultura Album Tour 'Seems Like a Waste of Time'
Ethan Miller, Getty Images
While former Sepultura members Max and Iggor Cavalera have been celebrating the 20th anniversary of the band's groundbreaking Roots album by performing it in full on tour, the current lineup of Sepultura have their eyes locked on the future rather than revisiting the past according to guitarist Andreas Kisser.
In an interview with Australia's Loud, Kisser was asked if the band had any interest in touring for the 20th anniversary of Roots or the 25th anniversary of Arise, to which he responded, "Not really, man. It seems like a waste of time, actually. It doesn't bring anything new to your career."
He went on to explain that the band had played both Arise and Chaos A.D. in their entirety in the past, but only for special occasions like the anniversary of a São Paulo metal club regarding Arise and another exclusive event concerning the hardcore-influenced Chaos A.D. "It seems to me that it is like something that's not going to bring anything new. We never had that kind of intention to do something like that," Kisser added.
The guitarist, who has been in Sepultura since 1987, discussed the influence of Roots that is still being felt today, stating the band frequently performs tracks from the classic album live and that over the past year they've added songs like "Endangered Species," "Dictators--t," "Spit" and "Ambush" to their set lists. Downplaying performing the record in full once again, Kisser said, "But to put everything on the side and only do Roots, for us, would be something very weak. And we are so much focused on what we're doing now, having a new album with a label and everything. Respecting our past but live in the present. We are here now, and that's what matters the most. I think we have to really live today and not really be locked in our past."
When pressed about Max and Iggor Cavalera's 'Return to Roots' tour, Kisser was largely indifferent. "I don't care," the axeman began. "Everyone does whatever they want. If they feel that's good for their career, whatever, man. It doesn't change anything that I do. It's like a… It's weird to comment on something like that, because, for me, it's weird. [Laughs] I don't see the point. They have so many different projects. Actually, they left Sepultura for those projects and now they're playing Sepultura. I don't understand that kind of attitude. But whatever, man. I respect any type of opinion, and, of course, I don't agree with them all, but people are free to do whatever they want. You just have to live with the consequences — that's all."
Sepultura's newest album, Machine Messiah, will be released on Jan. 13 through Nuclear Blast. The band has debuted two songs from the album thus far with "I Am the Enemy" rooted in the band's typical thrashing sound while "Phantom Self" incorporates new elements like violin.
See Sepultura in the 10 Greatest Bands With No Original Members
See Sepultura's Machine Messiah + More of the Most Anticipated Hard Rock + Metal Albums of 2017