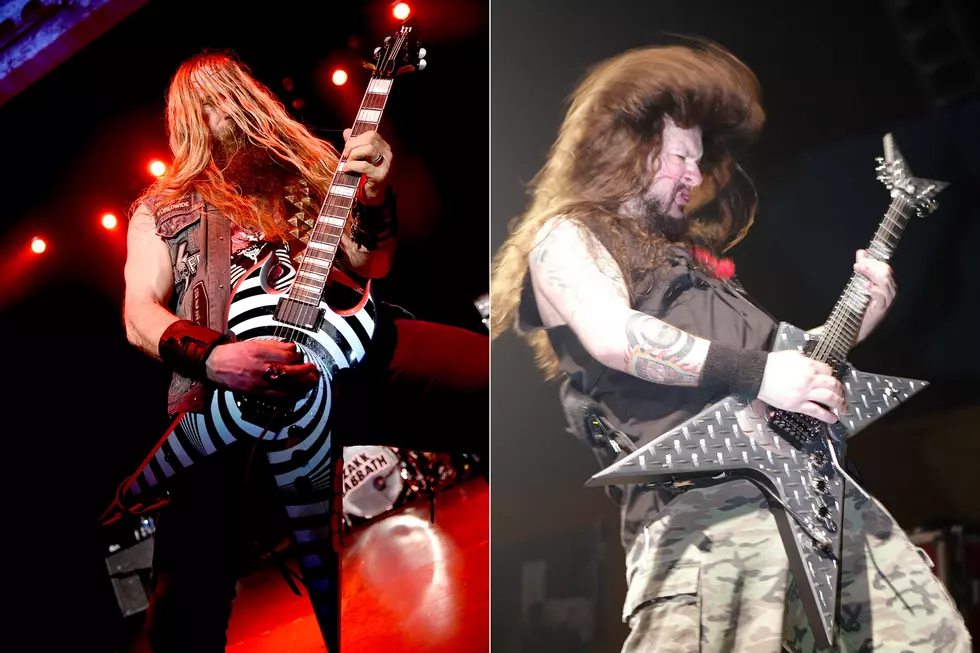 Zakk Wylde Claims He Never Jammed With Dimebag Darrell
Kevin Winter / Scott Gries, Getty Images
While it's known that Zakk Wylde was tight with the members of Pantera long before being asked to take part in the current tribute run, the guitarist revealed in a recent interview that he actually never jammed with Dimebag Darrell back when the musician was alive.
In a chat with the latest edition of Guitar World, Wylde says the two musicians just enjoyed the hang rather than spending time working through their respective instruments.
"It was a combination of everything," Wylde explained when asked about the basis of their friendship. "Between the playing, the drinking, how we matched our stilettos and our fishnets with our eyeliner and our rouge – all the typical stuff that brings fellas together. [Laughs]"
But, as Wylde revealed, jamming wasn't a priority for the pair. "Why would we do that? Let's see. We could be at an Irish pub somewhere laughing our asses off or we could be working on writing some new music. Hmmmm. I think we'll be at the Irish pub! [Laughs]"
Wylde also revealed that geography played a part in the lack of jamming, noting, "Seriously, man. There was no time to jam. They live in Texas. I was out in California. Whenever we got together it was just to have a good time."
And those good times even translated long distance, as Wylde recalled, "When we started hanging out, of course, we drank, but most of the time drinking with Dime would be over the phone. We talked on the phone all the time for several hours just drinking away."
"We'd make each other cry, we'd be laughing so hard," he continued. "But every time we got together it was always hilarious – nothing but pure comedy. And sometimes we caused mayhem."
READ MORE: Zakk Wylde Comments on What It's Like to Try to Play Like Dimebag Darrell
Sadly, Dimebag Darrell's life was cut short by a gunman during a mass shooting at Columbus, Ohio's Al Rosa Villa club in 2004. Darrell's brother Vinnie Paul died in 2018 from cardiomyopathy and coronary artery disease.
Pantera's two living members, Philip Anselmo and Rex Brown, have been revisiting the band's classic hits, utilizing longtime friends of the band - Zakk Wylde and Anthrax's Charlie Benante - to provide what is serving as a tribute to the group's musical legacy. Be sure to catch the concerts when they come near you. You can get your tickets here.
A Photo Timeline of Pantera's Famed Career
A look back on Pantera's career, in photos.