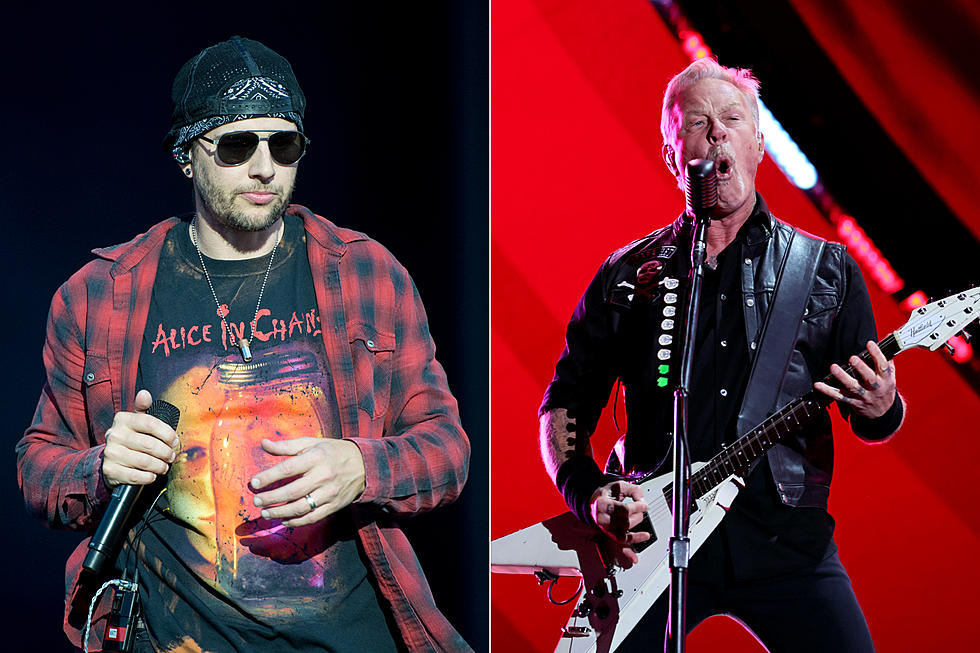 Why Avenged Sevenfold Initially Turned Down Opening for Metallica
Ollie Millington / Theo Wargo, Getty Images
As we've learned, Metallica can be very welcoming to their opening acts, but despite that generosity, Avenged Sevenfold initially balked at the idea opening for the metal giants early on in their career. Frontman M. Shadows reflected on the experience of opening for Metallica during a chat with host Jason Bailey on the Audacy Check In.
When asked why they were initially reticent to take the opening gig, Shadows explained, "We have only headlined for so long. One of the things we heard early in our career, and one thing we respected immensely about certain bands is, if you headline, people think of you as a headliner -- and if you go and open for people constantly, they'll always think of you as second fiddle."
"The idea of opening and taking all the toys away, everything everyone had ever seen -- my question to [Metallica's Lars Ulrich] was, 'I don't think this is the right look for new people getting into Avenged Sevenfold. This isn't where we're at,'" he added. "But to a lot of mainstream people, it was 'Oh, you're the band that opened for Metallica,' which put us on a higher pedestal, which was weird to me… I still walked away from that tour extremely grateful but extremely I think right about taking that tour. It did put us in that weird position of, 'You're second fiddle to this.'"
READ MORE: We Answer the Most Searched Questions About Avenged Sevenfold
Within the chat, Shadows admitted that the experience was "a little bit more uncomfortable," noting that they were not in their setting, playing in daylight and didn't have the full stage production.
He adds, "When you're opening for Metallica, and the place is slowly filling up, half the venue's full, you're in the daylight getting hit by the sun. So you almost have to go to war. You might have some people in the pit that are into this, but there's a lot of skeptical arms crossed, like, 'I don't like these new bands. I don't want anything to do with this. I'm waiting for the real metal gods to show up.' It's really a lot more feeling like you're going to war."
These days, Avenged Sevenfold are established headliners, and they have a new album en route. Life Is But a Dream is due June 2 with pre-orders being taken here. The band has also booked their first touring in support of the new album, and you can get your tickets to see them live at this location.
Avenged Sevenfold's M. Shadows Speaks With the Audacy Check In
The 32 Songs Avenged Sevenfold Have Never Played Live
Avenged Sevenfold have never performed these songs live.