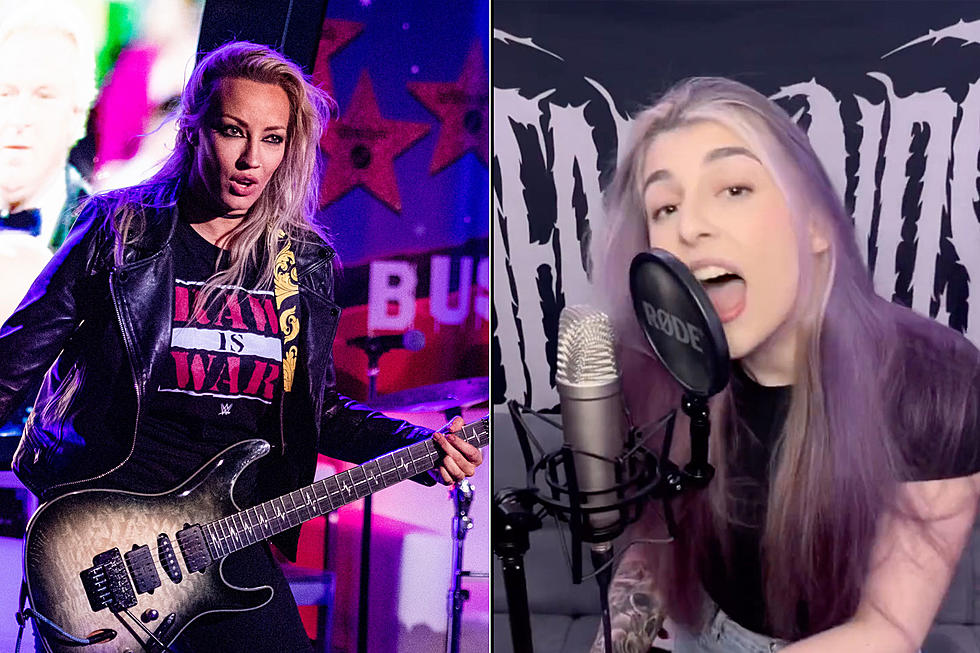 Who Is Kasey Karlsen, the New Touring Vocalist for Nita Strauss?
Timothy Norris, Getty Images / Twitter: @hurricanenita
Guitar great Nita Strauss is about ready to hit the road to promote her new solo album The Call of the Wild, and she's now lined up the singer who will front her band this summer.
"Ladies and gentlemen, please welcome Kasey Karlsen to the squad!!," said Strauss, posting the welcome along with a video of the singer showing her range from guttural to melodic vocals. "Kasey will be holding down the vocal duties on the upcoming Summer Storm tour starting next month!!"
stubhub.com%2Fnita-strauss-tickets%2Fperformer%2F100310766%2F" title="Get Nita Strauss Tickets Here" align="center" target="_blank"]
Strauss added, "We needed someone fearless and versatile for this tour who could handle tons of different vocal styles, and if you've seen Kasey's videos you already know she can do it all. She is going to destroy these stages and we are beyond excited to have her with us!!"
Who Is Kasey Karlsen?
Though Karlsen may be new to Nita Strauss' live lineup, she's got some previous experience fronting the group Deadlands, who released their Sentence of Myself EP (which can be heard below).
Social media fans may also recognize the talented vocalist from her array of covers that she's served up through both her TikTok and YouTube channels. On TikTok, the vocalist has thrived with 527.8 thousand followers at press time. There you can see more of her vocal range, whether it be dropping some insane screaming and gutturals on Chelsea Grin's "Crewcabanger" or something more melodic and powerful in her recent cover of LInkin Park's "Lost." And if you want to get an idea of how this will translate to Nita's music, check out her recent cover of Nita's song with Alissa White-Gluz, "The Wolf You Feed" in the player below.
Over on her YouTube channel, which has passed 17,000 subscribers, you can see Kasey performing covers of Bad Omens, Drowning Pool, Paramore and more.
Deadlands, Sentence of Myself EP
Why Kasey Karlsen Will Be a Good Fit for Nita Strauss?
As someone who is not a singer by trade, Strauss has found fame as Alice Cooper's guitarist and through her own electrifying playing. But with her new solo album, Strauss has called in a number of guest performers for the set. She already impressed with "Dead Inside," a single that paired her with Disturbed's David Draiman. Other collaborations on the new album include the current single "The Wolf You Feed" with Alissa White-Gluz, "Digital Bullets" with Motionless in White's Chris Motionless, "Through the Noise" featuring Halestorm's Lzzy Hale, "Victorious" with Dorothy, "The Golden Trail" with In Flames' Anders Friden, "Monster" with Lilith Czar, "Surfacing" with Marty Friedman and a reunion with singer Alice Cooper on "Winner Takes It All."
READ MORE: Nita Strauss Says Pop Fans Don't Gatekeep Like Rock + Metal Fans Do
With such a wide array of guest contributors, having a vocalist with a broad range will certainly add to Strauss' ability to play more material off of the new record. As most of the guests won't be able to replicate their collabs with Strauss on tour due to scheduling conflicts, having Karlsen on hand will be a big help.
Earlier this month, Strauss announced a 26-date solo tour. Be sure to get your tickets here.
15 Rock + Metal Bands Whose Guitarist Is the Only Original Member Left
The following bands no longer have any original members left except for a sole guitarist.