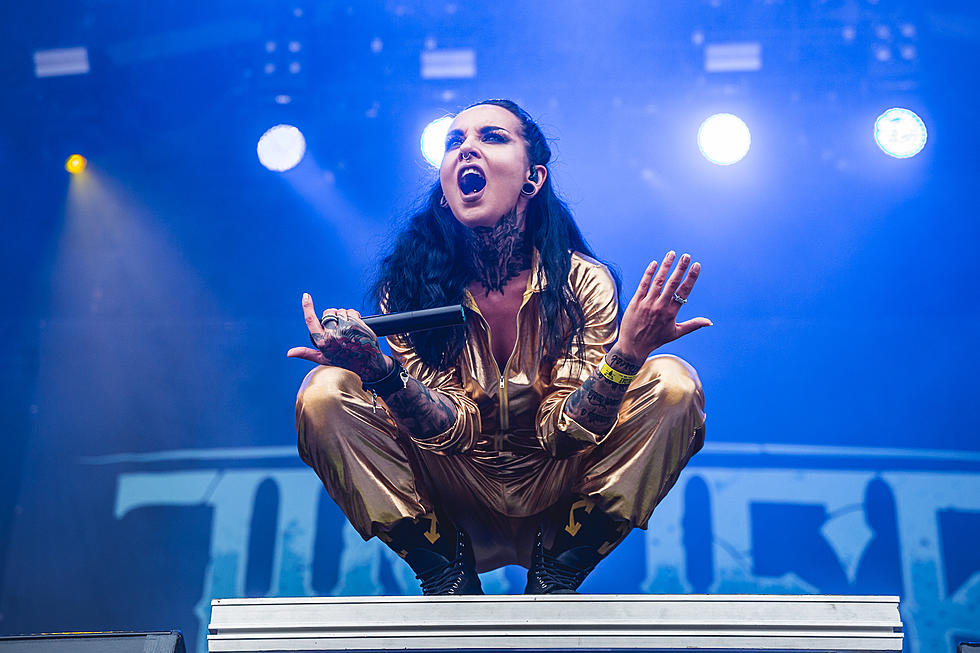 Watch Jinjer Play First Few Shows of Tour Without Drummer
Gina Wetzler/Redferns, Getty Images
This year has been filled with tour postponements and cancelations as a result of COVID-19, but some bands, including Jinjer, aren't letting the virus stop them. After their drummer Vlad Ulasevish tested positive for it last week, they found a way to continue touring without him.
"Brothers and sisters, there is no easy way to say this but unfortunately our drummer Vlad has tested positive for COVID and will have to sit out the first few shows until he recovers," the band wrote in a statement last Friday (Oct. 22) on social media.
"He is doing fine and has no symptoms! The rest of us are healthy and tested negative," they continued. "That being said, we will not cancel any shows and have decided to push on using his pre-recorded live drum tracks! We waited two long years to rock with you and will do our best to make this tour happen... and it will be one to remember for sure!"
Fan-recorded footage from their show in Seattle, Wash. that night shows the band performing without Ulasevish.
"You will notice in this video that the drummer Vlad is not playing, he ended up having to sit the show out due to testing positive for covid before the show so the band used his live drum tracks. Show was still great, different, but great," a fan wrote in the description of their YouTube video of the band playing "Judgement (& Punishment)."
See the clip below.
Fortunately, the only other show Ulasevish had to miss was the following night in Vancouver, BC. As of yesterday (Oct. 24), he tested negative for COVID three times and was able to play that night's concert in Portland, Ore. "And just like that: the beat goes on!" Jinjer wrote in a recent Tweet with a photo of the drummer behind his kit.
See the group's remaining tour dates here.
Jinjer - 'Judgement (& Punishment)' Live in Seattle 2021
The Best Metal Album of Each Year Since 1970
See Loudwire's picks for the Best Metal Album of Each Year Since 1970