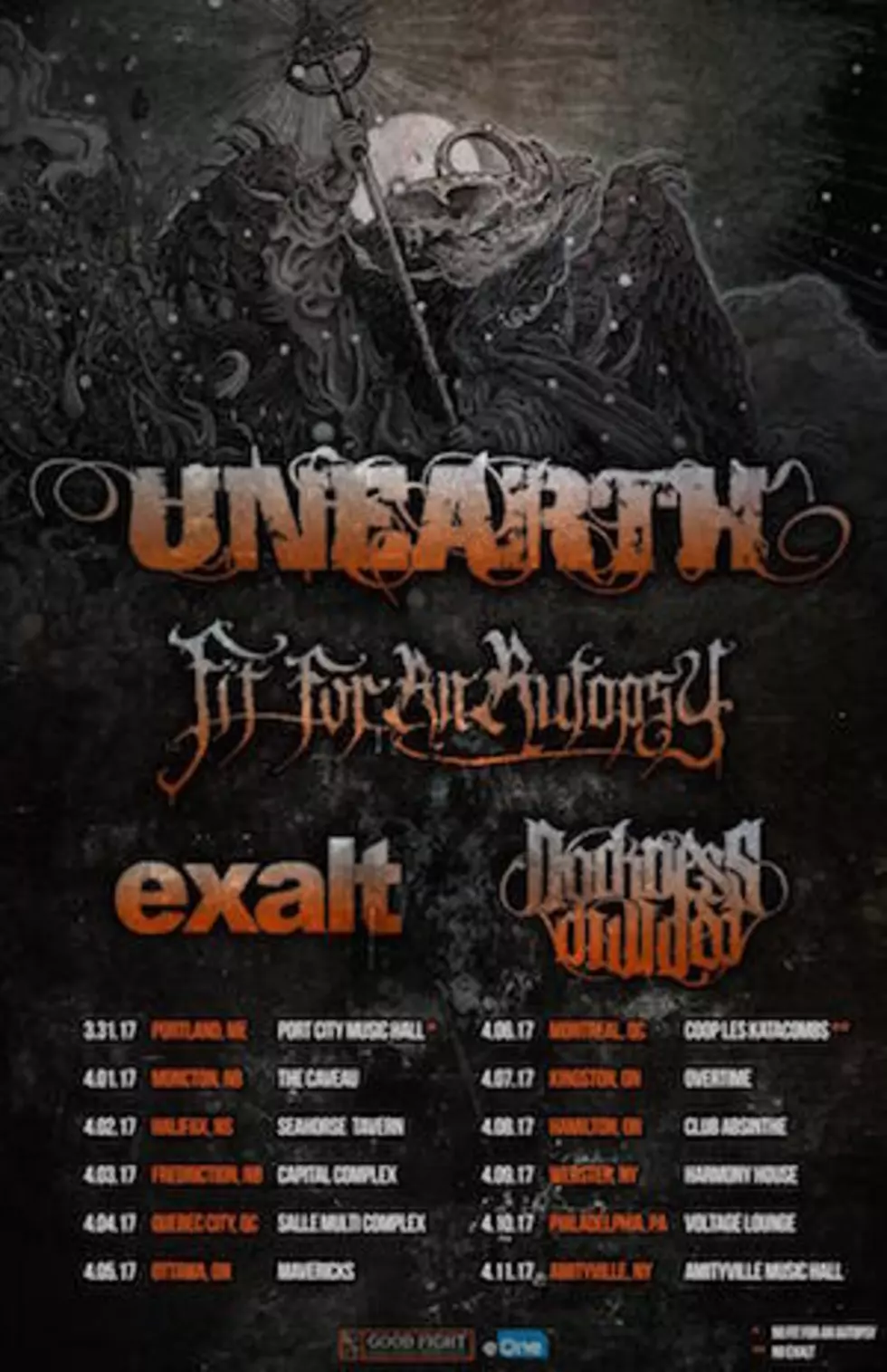 Unearth Announce 2017 Tour With Fit For an Autopsy + More
Unearth
If you live in the northeastern quadrant of North America, here's some good news! Metalcore stalwarts Unearth will be headlining a small run, backed by Fit For an Autopsy, Exalt and Darkness Divided for support.
The trek, which kicks off on March 31 in Portland, Maine, will place a heavy emphasis on Canada, with eight of the 12 stops hitting the northern country. The final three dates of the run will all be stateside, stopping in two New York cities as well as Philadelphia before wrapping it up on April 11. See the full tour routing below.
Unearth will be out in support of 2014's Watchers of Rule, while Fit For an Autopsy will release The Great Collapse on March 17. Exalt are continuing to promote 2016's The Shape You Took Before the Ache and Darkness Divided will be touting their self-titled record, which was also released last year.
No strangers to sharing the stage, Unearth and Fit For an Autopsy toured together last year as well on the "Fury Tour," which Unearth also headlined. Under a different installment of the "Fury Tour" Unearth also hit the road with Darkness Divided in 2016, ensuring there should be a fun, familial vibe on this upcoming run.
Unearth, Fit For an Autopsy, Exalt + Darkness Divided 2017 Tour Dates
03/31 — Portland, Maine @ Port City Music Hall*
04/01 — Moncton, New Brunswick @ The Caveau
04/02 — Halifax, Nova Scotia @ Seahorse Tavern
04/03 — Fredericton, New Brunswick @ Capital Complex
04/04 — Quebec City, Quebec @ Salle Multi Complex
04/05 — Ottawa, Ontario @ Mavericks
04/06 — Montreal, Quebec @ Coop Les Katacombs#
04/07 — Kingston, Ontario @ Overtime
04/08 — Hamilton, Ontario @ Club Absinthe
04/09 — Webster, N.Y. @ Harmony House
04/10 — Philadelphia, Pa. @ Voltage Lounge
04/11 — Amityville, N.Y. @ Amityville Music Hall*
* no Fit For an Autopsy | # no Exalt
Top 50 Metal Bands Who Released Their First Album in the 21st Century
10 Intense Onstage Accidents