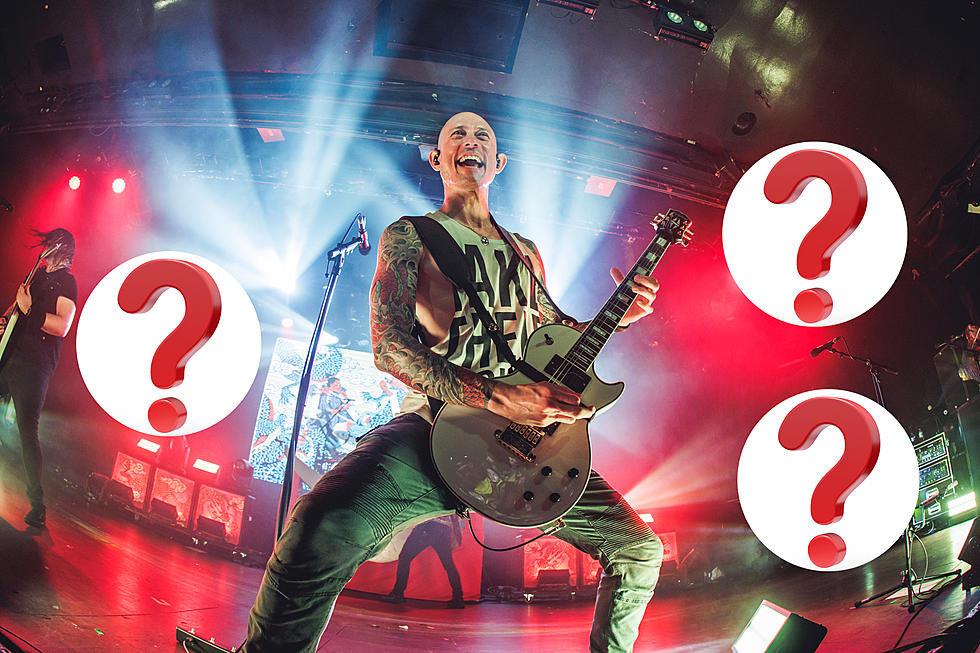 Trivium's Matt Heafy Wants Roadrunner United Compilation Sequel, Names Dream Collaboration
Javier Bragado/Redferns, Getty Images
One of the ultimate label flexes of the 21st Century came back in 2005 when Roadrunner Records rallied all their talent at the time for The All-Star Sessions album to commemorate their 25th anniversary that featured a number of once in a lifetime collabs made up from the stellar bands on their roster. Now, as a reissue of that Roadrunner United set has just arrived, Trivium's Matt Heafy says that he'd love to do it all again, and has in mind his dream band.
In a Metal Hammer look back at the classic album, Heafy reveals, "I've been bugging Roadrunner for years to do a Roadrunner United 2. I'd love to do a song with John Petrucci, Mario Duplantier on drums... I'd have King Diamond back for 'In The Fire 2.'" Heafy and Diamond initially played together on "In the Fire" from the original album, with Trivium's Corey Beaulieu, Killswitch Engage's Mike D'Antonio and Ill Nino's Dave Chavarri initially filling out the band.
Though Heafy is keen on a sequel to the onetime project, former Roadrunner Senior VP of A&R Monte Conner knows the logistics of pulling off such a massive project now would be more difficult.
"There was talk a few years back about doing a sequel - Roadrunner's 35th anniversary or 40th anniversary," he explains. "I don't know. So many of the bands were gone, and so many of the people who were at the label were gone. There were still great bands on Roadrunner, but I don't see how they could have done it and made it as significant."
Fear Factory's Dino Cazares, another key player in the project, added,  "Some of those guys [on the album] aren't around anymore, but when I listen to the record and see pictures, I remember the good times, the amazing times I had with those guys. That was when we got to hang out the most."
When asked if he would do a sequel, Conner replied that he probably wouldn't, but that he reflects on that album "as a highlight of my career."
READ MORE: Trivium's Matt Heafy Releases Song With Machine Gun Kelly Guitarist Sophie Lloyd
How Were the Roadrunner United Bands Formed?
Trivium's Matt Heafy was one of four "team captains" for the project, along with Slipknot's Joey Jordison, Fear Factory's Dino Cazares and Machine Head's Robb Flynn also taking the lead in forming the various bands consisting of talent from the Roadrunner Records roster.
As a result of his "team captain" status, Heafy was quite busy singing lead vocals on the song "The End" with a group that was filled out by guitarists Dino Cazares and Logan Mader, keyboardist Rhys Fulber, bassist Nadja Peulen and drummer Roy Mayorga.
He also appeared on other tracks as well. He played guitar on the Dani Filth-led "Dawn of a Golden Age" that also featured guitarist Justin Hagberg, bassist Sean Malone and drummer Mike Smith. Another Heafy on guitar-featuring track, "Blood and Flames," had Jesse Leach on vocals with Josh Rand, Mike D'Antonio and Johnny Kelly rounding out the group. The Trivium frontman also lent his guitar skills to the Michale Graves-led "I Don't Wanna Be (A Superhero)" with Hagberg, D'Antonio and Dave Chavarri and Heafy also played guitar on the aforementioned "In the Fire" that had King Diamond on vocals with Corey Beaulieu, Mike D'Antonio and Dave Chavarri rounding out the group.
The singer-guitarist said in a statement announcing the reissue last fall, "The Roadrunner United album was something I still have a hard time believing that it happened. A 19-year-old me being enlisted to be able to write anything I wanted… while picking a dream lineup of my favorite musicians every single every song? I am still honored and grateful to have been allowed this amazing experience. All I can say is… I want to do Part II."
Some of the other top name players that appeared on the record included Corey Taylor, Howard Jones, Max Cavalera, Dez Fafara, Mikael Akerfeldt, Peter Steele, Mina Caputo, Daryl Palumbo, Cristian Machado, Mark Hunter, Glen Benton, Andreas Kisser, Jim Root, Andy LaRocque, Paul Gray, Steve DiGiorgio, Christian Olde Wolbers, Andols Herrick, Dave McClain and plenty more.
In total, there were 51 musicians from 36 acts that performed the 18 original songs that appeared on the compilation at a special concert at New York's Nokia Theatre back on Dec. 15, 2005.
The Roadrunner United All-Star Sessions album as well as the concert that followed have been re-released in one package. Get yours here. You can also find Heafy in his regular gig as Trivium's frontman playing shows in Asia and Australia later this month. Get details here.
10 Deeply Romantic Rock + Metal Lyrics