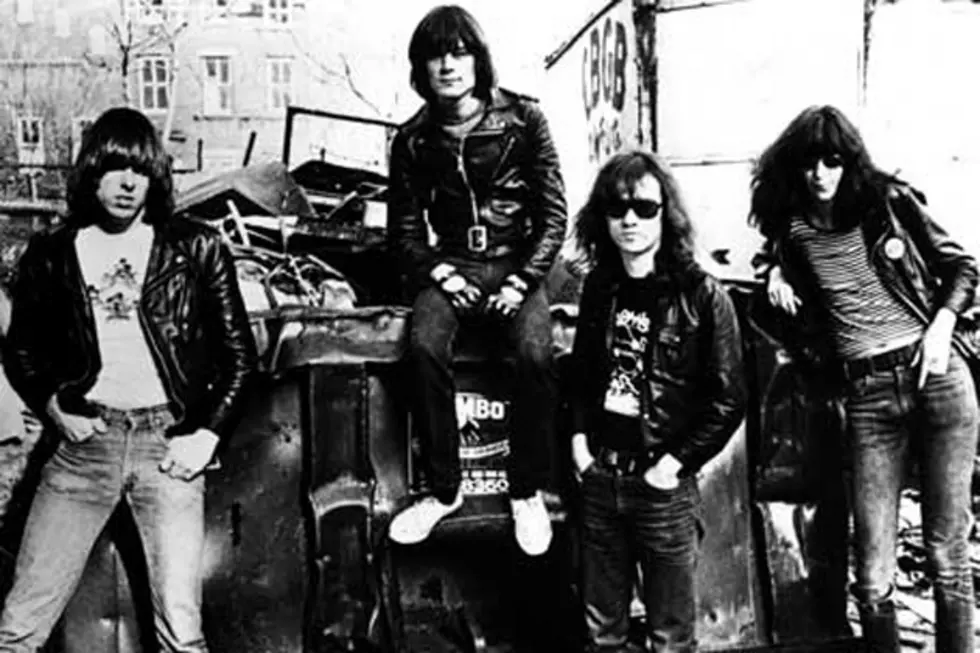 Tommy Ramone Talks About the Ramones' Vinyl Reissues and Their Enduring Legacy
Rhino Records
In 1976, the most important and influential album in punk history was released. The eponymous debut album from the Ramones changed the music landscape forever, influencing generations of musicians in the process. 2,263 concerts and 20 years later, the punk pioneers were no more. Within eight years, three of the band's founding members -- lead singer Joey Ramone, guitarist Johnny Ramone, and bassist Dee Dee Ramone -- had died.
On March 18, 2002, the Ramones -- including the three founders and drummers Tommy and Marky Ramone -- were inducted into the Rock and Roll Hall of Fame. To commemorate the ever-influential legacy of the band, Rhino Records recently celebrated the Ramones by reissuing the group's first four albums on 180-gram vinyl.
Tommy Ramone [real name Tommy Erdelyi] was the band's drummer for the first three albums; co-produced the first four, and played a huge part in the development and success of the band. On the heels of the Rhino Records reissues, Tommy spoke to Noisecreep about the new vinyl, the band and his life today.
What did you think when you first saw the Rhino reissues of the first four Ramones albums?
It really took me back. I feel that it's great that we're affiliated with Rhino. They also did incredible work with our CDs, but now with the vinyl, they showed real respect for everything. The details, the packaging -- with those first four albums, each is a story into itself and a lot of love and care went into making them. Rhino honored all of that. Plus, this music was designed for vinyl; the sounds, the way the songs were arranged -- so I'm very happy.
Why do you think the records still hold up? Why do they still excite people?
I guess they just stood the test of time. When they came out they were kind of revolutionary. A lot of people didn't know what to make of the first album. The Ramones are the type of group where it took the world like 30 years to catch up with them. Because we were kind of breaking new ground, coming up with new ideas and different concepts which kind of blazed a trail for a whole new music scene, really.
What do you think made the Ramones so special?
It was a combination of things. To go back, originally I was the manager -- and I wanted to get them together because I thought they were such neat people. I just saw something. They showed up at the first rehearsal with original sons and I didn't expect that. And I said to myself, there's something special here. It was a combination of their unique perspectives, their unique talents, combined with their awareness of the history of rock and roll, what was needed at the time, certain things that needed to be changed in the music world - it was a combination of a lot of things. But mostly it was their own natural kind of personalities. These are very unique people; very volatile people with lots of pent up energy and emotion and things like that. So many things combined and resulted in what we did and added to what made the band so special.
How did you become the drummer?
When we found out that Joey had the best singing voice we wanted to bring him up front.
So we started auditioning drummers but they just couldn't grasp the concept of the band - the speed and simplicity. So I'd sit down and show them what we were looking for and the guys just finally said 'Why don't you do it?' So I gave it a try and that's when the sound of the band sort of solidified -- it became locked in -- and then we had the Ramones.
Can you take us back to the recording of that legendary first album?
It was really hectic. Totally chaotic. We had a short amount of time the guys didn't have that much experience in the studio but we worked really hard and really fast and fortunately we had a blue print before we went in because we had done a demo to get the recording contract. So we just followed the demo. We had done the framework already, which made it easy to get through that quickly. But I don't think we took two weeks working on and finishing the whole thing.
Listing to the new Rhino vinyl reissues, one can hear the band concept evolve over the albums. As a co-producer, what were you going for?
The first record was basically a quick, fast record. The second record, we were going for more of a poppier, sound -- like a heavy pop sound. For 'Rocket to Russia,' we'd sort of reached our pinnacle. We'd gotten really good at what we were doing, so that's like my favorite record -- that's a really good record. It's just great from beginning to end. We had pretty much total control on that one. And by our fourth album, 'Road to Ruin,' I had decided to retire from the drums and we brought in Marky. We combined my style with his style and came up with some really heavy hitting sounds for that record -- that became our 'heavy' record.
After you left the band, I know you still did some production - but did you stay in touch beyond that with the guys?
Absolutely. Any show they did in New York, I was there. We stayed connected; we were friends.
Do other drummers still ask you about your playing?
Oh yeah. They ask about my style. What's funny is, I just made it up as I went along. The drums were new to me; I was just playing what was in my head. I was a guitar player originally -- so on the drums, I just played what was in my head rather than caring too much about what others were playing. And in that way I came up with a simple but unique style.
Before the Ramones, you actually worked with Jimi Hendrix.
Right. I was an assistant engineer on the Band of Gypsies record. I was very young and he was as big as you could get. He was a wonderful person, very easy going, very hardworking and dedicated -- a real perfectionist.
And today you're one half of a bluegrass duo, Uncle Monk.
I was always into bluegrass as a kid. Basically I like music that has a basic simple structure and that has a lot of emotion and feel. Bluegrass and other old time music fits the bill, as well as what became punk -- they both kind of have a similar framework. I started playing mandolin and banjo about 20 years ago.
Did the other Ramones like the music you were playing?
Yeah. I mean, they were always aware of my musical tastes -- they had eclectic tastes themselves.
Joey, Johnny and Dee Dee are gone now -- do you think of them often?
I think about them all the time. They are all always very present in my consciousness -- in my daily life -- they're always with me.