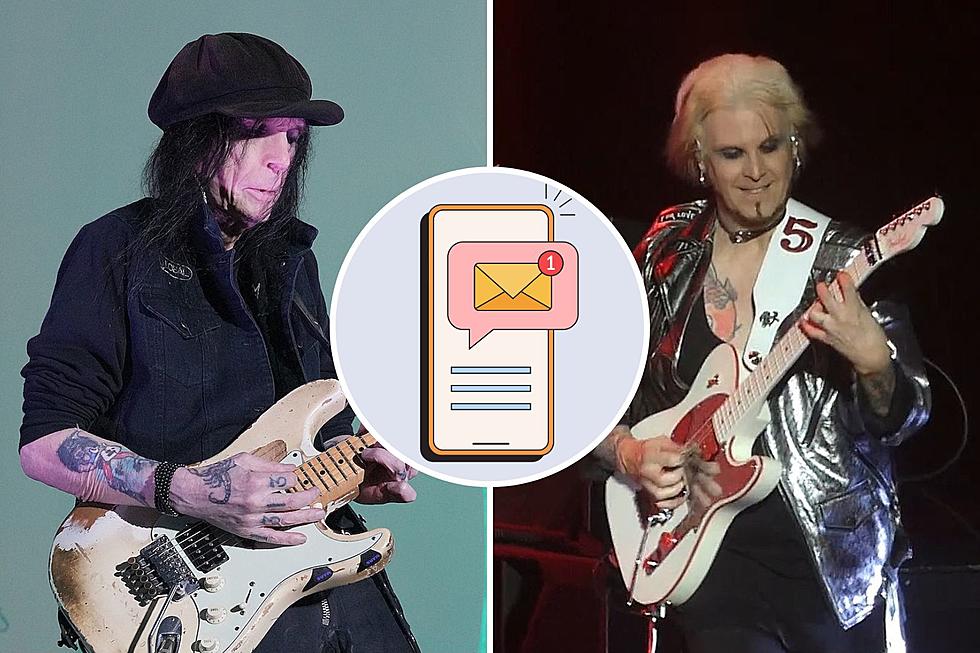 The Text Mick Mars Sent John 5 When He Joined Motley Crue
Kevin Mazur, Getty Images / YouTube: Jim Powers / Kovalskyi Andrii, iStock/Getty Images
In an interview on SiriusXM's Trunk Nation With Eddie Trunk, guitarist John 5 opened up about his exit from Rob Zombie as he accepted the live role in Motley Crue, as well as the text message Mick Mars sent him when it was publicly announced that he'd be taking his spot in the band.
John 5 was rather candid throughout the interview, also addressing accusations of the band using backing tracks live in 2023 after Crue and their team previously admitted (and later retracted) that they had to utilize backing tracks on tour last year while Mars was still in the band.
John 5 on Leaving Rob Zombie and Being Asked to Join Motley Crue
Trunk asked John 5 to explain how he transitioned from being in Rob Zombie's band to joining Motley Crue and what those internal conversations were like in both the Crue and Zombie camps.
Detailing his close relationship with Nikki Sixx, John 5 says (transcribed by Loudwire), "I've been friends with Nikki and Tommy for ever. For ever and ever and ever. I'm so close to Nikki. We talk probably 80 times a day for a decade. We've done so much work together — we worked on the Meatloaf song together "The Monster Is Loose," Sixx: A.M. of course, L.A. Rats, The Dirt [biopic soundtrack]... other than music we're just always around. He was the best man at my wedding. We always go to the mall and ride bikes and just do total normal stuff."
"When this came about, we were talking to each other on tour [paraphrases conversations back in forth]. We talked pretty much every day when he was on tour and I was on tour at the same time [with Rob Zombie.] We were doing Freaks on Parade [tour]. It was great — great shows, packed to the nine, having a good time and laughing and making music. Then the tour ended, we went home," he recalls, "I went to do some [John 5 and the] Creatures shows, my instrumental thing, and Motley was finished. They were off tour and I was still doing some shows and Nikki called and said, 'Listen, Mick is going to retire and we have these obligations from Live Nation — we have South America booked, we have Europe booked... do you want to come on board?'"
His answer was, "Absolutely."
"It's just like your brother asking you or something like that," John 5 continues, "Now, the hard part was telling Rob. We never had a negative word between us. He's my buddy and we made great music and great live shows together. For 17 years we never really had a problem. I was thinking to myself, 'Life is short.' And I'm being completely honest with you Eddie. Life is short, I want to experience as much as I can in life. I was thinking about myself. I was like, 'I want to do this for me.' I was 51 years old at the time ... how many times do you get a new chapter in your life of this magnitude later in life?"
"I talked to Rob and he understood. Rob is a smart, rational person. He wasn't psyched, but he understood. I think that was amazing of him and he was just like, 'Go got 'em.' He was fine about it. They got [Mike] Riggs, who I think is a great, great addition," he adds, stating there's no bad blood between either side and that he has not talked with Zombie since his departure from the band.
John 5 on His Relationship With Mick Mars
"Me and Mick, we talk all the time," John 5 beams, "We exchange Christmas gifts and things like that."
Regarding Mars' thoughts on his replacement in the group, John 5 reveals, "When I was announced as the guitar player, he was one of the very first texts that I got and he said, 'You're going to kill it.' It's good. It's not like it's some stranger coming in. We have a great respect for each other."
READ MORE: Motley Crue Confirm They Are In the Studio With Producer Bob Rock
John 5 on Motley Crue's and Backing Tracks
In a lawsuit filed against the band by Mick Mars, who claims he was forced out of the band and gaslit about his onstage performances, the guitarist accused Nikki Sixx of not actually playing live.
Crue, in response, gathered statements from road crew members who attested to the band's reliance on backing tracks on the 2022 Stadium Tour to cover supposed sloppy performances on Mars' behalf. Earlier this month (May), Motley Crue responded to a fan comment on Facebook and claimed "there were no backing tracks for band members" on that 2022 trek.
"Not 99 percent, not 98 percent, but 100 percent, Nikki is playing every single note on that stage," John 5 asserts of his bandmate's live efforts in 2023.
He also addresses videos that have circulated online where Sixx is seen playing bass with his hands in the air, noting that if a bassist is hitting an open note, they do not need their hands on the instrument.
"It doesn't mean you're not playing bass. Nikki plays 100 percent," the guitarist says before divulging their intense rehearsal regimen.
"Here's what makes me crazy... well, it doesn't really make me crazy because when people say we're playing to backing tracks, I take it as a compliment because we rehearse so hard. We even have penalty flags if someone messes up at rehearsal — we throw a penalty flag at them. We rehearse so much and I take it as a compliment because it means we sound that good live. In my heart of hearts, I know that we're playing live," he contends.
In support of these statements, John 5 notes that Sixx hit "bum notes" onstage, one of which can be heard during the performance of "Home Sweet Home" at the NFL Draft Series concert.
"Do you really think that we would put a mistake on a track or something? No, it's crazy," John 5 argues, "It's so crazy, but 100 percent he plays every single note on there. Just listen to the shows before you make these statements, because you'll hear mess-ups and that's what rock 'n' roll is."
Clearing the air on what parts of Motley Crue's live show are indeed on backing tracks, the guitarist goes on, "Yes, we do rely on technology for backup vocals, for intros, for outros, sirens, horn hits, things like that. Of course they've been doing that since Dr. Feelgood. I'm not saying we don't rely on technology for things like that. Backups, intros, outros, things that we can't replicate ourselves. But me, Nikki, Tommy [Lee] and Vince [Neil], we're all live up there."
Trunk then asks about the live backup singers and John 5 says they'd be out of breath if they were actually singing because they're busy kicking and dancing.
Addressing another viral live video where drummer Tommy Lee missed a cymbal count-in that was still heard, John 5 clarifies that the entire show is run on a click track, which keeps the lighting cues and other elements of the performance running in sync.
At the time that footage emerged, Loudwire reached out multiple times to Motley Crue's representation for comment and clarification on what was seen in the video before publishing the story. The response that was received was that the band was "not taking media requests" during that time and no comment on the footage was provided to support nor dismiss the allegation of backing track usage in that instance.
Motley Crue on Tour
Motley Crue's world tour continues at these dates and you can get your tickets here.
17 Non-Singer Lineup Changes That Impacted Rock + Metal
Switching singers is one thing, but what about the rock and metal lineup changes that didn't involve a lead vocalist? Here are 17 specifically non-singer lineup changes that still reverberate today.