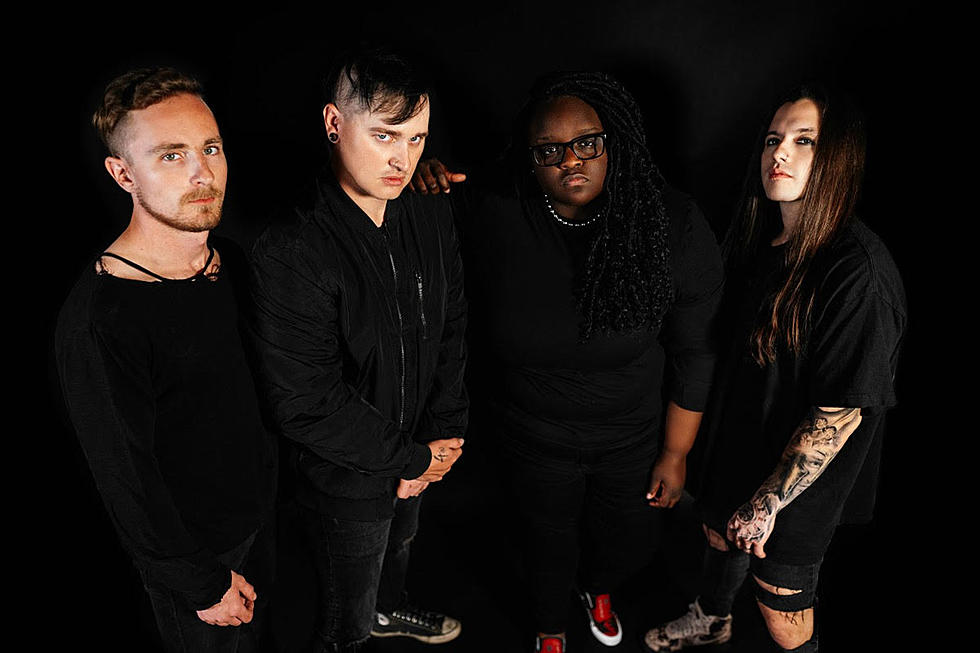 Tetrarch Member Becomes Official American Citizen
Napalm Records / Photo by: Guillermo Briceño
Congrats are in order for Tetrarch drummer Ruben Limas (far right in the band photo above), who recently officially became an American citizen.
The band shared the news on Thursday (Feb. 23), the day the Limas was officially granted his citizenship. Their instagram post shows the drummer sporting one of the band's shirts while posing in front of an American flag and a flag for the U.S. Department of Homeland Security while he holds a tiny American flag of his own.
In a Modern Drummer intro from 2017, Limas wrote of his background, finding a fascination with the drums after seeing someone play them in church and eventually playing on a makeshift kit of pots and pans his mother made him until he got his own kit around age 10. He eventually joined a touring band in Venezuela but revealed that the political situation in his country made him decide to make the move to the U.S. in 2014 out of fear for his safety. It was there he met the members of Tetrarch, joining the band in 2015. "These guys have become my family. I have no one else here and it was such a perfect fit," said the drummer at the time.
In their post sharing Ruben's American citizenship, the band wrote, "Today our very own @rubenoftetrarch officially became an American Citizen. When we met Ruben 8 years ago and he officially became a part of Tetrarch, he had recently moved here from Venezuela to follow his dreams of being a drummer. He knew almost no English, but we connected with him on a level deeper than any language could ever express and that was with music. Now, 8 years later we couldn't be any more proud of having him along for this journey. We love and are so proud of you @rubenoftetrarch!!!"
According to the U.S. Citizenship and Immigration Services, In order to become a U.S. citizen through naturalization, one must be at least 18 years of age at the time of application, have been a lawful permanent resident for the last three to five years, have a continuous residence and physical presence in the U.S., be able to read, write and speak basic English, demonstrate good moral character, demonstrate a knowledge and understanding of U.S. history and government, demonstrate a loyalty to the principles of the U.S. constitution and be willing to take an oath of allegiance.
As a member of Tetrarch, Limas has recorded two albums, including their most recent effort, 2021's Unstable album. The band is currently between records with no dates currently scheduled.
The 35 Best Metal Songs of 2021
We count down the 35 Best Metal Songs of 2021.